Found August 18, 2012 on Start 'N' Park Blog:
Jeff Gordon, driver of the #24 Drive To End Hunger/AARP Chevrolet, met with media and discussed last weekend's race at The Glen, the importance of racing at Chevrolet's hometown track near Detroit, the upcoming race at Atlanta, and more.
YOU ARE CURRENTLY 15TH IN POINTS AND HAVE ONE WIN SO FAR THIS SEASON. TALK ABOUT COMING TO MICHIGAN THIS WEEKEND "Oh, it's going to be an interesting weekend with everything that happened the last time that we were here, with tires. This is one of my favorite tracks and always has been. It's big and fast. The repave and then having a test here a couple of weeks ago and then the start of the day was very exciting and interesting with the lack of grip and then all the issues those guys had putting fluid down on the track so it made for a very challenging day to start, that's for sure. There towards the end, the track starting getting grip back and we started seeing the speeds get faster and faster. So, it's going to definitely be an interesting weekend of racing and I look forward to qualifying today and picking up speed and making the most out of Sunday."
THIS IS ALWAYS A BIG RACE WEEKEND FOR MANUFACTURERS. DO FEEL A DIFFERENCE IN THAT VAIN WHEN YOU'RE HERE? GM IS BASED IN DETROIT. HOW DOES THAT PLAY INTO THIS WEEKEND? "I did an event for Chevrolet yesterday over at the Woodward Dream Cruise. It was the second year in a row for me to get to go over there to Woodward and see all the vehicle displays and the cool things from the past, and present, and future that Chevrolet has going on. Not only is that a big a event, but they know how big this race is to them. We've seen past manufacturers play a pretty big role here in their involvement. And I think you see the officials that are here on race day.
"So there's a lot of pride on the line for this race. This is a big track. Aerodynamics and horsepower really play a big role here and so I think that when you're building street cars, there's a lot of pride that goes into having the most power and the best car and the fastest car and the one that wins the race; or the most efficient car; that can be done on fuel mileage. So, this is a big race to them. We certainly recognize that. And it puts a little bit more extra pressure on us as well to go out and perform for them."
LOOKING TOWARD ATLANTA, WHAT IS YOUR OUTLOOK FOR THAT RACE? GOING THERE WHERE YOU WON LAST YEAR, WHAT'S DIFFERENT? HOW HAS YOUR TEAM DIFFERENT THAN IT WAS THIS TIME A YEAR AGO? "I'm excited. Atlanta has always been a great track for us. After last year, and I feel like there are very few changes, when you think of tires and track conditions and cars and all those things, very little has changed. I feel like our cars are actually better right now than they even were last year at that time when we won that race. So, I can't wait to get there and hopefully have another battle like last year; that was a lot of fun.
"And obviously with what's going on in the Chase to the Chase, it can be a crucial race for us. We never go into any race banking on anything. We go in there working hard to try and win the race. But, that's a track where I feel like because of the few changes, it gives us a little more confidence going there that we can have a great weekend."
DO YOU KEEP YOUR EYE ON THE GUYS THAT YOU'RE RACING; THAT WILD CARD SPOT, THROUGHOUT THESE RACES? "Yes and no. We are just trying to race as hard as we possibly can for each position. Like last week, we were just battling our way back up into the top 10 after having a bit of a rough middle part of the race, and all of a sudden I saw the No. 18 (Kyle Busch) rolling slow, knowing he's a big threat in this thing, I didn't know what kind of day he was having. I didn't know he was leading the race or anything like that. And so, I thought me and Matt (Kenseth) had a shot at passing him, which I was certainly anxious to do because I wanted every position I could get, especially when it's somebody you're racing for that Wild Card. It made it that much more important. I got up on the wheel even a little bit harder because of it. So, only in that type of situation I would say, that would be the case."
WE'RE IN THIS FINE-TUNING STAGE OF TRYING TO FIGURE OUT EVERY LITTLE EDGE FOR THESE WILD CARD SPOTS. ARE YOU ONE THAT DOES AN INVENTORY OF THE TRACKS COMING UP? ARE YOU AT THE POINT WHERE YOU BREAK DOWN STRENGTHS AND WEAKNESSES AT ALL THESE PLACES? "Humm…no, I don't think I'm that complicated; or I'm not wired quite like that. I really don't get too far ahead. I really live in the moment and the team, there are certain members of the team that are focused on set-ups and tracks and all these things coming up, whether it be our Seven Post or wind tunnel engineering, that's their job. Alan (Gustafson) as a crew chief, his job is to kind of oversee and manage all that, the pit crews, the people, and everything. So it's such a tough job. I feel like my job is not to manage those things. My job is to go drive the race car the best that I possibly can. And on Tuesdays when we have our meetings and are talking about upcoming races or past races, is to give the most valuable information that I possibly can that's going to help them prepare for that race the next time; or something we can learn form this or that track or that particular day that takes us to the next race or another down the road. Or, in preparation say for this week, the discussions that we had in breaking down details from our test and talking about set-ups and our plan for the race weekend, I give them my input from a driver's perspective. And I'll leave it at that.
"They come here. I walk in the garage. I get in the car and I drive the car and I tell them what it's doing. I'm not sitting there trying to calculate anything other than how do I make the car go faster and what kind of information I give them. And I do that lap by lap, session by session, and do that throughout the whole race.
"And that's as far as I think ahead. I mean when I get asked a question like Atlanta, yeah, I'm excited about going to Atlanta because of what we did there last year and how good our cars are this year. But I really haven't put much more thought into it other than that."
YOU SEEMED PRETTY DEJECTED LAST WEEKEND AT THE GLEN WITH THE DECISION-MAKING AT THE END OF THE RACE. WHAT CONVERSATIONS HAVE YOU HAD WITH NASCAR? DO YOU PLAN TO HAVE ANY ABOUT THEIR DECISION AT THE END NOT TO THROW THE YELLOW? "I can't change the outcome. If I felt like there was a way to change the outcome, and take back that last corner, I certainly would. I mean I was as dejected at just the fact that it happened, as I was at that they kind of allowed the car out there without really throwing a caution. It cost I think, Kyle (Busch) the win. It possibly cost the No. 2 (Keselowski) the win because I think he might have hit something going into that bus stop. It certainly cost us a lot of positions. But that's racing. Yeah, I'm going to be mad about it at the time and not happy with some of the things. I felt like I could have been a little bit more conservative in that last corner and come home eighth or ninth; and that would have still been a pretty solid day for us. But, I was racing hard and probably harder than I should have been and I felt like we also probably could have given me a bit more information on that last lap about what was going on. But, I talked to the team and they were like hey, we didn't want to break your rhythm. You were racing hard for position. You were moving forward and we didn't want to say anything. So, you can't blame them for that. It was a great finish. Gosh!  I went home and watched it and I thought wow that was exciting; that was cool. So, you hope the sport can gain from that. Unfortunately it happened at the expense of quite a few guys that at the time, I definitely didn't agree with."
IN A SITUATION LIKE THIS WHERE YOU GOT A FINISH THAT PEOPLE ARE GOING TO BE TALKING ABOUT FOR A LONG TIME; ONE OF THE MOST EXCITING THAT WE'VE HAD SO FAR THIS YEAR, DO YOU THINK IT'S REASONABLE THAT STRIKING A BALANCE BETWEEN WHAT'S GOING ON ON THE TRACK AND LETTING THE RACE PLAY OUT AT THE END OF THE RACE LIKE THAT IS SORT OF A MOVING TARGET AND THERE'S SOME LATITUDE THERE IN TERMS OF MAKING DECISIONS? "When I watch an NBA game, I want to see them foul at the end; let them play the game. So, that's why I have to take myself out of the equation there. That was a fantastic finish to the race; very entertaining. It was great for the sport; great for Marcos (Ambrose) and even for Brad (Keselowski). That was cool. But somebody pays the price and those guys aren't going to be happy with that and that's the way racing is. Not everybody is going to be happy with the way things end up, and I was one of those. But yeah, if I'm not a competitor out there, then I want to see these races not be controlled. I just want consistency, though, you know? It's like one week let's throw a caution and the next week it's oh, don't throw a caution. So, I think that's the only thing that's a little bit discouraging at times is just the lack of consistency."
MARCOS AMBROSE'S SPOTTER DID NOT TELL HIM ABOUT THE OIL BECAUSE THEY DIDN'T WANT HIM TO CHANGE HIS RACING. SO, IF A SPOTTER IS NOT TELLING THE DRIVER ABOUT THE OIL, AND YET SOME SAY NASCAR SHOULD TELL PEOPLE ABOUT THE OIL, HOW DO YOU RECTIFY THAT? THEY DON'T WANT THE DRIVER TO STOP RACING, BUT THEY WANT NASCAR TO CALL THE CAUTION "If I'm a spotter and I put myself in their shoes and I see a car smoking and I'm hearing chatter about a guy who's getting out of control, I don't want to say too much to where that person lets off and loses the race or loses a bunch of positions because I told him slow down or watch out for this. Or maybe I don't even know exactly where it (the oil) is. But, I also think there is a little bit you can do just to say hey, they're saying there's oil on the track; be careful. And honestly, my spotter might have told me that and I didn't even hear. I was racing so hard. At Watkins Glen, I could only hear my spotter half the time anyway because the track is so spread out and it's breaking up. You can hardly hear anything.
"But I'll be honest, on that last lap, even if they had told me that, I was racing hard. And if I thought there was oil on the outside of that last turn, yeah, I probably wouldn't have made the move that I made. I still thought that there were enough cars ahead of me that they were going to clean the oil up before I got there (laughs), but somehow that didn't happen. But listen. We all have responsibility. The driver has responsibility. The spotter, NASCAR, and so many people play a role in it. So, it is what it is. That's why I'm moving on to the race this weekend. Do I ask for consistency? Yes, please be a little more consistent with the calls you now. On a road course you could have local yellows and things like that. There are always ways to do it better and learn from it."
Original Story:
http://startnparkblog.com/?p=10036&ut...
THE BACKYARD
BEST OF MAXIM
RELATED ARTICLES
Yesterday's Pure Michigan 400 was full of emotions for race fans as every race is. From Greg Biffle taking the checkered flag and snapping Ford and Jack Roush's six race dry spell to Mark Martin impaling the pit road wall and walking away from it. Jimmie Johnson and Dale Earnhardt Jr. coming from the back to charge for the lead, the race was one you didn't want to miss. For...
Engine problems plagued the Hendrick Motorsports engines. Jeff Gordon, Tony Stewart, and Jimmie Johnson all had issues. None more costly than Johnson who was leading with a handful of laps left when his went. Below is after the media caught up with Tony Stewart and his thoughts on what happened. TONY STEWART, NO. 14 MOBIL 1/OFFICE DEPOT CHEVROLET – SIDELINED WITH AN ENGINE ISSUE...
L.A. INK
It seems our post Wednesday on the epic Alabama fan tattoo has opened the floodgates for emailers wanting their ink honored. Scott S., a sales manger in Los Angeles wrote to us this morning about his tat: "A complete tribute to my Southern California sports teams… took 8 hours to complete." To which he was sent a follow-up email: "So, what's with Jeff Gordon?" (Yes...
Team Chevy drivers Regan Smith and Jeff Gordon both ran into issues during the Pure Michigan 400. Below is a recap of what both drivers had to say about their issues and if they'll get back out on track. REGAN SMITH, NO. 78 FURNITURE ROW/FARM AMERICAN CHEVROLET – INVOLVED IN ON-TRACK ACCIDENT ON LAP 76 WHAT HAPPENED OUT THERE? "Marcos Ambrose is just driving over his head....
Some of NASCAR's biggest names are trying to keep their championship hopes alive and the Chase for the Sprint Cup is still about a month away. Carl Edwards, Kyle Busch and Jeff Gordon would all be on the outside looking in if the Chase started now. They have four races to change that, starting this weekend at Michigan International Speedway. The top 10 drivers advance, along...
Drivers are finding a completely different experience at Michigan International Speedway on this visit. First, several are facing the pressure of making the Chase for the Sprint Cup. And second, the racing is expected to be different as this is the second trip to the repaved track, and the first with a slightly different tire designed to wear less. These are the factors drivers...
DAYTONA BEACH, Fla. – NASCAR announced that tickets go on sale today for the unpredictable, unforgettable, tell-all fan event – the 2012 NASCAR After The Lap sponsored by Ford and Coca-Cola. Returning to Las Vegas for its fourth consecutive year, NASCAR After The Lap will take place on November 29 at 5p.m. PT at PH Live at Planet Hollywood. ESPN pit reporter Jamie Little will...
All Sports News

Delivered to your inbox

You'll also receive Yardbarker's daily Top 10, featuring the best sports stories from around the web. Customize your newsletter to get articles on your favorite sports and teams. And the best part? It's free!
THE HOT 10: Who's Trending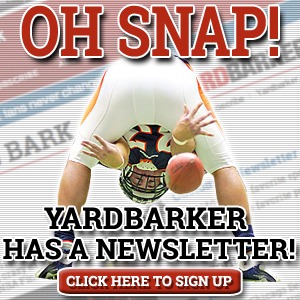 Latest Rumors
Best of Yardbarker

Today's Best Stuff

For Bloggers

Join the Yardbarker Network for more promotion, traffic, and money.

Company Info

Help

What is Yardbarker?

Yardbarker is the largest network of sports blogs and pro athlete blogs on the web. This site is the hub of the Yardbarker Network, where our editors and algorithms curate the best sports content from our network and beyond.