Found September 17, 2012 on Start 'N' Park Blog:
KERRY THARP:  Let's go to our post-race for today's 12th annual GEICO 400, and our race runner up is Jimmie Johnson.  He's also second in points right now, three behind Brad Keselowski.  Jimmie drives the No. 48 Lowe's Kobalt Tools Chevrolet for Hendrick Motorsports.  Your thoughts about the how the team performed out there today.
JIMMIE JOHNSON:  Yeah, just really proud of the team on all fronts.  Overcame some adversity through or practice sessions, sat on pole, led a lot of laps today, fell some on pit road, race strategy, you name it, we had a very, very solid day.  Of course we would have loved to have won the race, but we'll take second and go on.  This is a fantastic way to start the Chase.
Q.  It seemed like you were a little bit upset about the last pit stop.  Did that make the difference in terms of him getting the win because he got out in front of you?  I guess for me it was reminiscent of Michigan where they snookered you guys in the pits.  Did that happen again today?
JIMMIE JOHNSON:  No, it was a different situation there.  In Michigan they stayed out on fuel or had something working for them fuel wise where we didn't think they were on the lead lap and they were, so it was a different scenario.  He did cut up early.  It did impede my progress, I had to check up and wasn't sure where things were going.  But it didn't affect the outcome I don't believe.  The way he made quick work in traffic and stretched it out on me, I'm not sure I would have held him off.  At the time it messed me up, but I don't think it played an outcome in the race. 
Q.  Brad seemed really loose coming into this thing.  Can you tell that, that that type of mentality helps a driver coming into this thing?
JIMMIE JOHNSON:  You saw everybody Wednesday night.  I think everybody was good and loose coming in.  We'll see.  I mean, it's a great – there's not a lot of pressure now, and the first race is really an opportunity to separate the field.  You hope that happens if you have a good run.  I saw a lot of Chase contenders going down a lap.  I saw the 11 rolling around out of gas at the end.  My philosophy is just to stay in the hunt.  Let's get midway through this Chase and see who's where and what to do.  Brad definitely was loose coming into the race, and he should be.  He should be confident on these bigger tracks.  He's been very strong on them over the last four or five months, and they did a good job today.
KERRY THARP:  Let's also now invite Kasey Kahne to join us, Jimmie's teammate over at Hendrick Motorsports and he had a solid third place finish today, driver of the No. 5 Farmers Insurance Chevrolet.  He's moved up now six spots from where he was.  Kasey, talk about your run out there today, driver of that No. 5 Chevrolet, 15 points now out of first place.
KASEY KAHNE:  Yeah, we had a great run.  The team did a really nice job.  The pit stops were perfect throughout the whole race.  The car was good.  We just – it just was a little bit to keep up with Jimmie, and then when Brad came up there later on and they were just better than I was throughout that race.
I was slipping a little more than I would have liked to off the corners, and we weren't able to get a handle on that.  Tried to lead a lap there with Jimmie and just wasn't able to get by him.  We battled for about three laps there through the middle part of the race, and ended up third.  I think I ran third most of the race.  It was a solid run for us.  Our whole Farmers Insurance team did a really nice job, and a nice start to the Chase.
Q.  Brad was saying in post-race that he felt like this was the first week he felt like he had speed to keep up with you.  You dominated with the same car you dominated Dover and Indy with, but did it seem like other guys were up there with you this time despite how many laps you led?
JIMMIE JOHNSON:  Seemed pretty strung out.  I mean, at times we had pressure from different guys, and it did seem normal.  I thought that at Michigan, Brad was way fast, too, and Kentucky, obviously the last run at Kentucky ran right up through there and got the lead.  It wasn't anything out of the ordinary in my opinion.  If you're on, you're on, and there's been a lot made up over things that didn't really make a big deal for a while now.  It's just racing.  You go out there and make your car as good as you can.
Q.  In any sense when Keselowski took the lead by just changing two tires and managed to hold on for a good while, was that in any way a sign of things to come?  Was that a sign maybe if he had track position and fresh air, he did have a car to – did that have an impact?  Did you get that impress early in the race when that happened?
JIMMIE JOHNSON:  Yeah, when – I don't know what he did at the end tire wise, but at the start of the race – not the start of the race, but there was one point where he led and I chased him the whole fuel run.  Two tires worked really good on his race car.  I'd say on my car I was pretty impressed the way two tires held on.  But I'm not sure if he had two on at the end there.  If he did, then his car really, really liked two tires, and they learned from earlier in the race that clean air was everything, which we already kind of knew.
Q.  Do you guys think that Keselowski has matured to the point where he's ready to pull off a championship?
KASEY KAHNE:  I just think Brad does a nice job.  I think he prepares for the races, he knows what he has.  He works really well with his team.  He must communicate great with his crew chief, and Penske obviously has great cars and engines, and they put a lot into it.  I think he does a great job as a driver.
And as far as the championship, I don't think anyone knows that until you actually win it.
Q.  Do you guys have a good sense of kind of where you're at as far as compared to the other Chase competitors after this race, or was it too much of a track position game to really know how much better you are?
JIMMIE JOHNSON:  I think you can see some trends from the big tracks and form opinions there.  But this track versus Charlotte versus – where else is mile-and-a-half?  Texas, they're all so different.
Sure, you can maybe pick a favorite, but to really know is tough.  And then it's a long time between now and Homestead, so things can change before we get there, too.
But big-track wise, you can group that into it, but next week is short-track racing, and we'll see what happens on a short track.  Then you've got Dover and Martinsville, which really shake things up.
Q.  More of a general question:  I think we're kind of painting this as a wide open Chase, seems impossible to pick one person.  Do you guys kind of see it the same way?
KASEY KAHNE:  I felt like coming in it was pretty wide open.  I felt there's been a lot of speed from a lot of different guys throughout this season.  I think you have your guys, your Tony Stewart who's won a couple of the last seven maybe, and Jimmie has won five of them.  So those guys have to be the favorites.  I mean, they've won championships.  They know what it's all about and they've handled the pressure at the end of it and done a good job with it, and so has their team.
I think those guys are really stand-out guys, and then everyone else feels pretty competitive.
The swings were, I think, kind of changed throughout the season.  I think it's pretty open, but it'll probably take three or four weeks and you'll have those five or so guys that will probably end up going until the end.
JIMMIE JOHNSON:  Yeah, I agree, and I think when you look at the summer months and how someone would be hot for a couple weeks, it was us, the 11, the 2, the 17, the 16, everybody was streaky, and that lead five – that just leads to – in my opinion leads to – nobody knows.  Anybody can catch a little rhythm here and get going.
KERRY THARP:  Kasey, Jimmie, congratulations on a strong performance today, and Jimmie, I hope you enjoy your birthday tomorrow.
Original Story:
http://startnparkblog.com/?p=11439&ut...
THE BACKYARD
BEST OF MAXIM
RELATED ARTICLES
Keselowski celebrates a win at ChicagolandPhoto – Jared C. Tilton/Getty Images Beating Jimmie Johnson was a hard task the whole day but after the last pit stop, Keselowski figured out how to pass Johnson. Johnson dominated the race for most of the day and Keselowski was the only driver who could keep up. Keselowski had a great final pit stop and made the race winning move by...
Brad Keselowski raced to an impressive victory in the opening race of the Chase for the Sprint Cup, outdueling five-time champion Jimmie Johnson at Chicagoland Speedway on Sunday. Keselowski led after a crucial pit cycle with about 35 laps remaining in the 400-mile race, and held on comfortably from there for his first victory in a Chase race. He also takes over the points lead...
Despite Brad Keselowski's advantage over his fellow playoff contenders, Hendrick Motorsports remains the organization to beat in the Chase due to sheer numbers. Not only has the organization proven there is strength in its depth, but the four HMS teams -- as well as the satellite squads at Stewart-Haas Racing -- showed their ability to contend on Sunday with five of the six...
Ryan Blaney has done something that no other driver for Brad Keselwoski Racing has done. By winning Saturday nights Camping World Truck Series race from Iowa Speedway Blaney became the first BKR driver to win a race. It also marked the first career win for the 18 year old who is the son of NASCAR Sprint Cup Series driver Dave Blaney. At the conclusion of the American Ethanol 200...
Jimmie Johnson hoped to start the 2012 NASCAR Chase off win a win at Chicagoland Speedway, a track he had never won at. Despite leading a race high 171 laps he was unable to do so. Brad Keselowski rallied back on the final pitstop to pass Johnson and pull away. This is the fourth win of the season for Keselowski and his career win.Kasey Kahne, Kyle Busch and Ryan Newman rounded out...
"It's Miller Time," Brad Keselowski exclaimed at Chicagoland Speedway even though there were five laps remaining in Sunday's Geico 400. While the celebration was a bit premature, with a three-second lead over NASCAR's perennial title favorite Jimmie Johnson, the 28-year-old Keselowksi had every reason to be giddy. The prospect of winning the first race in...
JOLIET, Ill. – Brad Keselowski, driver of the No. 22 Discount Tire Dodge Challenger in the NASCAR Nationwide Series (NNS), finished fourth in the Dollar General 300 powered by Coca-Cola at Chicagoland Speedway on Saturday afternoon. The defending winner of this event, Keselowski made a late-race rally to record his 11th top-five finish of the season. Keselowski began the 200-lap...
Sunday's opening Chase for the Sprint Cup race at Chicagoland Speedway was obviously very interesting. Realistically, though, we only had two drivers who truly led this race for a significant period - Jimmie Johnson and Brad Keselowski. Even though this Chase is 10 races, each part of the competition of a Chase race weekend is huge. I almost look at it like 20 races with the...
Brad Keselowski leads the FOXSports.com/SPEED.com Power Rankings...
1. Brad Keselowski   What has kept Keselowski and his team near the top of the Horsepower Rankings all season is the ability to win on most...
The NASCAR Sprint Cup Series heads to New Hampshire for the second and final time this season in the Sylvania 300. The race is the second of the 10 race Chase as Brad Keselowski scored a huge win in Chicago last weekend to take over the points lead for the first time in his career. Will Keselowski make my start em' list or be left off this week? How about the other fellow Chasers...
All Sports News

Delivered to your inbox

You'll also receive Yardbarker's daily Top 10, featuring the best sports stories from around the web. Customize your newsletter to get articles on your favorite sports and teams. And the best part? It's free!
THE HOT 10: Who's Trending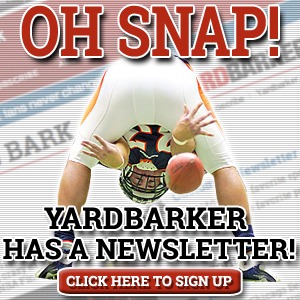 Latest Rumors
Best of Yardbarker

Today's Best Stuff

For Bloggers

Join the Yardbarker Network for more promotion, traffic, and money.

Company Info

Help

What is Yardbarker?

Yardbarker is the largest network of sports blogs and pro athlete blogs on the web. This site is the hub of the Yardbarker Network, where our editors and algorithms curate the best sports content from our network and beyond.