Found February 06, 2013 on Celtics Town:
The story of the two best friends was incomplete when Kendrick Perkins was traded away to the Oklahoma City Thunder.  While the change of teams may have physically separated them, the common injury (a torn ACL) brings them back together.  They continue to talk everyday and Perk is planning on heading to Kentucky to spend some quality time with Rondo over all-star weekend (via Gary Washburn at the Boston Globe):"When you hear stuff like that, especially with a close friend, it's always disturbing," said Perkins. "So I just wanted to call and make sure that he was all right as far as mentally and just getting ready. Because it takes a focus to go through that process of surgery and the recovery of it."So I just wanted to give him some advice on his health and second opinions and how to go about his rehab and just let him know that I'm here for him."…"Mentally, he has a hard time with just sitting out and probably not being able to walk for a minute and not being able to run," Perkins said. "And just the whole rehab part of it. Mentally, he struggles with things like that."That's the biggest thing he was concerned about. I don't think he never really had that type of surgery where it affected him and [forced] him to have to go to rehab to get back to where he needed to be."Perkins' quotes from this story show once again that there is more to Perk than a scowl and a sweet follow-through.  He is built from the same loyalty cloth as Kevin Garnett, and the concern he shows for one of his closest friends transcends the game of basketball.Stories like this personalize a game that can otherwise easily be written off as people with different color jerseys competing in menial tasks (I hope I did not ruin the game of basketball for anyone), but these tales prove the games importance.  They give the game a pulse.  It is about the shared battles and victories (the 2008 championship) that typify those bonds, and it is comforting to see such connection through otherwise superficial means.But I digress.  This, at the very least, reminds us how awesome Perkins is.
Original Story:
http://www.celticstown.com/2013/02/06...
THE BACKYARD
BEST OF MAXIM
RELATED ARTICLES
Kevin Durant has been uncharacteristically loose-lipped with the Oklahoma City Thunder this season, and as a result he is tied for the league lead with technical fouls. During Monday night's win over the Dallas Mavericks, Durant picked up his ninth technical of the season. With slightly less than half of the regular season remaining, he is on pace to hit the 16 technical foul-mark...
Chad Peery, an off-duty Oklahoma City police officer, was asked to escort three men from a bar in Oklahoma City. The three men beat him, broke his neck and left him paralyzed. That was two years ago. Peery probably would never walk again, doctors said, and feeding himself was going to be real challenge too. But Peery returned to work with the Oklahoma City Police Department....
OKLAHOMA CITY Russell Westbrook is seen as everything from rogue to apathetic. And in any given game you'll hear he's an amazing talent and that he doesn't get back on defense. But one thing Westbrook has never been is phony. This isn't a Dwight HowardKobe Bryant situation where there are team chemistry issues. This isn't a Dwight HowardStan Van Gundy situation...
They may not be on the same team any longer, but that doesn't stop or hinder the friendship and bond shared between Kendrick Perkins and Rajon Rondo. Perkins spoke to the media Tuesday afternoon, and when asked about his fellow teammate Rondo's injury he had the following to say: Via Boston.com "When you hear stuff like that, especially with a close friend, it's always disturbing...
Rajon Rondo is looking at a long road back from ACL surgery, but he'll have a familiar face helping him along as he recovers. Former Celtics teammate Kendrick Perkins, now with the Oklahoma City Thunder, had a similar injury in 2010, when he tore the anterior cruciate ligament in his left knee while playing the Lakers in the NBA Finals. Perkins was back on the court within seven...
Although the Oklahoma City Thunder win a majority of their games behind a high-powered offense led by All-Stars Kevin Durant and Russell Westbrook, coach Scott Brooks wants his team to put some extra emphasis on the defensive end. They seemingly shouldn't have much trouble with that request against the offensively challenged Phoenix Suns in Oklahoma City on Friday night. ...
A fog-delayed arrival in Oklahoma City made Golden State's task tough enough. Then the Warriors made the mistake of getting on Kevin Martin's bad side. Kevin Durant scored 25 points and Martin roared to life with 10 points during a fourth-quarter run that put away the Thunder's 119-98 win on Wednesday night. Martin hit a pair of 3-pointers, a runner and slammed home...
The Oklahoma City Thunder haven't lost more than two in a row this season, but they also haven't won two straight in nearly three weeks. The Northwest Division-leading Thunder will try to change that Wednesday night when they go for an eighth consecutive victory with the Golden State Warriors in town. After posting 10 wins during a stretch of 12 of 15 on the road, Oklahoma...
Everyone who's been following this team for the past few years knows Kendrick Perkins and Rajon Rondo developed a very close friendship over their first few years with the team.  Rondo's post-Perk trade funk has widely been blamed on him sulking over the team sending away his best buddy. But a change in uniform doesn't mean there's a change in their friendship.  And when...
Former Celtic Kendrick Perkins spoke with the media Tuesday and addressed Rajon Rondos' knee injury against the Atlanta Hawks. As we all know, Perk' also tore his anterior cruciate ligament during Game 6 of the 2010 NBA Finals, so he spoke with Rondo about rehab, recovery, and just personal comfort to a close friend and former teammate. "When you hear stuff like that...
All Sports News

Delivered to your inbox

You'll also receive Yardbarker's daily Top 10, featuring the best sports stories from around the web. Customize your newsletter to get articles on your favorite sports and teams. And the best part? It's free!
THE HOT 10: Who's Trending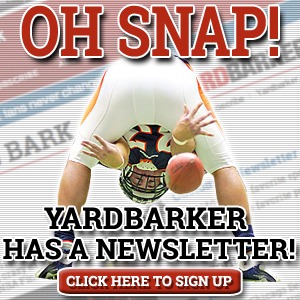 Latest Rumors
Best of Yardbarker

Today's Best Stuff

For Bloggers

Join the Yardbarker Network for more promotion, traffic, and money.

Company Info

Help

What is Yardbarker?

Yardbarker is the largest network of sports blogs and pro athlete blogs on the web. This site is the hub of the Yardbarker Network, where our editors and algorithms curate the best sports content from our network and beyond.