Anytime you go back to the track where you picked up your first win, there's always something to make it feel like home. Wisconsin native Matt Kenseth has that feeling as we approach the 13th anniversary of his first win in the 2000 running of the Coca-Cola 600 at the Charlotte Motor Speedway. "The 600 has always been unique.  We have our first win here so maybe that's part of it.  This is the first track that I made my first Nationwide start at and have more miles here at this track than any other on the circuit.  You only race a 600-mile race once a year — Memorial Day weekend.  Just a lot of different things.  The track goes through huge changes, typically it's very different in the beginning of the race when the sun is still out.  It's usually hot and slick and then at the end of the race, after four hours of racing or four-and-a-half hours of racing, the track is as fast as it's ever going to be and everybody picks up a second and it's on.  It's like you wait four hours to run a trophy dash.  It's just a fun event.  A lot goes on, you have to pay attention for a long time and really keep up with the adjustments and just one I look forward to and look forward to the challenge," Kenseth told reporters Thursday from the track. The rigors of 600 miles can take its toll on a driver and hopefully that toll is a combination of physical and mental, and not emotional for a driver. "Maybe mentally, I hope not emotionally.  If it's draining emotionally, then it means you have something going wrong probably.  A little bit of both — I actually looked at the weather yesterday and saw it was supposed to be fairly cool on Sunday and I was pretty excited about that.  When the race starts and its 90 degrees, you're solid sweat 100 miles in and you know it's going to be a long 600 miles and you really have to work hard to stay hydrated and cool and ready for that.  I'd say it's a pretty good combination of both.  I think that it's easier to be mentally weak when you're getting tired physically or you've been sitting there a long time and you're hot.  You start thinking about other things other than focusing on the race.  I think it's probably equal — probably 50-50," Kenseth explained. Cooler temperatures for the second half of the race should lead to a racier surface. One that actually has grip to it and allow drivers more freedom on the track. "Certainly, the sun has a lot to do with it, but temperature as well.  If we don't get much more or any more rain, then we can get the rubber back on the track and the sun is on it, then I think it will still be really slick when the race starts because it's supposed to be sunny.  Certainly, being cooler will help — the cooler it gets here to a point you have more grip.  The hotter it is here when the sun is out, the less grip and the track seems to change a lot," commented Kenseth. Driving 600 miles takes focus from a driver to keep from almost daydreaming going lap after lap out there. "There's occasions during the race, where maybe your mind will wonder and you think about different things depending on the situation that you're in.  The main thing I always try to do is try to look ahead, especially in this race and try to stay on top of the track changes, what your car is handling like in traffic, what it's doing in this run.  Trying to report as often as you can what's going on with your car – just all the aspects of it — really, just try to keep your mind focused on that and what you need to do next.  As far as car changes, try to focus on what everybody is doing on the race track for their lines and how to get the most speed out of the car.  Really, I don't have to try that hard, but keep your mind on the race and all things on the race so you can always know what's going on and you feel like you're plugged into that," Kenseth told reporters. Kenseth and his Joe Gibbs Racing team will try for their second consecutive win tonight at 6 PM EST and the race can be seen on FOX.
Original Story:
http://startnparkblog.com/?p=26640&ut...
MORE FROM YARDBARKER
All Sports News

Delivered to your inbox

You'll also receive Yardbarker's daily Top 10, featuring the best sports stories from around the web. Customize your newsletter to get articles on your favorite sports and teams. And the best part? It's free!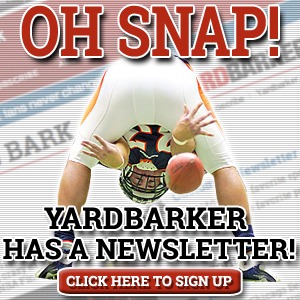 Latest Rumors
Best of Yardbarker

Today's Best Stuff

For Bloggers

Join the Yardbarker Network for more promotion, traffic, and money.

Company Info

Help

What is Yardbarker?

Yardbarker is the largest network of sports blogs and pro athlete blogs on the web. This site is the hub of the Yardbarker Network, where our editors and algorithms curate the best sports content from our network and beyond.