Found August 23, 2013 on BlackSportsOnline:
Lamar Odom is finding out what it is like being married to a Kardashian. Who leaked this information is unknown, but is it true? Maybe, maybe not, but the fact TMZ felt comfortable reporting it, tells you they believe it is true. Multiple sources familiar with the situation tell TMZ … Lamar has had a problem for 2 years. It got so bad, last August Khloe pressured Lamar to go to rehab. Lamar went to a facility in San Diego, but he was so resistant Khloe hired private investigators to secretly stand guard at the rehab place to make sure he didn't leave. The P.I.s stood guard 24/7. We're told Lamar actually stayed clean once he left rehab and was able to play well for the Clippers this past season. But when the season was over, sources say Lamar slipped deep back into hardcore recreational drugs. As for reports that Lamar was cheating recently, we're told Khloe is convinced it happened, and she feels she's been hit with a double whammy … but drugs are the main problem. I have no idea exactly what a hardcore recreational drug are. Some people consider weed a hardcore drug, so without knowing specifics we can't say if Lamar is Tony Montana. With that being said Lamar did exhibit some irrational behavior while with the Mavericks and just recently by attacking the paparazzi. What we do know is Khloe has kicked him out of the house.
Original Story:
http://blacksportsonline.com/home/201...
THE BACKYARD
BEST OF MAXIM
RELATED ARTICLES
POLICE BLOTTER
The NBA free agent has reportedly not been seen in 72 hours, and his family is concerned that's he's out on a drug binge.
According to reports, Lamar Odom is currently going through some trying times, yet his intention is still to return to the Los Angeles Lakers. According to Jared Zwerling of ESPN New York, a source close to Odom in his native New York says that the former Sixth Man of the Year still wants to come back to his old team: Talking to a close contact of Lamar Odom's in NYC. Said while...
Lamar Odom was a key piece to the Lakers' 2009 and 2010 Finals victories. He was a big part of the success of this latest era of Los Angeles titles. Then things fell apart. Much faster than anyone could anticipate. He signed with the Mavericks as a free agent and had his first season averaging fewer than 10 points per game. He was unhappy and lost in the wilderness, it seemed...
No one knows exactly what is going on with Lamar Odom. The worst case scenario is he is a crack cocaine addict who is cheating on his wife and is currently missing. Hopefully, it isn't that bad. It looks like Odom never recovered from leaving the Lakers. Talking to a close contact of Lamar Odom's in NYC. Said while Lamar "is going through a lot in his personal life, he...
TMZ dropped a bombshell report on Friday when they said Lamar Odom has been abusing hardcore recreational drugs for the past two years. The report stated that Odom's drug abuse was the reason for the marital problems between him and wife Khloe Kardashian. TMZ did not elaborate on what kind of drugs Odom supposedly has […]
I find this hard to believe because he was overweight when he came into Clippers camp, but according to TMZ, Odom is a certified crack addict.  Normally, crack addicts lose weight, but I guess there are exceptions to every rule. Lamar Odom has been deep into crack cocaine for at least 2 years … TMZ has learned. Sources say Lamar's crack use was extreme before he went to rehab...
Lamar Odom has been missing for nearly the past 72 hours and his family and friends fear he is doing cocaine while hiding, according to a report citing sources connected to the forward. Odom's wife, Khloe Kardashian, reportedly kicked Odom out of the house on Wednesday. The report cites Odom's issues with drugs as long as a two-year span. Odom played last season with the...
The last two seasons have been by far the worst of Lamar Odom's 14-year NBA career, and we might finally know why. Odom has been dealing with a "hardcore recreational drug" problem for two years now, according to TMZ. The issue got so bad at one point in 2012 that his wife Khloe Kardashian even forced the 33-year-old forward to enter a rehab facility in San Diego. A drug problem...
TMZ is reporting that the cause of Lamar Odom and Khloe Kardashian's current "marriage crisis" is drug abuse. According to the entertainment news outlet, Odom has had a drug problem for 2 years now, though he was reportedly clean while playing for the Clippers last season. Multiple sources familiar with the situation tell TMZ … Lamar has had a problem for 2 years.  It got...
Lamar Odom idolized Tiger Wood, not for his golf skills, but for his cheating on his ex-wife with mistresses. According to a source, Lamar would brag to his friends that he was even more virile that Tiger Woods.To most people, it's known that Lamar has cheated on Khloe, with at least one woman, but the source claims that Lamar has cheated on Khloe with more than 50 women in the...
According to Pro Basketball Talk via NBC Sports, current NBA free agent Lamar Odom has a drug problem. TMZ first reported this story.  They said: The marriage of Khloe Kardashian [...]
Photo credit: vibe.com Once upon a time, Lamar Odom was one of the best sixth men in the league and an NBA champion. Now he may not only be losing his shot at being on an NBA roster, he could be losing his wife as well. Odom's marriage to Khloe Kardashian has been well documented, but things have reached an all time peak with rumors of Lamar cheating. That seems to have taken a...
Clippers News

Delivered to your inbox

You'll also receive Yardbarker's daily Top 10, featuring the best sports stories from around the web. Customize your newsletter to get articles on your favorite sports and teams. And the best part? It's free!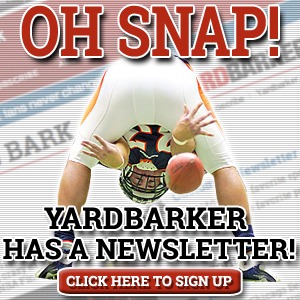 Latest Rumors
Best of Yardbarker

Today's Best Stuff

For Bloggers

Join the Yardbarker Network for more promotion, traffic, and money.

Company Info

Help

What is Yardbarker?

Yardbarker is the largest network of sports blogs and pro athlete blogs on the web. This site is the hub of the Yardbarker Network, where our editors and algorithms curate the best sports content from our network and beyond.