Found January 30, 2013 on The Juicy Online:
Although both Lamar Odom and Khloe Kardashian have killed the rumors about the two ending their relationship, Lamar was caught getting his freak on inside a strip club recently.According to Life & Style, while Khloe was on TV fighting off rumors that the relationship between the two were falling apart, Lamar was inside a strip club in Minneapolis on January 16, on the same night as Khloe fighting off divorce rumors, and ordered some "service" inside the strip club.An eyewitness claims that Odom and his teammates entered a $500-per-hour Champagne Room, where Lamar handed roughly $2,000 while enjoying the services of a stripper named Jasmine.The stripper 'Jasmine' is known for doing ANYTHING while being in the Champagne Room, a co-worker said. The co-worker went on to say that the stripper was all over Lamar and was rewarded greatly for her service, as Lamar promised to return to the strip club when the L.A. Clippers return back in Minneapolis.Seems like we keep hearing reports about Lamar heading to strip clubs and getting fresh with girls inside the clubs. Guess Khloe is cool with his after hours activities.
Original Story:
http://feedproxy.google.com/~r/mediad...
THE BACKYARD
BEST OF MAXIM
RELATED ARTICLES
There still is no set date for the return of injured Clippers point guard Chris Paul, head coach Vinny Del Negro said Sunday. "Day to day, no timetable," Del Negro said of Paul, the team's star playmaker who is out because of a bruised right kneecap. "With a bone bruise it's just a matter of letting it calm down," and then the Clippers have to wait ...
Los Angeles Clippers forward Matt Barnes was given a flagrant foul-2 and ejected in the second quarter against Minnesota on Wednesday night after delivering a forearm to Wolves center Greg Stiemsma. Stiemsma went to set a screen at the top of the key on Barnes, who tried to shove his way through it. Barnes then hit Stiemsma with a forearm to the chin and was immediately whistled...
See people, Blake Griffin highlights do include more than just thunderous dunks. Blake Griffin's 26 points led all scorers as his L.A. Clippers marched into Minnesota and beat the hometown Timberwolves 96-90. Two of Griffin's points came via this crazy circus shot he nailed late in the 4th quarter with the Clips leading by only a triple. Griffin made the free throw and the rest...
The Los Angeles Clippers don't take kindly to being pushed around. Blake Griffin had 26 points and 13 rebounds, and DeAndre Jordan added 16 points and 12 boards to lift the Los Angeles Clippers to a 96-90 victory over the Minnesota Timberwolves on Wednesday night. Caron Butler had 19 points and Jamal Crawford scored 17 for the Clippers. Nikola Pekovic had 17 points and 12...
The first game of the Clippers' longest road trip this season got off to a dreadful start in Minnesota. Chris Paul and Chauncey Billups sat again with injuries. No surprise there. But forward Matt Barnes, whose temper is frequently his worst enemy, was ejected in the second quarter for a flagrant 2 foul just 3 minutes into the second quarter. The game had the makings of a disaster...
Los Angeles Clippers forward Matt Barnes was ejected from the team's game against the Minnesota Timberwolves Wednesday after violently pushing Greg Stiemsma in the neck during the second quarter. Barnes may have been upset with a screen from Stiemsma and reacted by pushing the center. He was ejected immediately after being assessed with a flagrant 2 foul. Stiemsma must have still...
MINNEAPOLIS The angry, pink-red welt on Greg Stiemsma's neck burns. You can see it from the upper deck of the Target Center. Rick Adelman's blood boils. Vinny Del Negro sweats. The newly unveiled bear tattoo on Nikola Pekovic's arm draws your eyes and won't let them go. Blake Griffin thuds as he hits the floor, all 250 pounds of sinew slamming into hardwood and...
MINNEAPOLIS -- Coach Vinny Del Negro thought it was a little sloppy. Slow start, too many mistakes early. You know, all the things coaches complain about. But the finish? That was just fine. The Los Angeles Clippers, down by a point with three minutes left in their game with the Timberwolves at Target Center on Wednesday night, finished the game on a 9-2 run. And so they started...
LOS ANGELES -- The Clippers are back in their "happy place," as Lamar Odom called it Sunday night. They played team defense and kept a positive energy. They got everyone involved offensively. They shared the ball. Most of all, they put an end to their four-game losing streak, and at the perfect time. Their 96-83 win over the Portland Trail Blazers at Staples Center avenged...
Adelman returns. Google "Jack Sparrow entrance" and think of Adelman returning. When a coach returns or is fired, sometimes generates temporary attribute boost like in NBA 2k Association. Wolves could win. Probably won't. Pek maybe returns. Same with Night of the Living Shved. Roy out. Love out. Everyone out. Johnson in. Gerbil Belly in. Trade deadline? Should be open...
Eric Bledsoe has started eight games due to an injury that has Chris Paul sidelined.
Clippers News

Delivered to your inbox

You'll also receive Yardbarker's daily Top 10, featuring the best sports stories from around the web. Customize your newsletter to get articles on your favorite sports and teams. And the best part? It's free!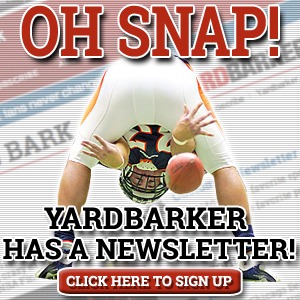 Latest Rumors
Best of Yardbarker

Today's Best Stuff

For Bloggers

Join the Yardbarker Network for more promotion, traffic, and money.

Company Info

Help

What is Yardbarker?

Yardbarker is the largest network of sports blogs and pro athlete blogs on the web. This site is the hub of the Yardbarker Network, where our editors and algorithms curate the best sports content from our network and beyond.