Found June 20, 2012 on Fox Sports Florida:
PLAYERS:
LeBron James
,
Juwan Howard
,
Kobe Bryant
,
Magic Johnson
,
James Worthy
,
Chris Bosh
,
Dwyane Wade
,
Hakeem Olajuwon
,
Jerry West
,
Pat Riley
,
Shane Battier
TEAMS:
Miami Heat
,
Los Angeles Lakers
MIAMI Forget for a moment the painful grimace on the face of LeBron James. When he was carried off the court late Tuesday by teammate Juwan Howard and trainer Jay Sabol, isn't that how an enduring moment from a defining career turn, rich with symbolism, is supposed to look? It appeared that way Wednesday, the day after, when the buildup to Game 5 revolved less around the minutiae of matchups and the shortcomings of Oklahoma City than it did the inevitable crowning of King James. Surprisingly, the one who was most comfortable welcoming the possibility was James, who after walling himself off for much of his career including these playoffs rolled out a red carpet into his inner thoughts when he met with reporters after practice. It was hard to recall James being so introspective and so human in a group setting. But there he was, acknowledging that the pressure had gotten to him last year, all but apologizing for his "immature" behavior, and revealing himself as a player who needed to improve his mind as much as his game. "I've learned some things in my long but short career," James said, a turn of the phrase that so aptly describes a career where a rich plot line has been well developed, yet is far from finished. If James has been defined thus far mainly by his shortcomings, it is worth noting that at age 27, he is on the verge of owning more NBA titles, more league MVP awards and more Finals MVP awards than Michael Jordan, the gold standard of competitive greatness, at the same age. True, James had a three-year head start on Jordan, but at this point in their careers, they were being dogged by a similar, singular question: Could they win? While James is a keen student of basketball history, he does not see himself chasing Jordan, or Kobe Bryant. Rather, he identifies most with Magic Johnson, another product of the Rust Belt with an uncommon skill set for his size whose first order was making his teammates better. The difference, of course, was their championship pedigree and, not unrelated, Johnson's good fortune to be drafted by a team that already had Kareem Abdul-Jabbar and would soon add another Hall of Famer, James Worthy. It is hard to say whether James' apparent transcendence is simply a matter of being surrounded by better players. Who could argue that Chris Bosh and Dwyane Wade are not a major upgrade from Anderson Varajao and Mo Williams? But doing so would diminish the idea that James has become a better player for these experiences because he has been willing to learn from them rather than be defined by them. After seizing up in last year's Finals, he realized he needed to learn to play with his back to the basket and he needed to keep from feeling overwhelmed. So James traveled to Houston last summer to work with Hakeem Olajuwon, whose post moves and footwork were the foundation of a Hall of Fame career. They worked together for a week and have spoken three times during the playoffs. James has also begun to read, from the Hunger Games trilogy to Jerry West's autobiography, during the playoffs. "It just gives me another outlet," James said of his reading ritual. "Throughout the playoffs, all you think about is basketball, all you want to do is play basketball. But at the same time, it can come to a point where it's overloading to the mind and you think about it too much." It is hard to know that James is so self-aware since most people identify him for the way he walked away from Cleveland with "The Decision" debacle and the "not one, not two, not three" proclamation. It was the sort of audacious entrance once made by a coach of the Lakers, who stood before a parade crowd and guaranteed they'd be back the next year. When the Lakers were, he said they would be going for a Three-peat, a phrase he later trademarked. Pat Riley was asked Tuesday what he would have said to that young coach now. "Well, in between credit and criticism is fame and what happens with fame comes position and power," said Riley, now Miami's team president. "And if you try to get too much position and too much power, then you say stupid things like I said in 1988." Shane Battier, who has both marveled and shuddered at the attention that swirls around James, has played with him for just one season. But he senses a maturing. "I'm sure we can all think back to our young days and think of things we wish we would have said better or done differently," Battier said. "But hey, LeBron's 27, kids are getting older." Battier was then asked if players care more or less about what is being said of them as they get older, as their career begins to be more defined. "Less," Battier said with a smile. "And I'm living proof unequivocally less." Though he opened up, James said he should not have any problem keeping his focus on closing out Oklahoma City on Thursday. He will stick to his routine, carrying on with newfound determination, confidence and a good book. His family, friends and business associates know better than to bother him with plans for a parade or after party. "They wouldn't dare get in the way at this point," James said. Neither, it seems, will the Thunder.
Original Story:
http://www.foxsportsflorida.com/06/20...
THE BACKYARD
BEST OF MAXIM
RELATED ARTICLES
LeBron James is the MVP of the NBA Finals. James finished with 26 points, 13 assists and 11 rebounds in Game 5 of the title series Thursday night, leading the Miami Heat to a 121-106 victory over the Oklahoma City Thunder. Miami won the second title in franchise history, and James won for the first time in three finals appearances. James and the Cleveland Cavaliers were swept...
LeBron James is the MVP of the NBA Finals. James finished with 26 points, 13 assists and 11 rebounds in Game 5 of the title series Thursday night, leading the Miami Heat to a 121-106 victory over the Oklahoma City Thunder. Miami won the second title in franchise history, and James won for the first time in three finals appearances. James and the Cleveland Cavaliers were swept...
Charles Barkley is on the list of great NBA players who never won a title. LeBron James had won three regular season MVP awards before winning his first NBA title, but at age 27 and in his 9th season in the league, he finally won one. Barkley said on NBA TV after Game 5 on Thursday that he was happy for LeBron. "As someone who never won an NBA championship, I always root for...
I stopped watching after the end of the 3rd quarter. I couldn't handle watching LeBron James celebrate. The guy was trying to sell the drama on a freaking cramp on Tuesday. I could only imagine his reaction to winning his first rin as. visions of a giant box of Summer's Eve hitting the court clouded [...]
During the NBA playoffs, there has been some questionable fashion choices by the players and even LeBron James decided to rib one of his teammates about his glasses.When Heat star Dwyane Wade was at the podium for a postgame interview in game four, LeBron was watching on a close-circuit television and decided to point out Wade's nerdy glasses where he called Wade out saying that...
The smoke hasn't cleared from the celebration in Miami, and already the experts, fans, and folks at random water coolers across the globe are wondering will they be able to repeat? Can LeBron James deliver on his bostrous claim of winning seven titles? It's apparent that winning the first one has sparked even more debate about the future. The questions surrounding the...
LeBron James has been called heartless, callous, narcissistic, cowardly and selfish. And that was just in one letter from Dan Gilbert, the man who used to pay him to play for the Cleveland Cavaliers. One more win, and James will have to be called something else: NBA champion. It could happen Thursday, when the Miami Heat play the Oklahoma City Thunder in Game 5 of the NBA Finals...
MIAMI -- The wait is over. Now LeBron James, Dwyane Wade and Chris Bosh can have a championship celebration with an actual championship trophy. Pushing to an early 17-point lead and then building from there, the Miami Heat defeated the Oklahoma City Thunder 121-106 Thursday night at AmericanAirlines Arena, closing out the best-of-seven NBA Finals in Game 5, sweeping the three...
WHAT HOT SEAT?
LeBron James is an NBA champion. James put together another stellar performance in Game 5 of the NBA Finals as the Miami Heat beat the Oklahoma City Thunder 121-106 to win their second NBA title. James, the regular season's most valuable player finished the game with a triple-double. He scored 26, with 13 assists and 11 rebounds and was voted the Finals most valuable player...
Dwyane Wade, Chris Bosh and LeBron James especially got a huge monkey off their back Thursday night when they were able to finally deliver an NBA title to the City of Miami in the Big Three era. Not only that though the Heat did it in convincing fashion disposing of the upstart Oklahoma City Thunder in five games with a very convincing win to close things out. LeBron James was phenomenal...
Some of the Heat are offering high praise to coach Erik Spoelstra as he leads Miami in its second straight NBA Finals appearance. Veteran guard Juwan Howard lauded Spoelstra's role in helping the team blend together, from stars LeBron James, Dwyane Wade and Chris Bosh meshing on the court to veterans like Howard and Mike Miller finding their roles. "It's challenging...
All Sports News

Delivered to your inbox

You'll also receive Yardbarker's daily Top 10, featuring the best sports stories from around the web. Customize your newsletter to get articles on your favorite sports and teams. And the best part? It's free!
THE HOT 10: Who's Trending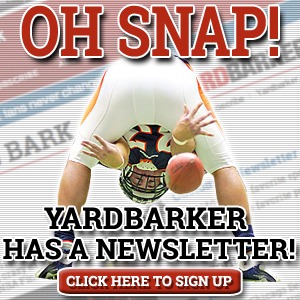 Latest Rumors
The Backyard

Today's Best Stuff

For Bloggers

Join the Yardbarker Network for more promotion, traffic, and money.

Company Info

Help

What is Yardbarker?

Yardbarker is the largest network of sports blogs and pro athlete blogs on the web. This site is the hub of the Yardbarker Network, where our editors and algorithms curate the best sports content from our network and beyond.