Found November 30, 2012 on The Outside Corner:
Via The Outside Corner:
You can rest easy, Mets fans. David Wright won't be going anywhere for a long, long time with the news that the franchise third baseman has agreed to a seven-year contract extension that will pay him $122 million.
That deal makes Wright the richest player in team history (if you include the $16 million he was already set to earn this season which really makes it an eight-year, $138 million pact) and, more importantly, brings to an end a roller coaster few days of negotiations that started with the Mets low-balling Wright before upping their offer only to have Wright himself say that everything the team was leaking to the media was a lie. But at the end, everyone got what they wanted, especially the Mets fans who surely would've taken to the streets in protest had the team let another wildly popular franchise cornerstone walk away.
At first glance, the money in the deal isn't outrageous at an average annual value of just over $17 million for a guy who has posted a 47.0 fWAR over eight-plus big league seasons. If there is something not to like about this contract it is the length. Wright will be 30 in a few weeks, so this locks him up through his age 38 season and it is hard to imagine that he'll still be getting the value boost of being a third baseman by the time his contract expires. Part of that is aging but a bigger part is Wright's recent health history. From 2009 through 2011, Wright saw his production drop off due to a variety of injury issues, most notably a concussion that had some lingering effects. He shook that injury bug though in 2012 and returned to posting elite level numbers. The Mets will have to hope that he can continue to avoid the injury bug going forward to make sure that they get what they paid for with this massive extension.
Of course, as alluded to above, this contract was not strictly about on field performance. In the wake of their involvement in the Bernie Madoff scandal and their own financial struggles, the Wilpon family that owns the Mets has been fighting an uphill PR battle with their fanbase for the last few years. Even if Wright doesn't live up to this payday, the Wilpons will have earned some goodwill with their customers by stepping up to the plate to keep him in town and likely make Wright a Met for life.
Now let's see if they go and spoil much of that goodwill by trading away another fan favorite, R.A. Dickey, at the Winter Meetings as the rumor mill suggests. These are still the Mets, after all. They aren't going to completely change their ways overnight.
Original Story:
http://www.bloguin.com/theoutsidecorn...
THE BACKYARD
BEST OF MAXIM
RELATED ARTICLES
There is certainly a lot of buzz emanating from Queens these days in regards to David Wright's contract negotiations. Per MetsBlog, WFAN's Mike Francesca says that he has sources (inside Mets' offices) saying that the offer the Mets made to Wright, a deal which is reportedly worth $135-140 million for seven years, is legit and that the Mets are serious about locking up Wright...
A year after the New York Mets let Jose Reyes walk without ever even making the shortstop an offer to stay, the team has seemingly taken the complete opposite approach with third basemen David Wright.  A day doesn't pass without a new report of an offer from the team in the hopes of keeping #5 a New York Met for life.  Things may slow down a bit in the coming days as the 29-year...
WFAN broke the news first, not a whole host of media outlets are now reporting that the New York Mets and David Wright have agreed to a seven year contract extension worth $122 million. When combined with the $16 million he is set to make this season, this becomes the most lucrative deal in team history, slightly trumping the $137.5 Johan Santana signed for a few years back. The...
WFAN radio is reporting that David Wright and the New York Mets have agreed to a $138 million, eight-year contract that would be the richest in franchise history. The deal would keep the All-Star third baseman under contract with the Mets through the 2020 season, when he will be 37. The sports-talk station first reported the agreement early Friday. Without a new contract, Wright...
WFAN's Ed Coleman was first to report that the Mets and David Wright have agreed to a six year - $122M contract, which makes it the richest contract the Mets
One New York team gave a star player a $122 million extension while the other New York team allowed its starting catcher to sign with Pittsburgh as they seek to cut payroll for 2014. And the first team is the Mets and the second team is the Yankees. It's Backwards Day!The Mets had no choice but to lock up David Wright. Even the dollar store Tampa Bay Rays just gave a big contract...
The New York Mets have made a step in the right direction as a franchise as they have locked up third baseman David Wright to an seven-year, $122mm contract extension, WFAN's Ed Coleman reports. Adding the upcoming season to the deal (which was a team option at $16mm) would make it an eight-year deal worth $138mm. The Mets desire to keep Wright in a Mets uniform has been well...
Hello Mets faithful and Happy December!  It will certainly be Happy Holidays for all of us because…he's ours!  At long last, after all the rumors, false reports, speculating, praying, hoping, rain dancing, etc., David Wright is now a Met for life (barring any future trades).  We finally have our generation's version of Ed Kranepool…someone we can rally around and cheer...
          Ed Coleman from WFAN reported last night that the Mets and David Wright agreed to an 8 year, $138 million extension. He reported this at approximately 3 am, which is ironically the same time Willie Randolph was fired during a roadtrip in Los Angeles in 2008. The Mets can finally go on with their offseason plans of adding outfield help, a catcher and strengthing...
Today is the day that most Mets fans take a sigh of relief that the organization was able to show the fans that they are more financially stable than most have thought. David Wright is a Met, probably until his last days on a baseball field. This is something Mets fans have never seen before. Wright now becomes our version of Ripken, Gwynn, Helton, Chipper or Jeter. He may not become...
It looks like David Wright will be a New York Met for life, as a source said that the contract terms have been agreed to (eight years, $140 million). So now we know that the Mets have money. We just hope that's not all of it.One final problem:  David Wright's new eight-year deal worth nearly $140 million will not become official until a physical. And that physical will...
With David Wright signed for the next eight years, the New York Mets next order of action is to figure out what they are going to do with reigning NL Cy Young award winner R.A. Dickey.  While negotiations have reportedly been slow, Buster Olney of ESPN recently reported that the team has increased it's offer to the 38-year-old knuckleballer: The Mets increased their offer to R...
Mets News

Delivered to your inbox

You'll also receive Yardbarker's daily Top 10, featuring the best sports stories from around the web. Customize your newsletter to get articles on your favorite sports and teams. And the best part? It's free!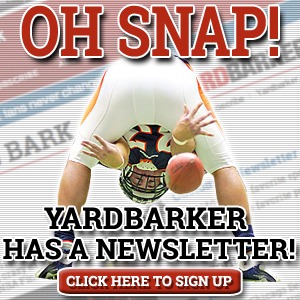 Latest Rumors
Best of Yardbarker

Today's Best Stuff

For Bloggers

Join the Yardbarker Network for more promotion, traffic, and money.

Company Info

Help

What is Yardbarker?

Yardbarker is the largest network of sports blogs and pro athlete blogs on the web. This site is the hub of the Yardbarker Network, where our editors and algorithms curate the best sports content from our network and beyond.