Found June 05, 2013 on The Daily Stache:
With the #MetsTwitterDraft officially on the horizon, it is about time to start mocking the draft to see who will end up where. While the managers of #TeamStache and #Team Presser have been relatively quiet about their draft strategies, here are my best guesses as to who will be chosen where. For the purposes of this mock draft, Presser has been awarded the first pick. There will be a coin toss to determine this on the night of the real thing. The rules for roster size and composition can be found here. These selctions are not necessarily what I would do, but this is how I see the draft falling. I have included brief analysis of pick as well. Anyways, here it goes:   1) Team Presser selects, @MattHarvey33. Every team needs an ace. He may tweet only once every fifth day, but when he does it is something special. 2) Team Stache selects, @MetsGM. Instead of going the ace route, Team Stache decides to snag the analytical mind early. 3) Team Presser selects, @The7Line. By drafting The 7 Line, Presser ensures his team will not only be fully uniformed, but they will also draw large crowds. 4) Team Stache selects, @JaredDiamond. There is a shortage of solid beat writers in this draft, so Team Stache grabs the best one early. 5) Team Presser selects, @_mistermet. Team Presser values a solid RT Vault very highly, so I could see this pick hapening. 6) Team Stache selects, @AnneV. Presser choses Harvey, Stache picks his lady. I feel like this is a deep class in terms of celebrity fans. 7) Team Presser selects, @DocGooden16. Since they have Harvey, this is a nice compliment pick. 8) Team Stache selects, @metspolice. With the previous track record of banner day influence and uniform criticism, this is a solid pick all around. 9) Team Presser selects, @Jay_HorwitzPR. In terms of public relations and public twitter jokes, this has the potential to be a slam dunk in my mind. 10) Team Stache selects, @jordany023. JV1 will blees the entire team with his powers. 11) Team Presser selects, @RageWynn. Both Presser and Wynn are Duda fans, so this pick could be made next week. 12) Team Stache selects, @TeamThirstTrap. All around tweeter, plus #LosingMoobs will add to the team's motivation. 13) Team Presser selects, @MarcCarig. They are looking for a guy to make fun of Rubin's amnesty program with this pick. 14) Team Stache selects, @FreeBald. Another great pick. Chance to be a 5 tool tweeter. 15) Team Presser selects, @KarlRavechESPN. Not buying that Presser lets Ravech get outside the top 15. 16) Team Stache selects, @Wheelerpro45. Solid pick for the future here. Hopefully they can protect him from the clown Martino. 17) Team Presser selects, @JorgeCastillo. Team Presser locks up both of their beat reporters within the first 20 picks. 18) Team Stache selects, @MatthewCerrone. With this pick Team Stache adds one of the most influential bloggers out there. 19) Team Presser selects, @Collin_McHugh. Adds some humor and wittiness to the team. 20) Team Stache selects, @DJMisterDior. zzzzzzzzzzzzzzzzzzzzzzzzzzzzzzzzzzzzzzzzzzzzzzzzzzzzzzzz. 21) Team Presser selects, @MettaWorldPeace. The pride of Queensbridge. Rapped about the Mets before. Sleeper pick. 22) Team Stache selects, @KBurhardtSNY. Back to you Gare. 23) Team Presser selects, @MichaelGBaron. Baron is a great photographer and Mets Twitter contributor. 24) Team Stache selects, @GoJBuckYourself. You can never have enough funny Mets fans on your team. 25) Team Presser selects, @Maggie162. Another blogger who would be a great addition to any team. 26) Team Stache selects, @DevOnSports. Adds a solid Stache Staff member to his team. 27) Team Presser selects, @TheHappyRecap. Every team needs a solid weekly radio show host. 28) Team Stache selects, @NYPost_Mets. Grabs his second beat writer. Solid reputation as he broke the d'Arnaud trade details. 29) Team Presser selects, @PSLtoFlushing. Grabs his draft expert/prospects guy that he covets. 30) Team Stache selects, @JeffPasternostro. Response to the previous pick. Rumored to be an underslot deal. 31) Team Presser selects, @ttlsportsblog. Adds a Stache Staff member of his own. 32) Team Stache selects, @tysim19. Young blogger that has room to grow. Has flashed high potential. Another underslot signing. 33) Team Presser selects, @MitchNYM. Another solid, passionate fan in the fold. 34) Team Stache selects, @redturn2. Another active player, adds versatility and grit to the team. 35) Team Presser selects, @TooGooden16. Solid depth signing. Writes for multiple blogs. 36) Team Stache selects @graves9. Not many followers, but has a knack for epic arguments. 37) Team Presser selects, @Rob_Zloto. All around Mets fan. Toss up where he goes. 38) Team Stache selects, @Miss_Met. Tweets frequently, and loves the Mets. Another great pick. 39) Team Presser selects, @Steaker. Great fan for discussion, solid depth pick. 40) Team Stache selects, @Meriwyn. Adds another Stache Staff member to bolster his team. 41) Team Presser selects, @AmazinAvenue. Snags the SB Nation blog to add to the fan base. 42) Team Stache selects, @MetsMerized. Responds by grabbing another big time Mets blog. 43) Team Presser selects, @fromheretoLI. Adds a beer enthusiast and card collector to the team. Another sleeper pick. 44) Team Stache selects, @SeanEngel05. Stache Editor. I am confident about this pick coming true. 45) Team Presser selects, @NiewenMets. Big time Mets and minor league fan. Perfect fit. 46) Team Stache selects, @ludichrisspeed. Would have gone higher but rumors are he refuses all pre draft drug testing. 47) Team Presser selects, @Butler_Speaks. 7 Line Army member that adds to the depth of the team. 48) Team Stache selects, @Nicolette517. Picks the Mets fan from Portland in an attempt to tap into the Northwest region. 49) Team Presser selects, @Mr_Albanian_BR. Solid addition to round out his draft. 50) Team Stache selects, @_SwimTwoNine. Because Dios Mio.     Overall this is an extremely deep draft class with over 200 draftable tweeters. This is just the first mock draft. More to come after the pre draft interviews. It should be fun to see how this draft plays out next week.             The post #MetsTwitterDraft Mock Version 1.0 appeared first on The Daily Stache.
Original Story:
http://dailystache.net/metstwitterdra...
THE BACKYARD
BEST OF MAXIM
RELATED ARTICLES
Last Night's Quick Scores Las Vegas shut down Fresno, 8-0. Binghamton had the day off. St. Lucie dropped to Lakeland, 2-1.  Savannah had the day off. Prospect Pipeline Travis d'Arnaud was seen yesterday at the Hospital for Special Surgery in New York for follow up on his fractured toe. Travis was cleared to begin weight bearing rehabilitation, but will remain in a boot for...
Last Night's Quick Scores Las Vegas edged out Fresno, 6-5. Binghamton shut out Trenton, 8-0. St. Lucie was shutout by Lakeland, 5-0.  Savannah dropped Lexington, 9-2. Prospect Pipeline ESPN has included the names of the other 20 players believed to potentially be facing MLB discipline, and Mets top-hitting prospect Cesar Puello as well as Ex-Met Fernando Martinez are among...
Right fielder Cesar Puello hit two solo home runs, including the game-winner in the bottom of the eighth inning as the Binghamton Mets defeated the Trenton Thunder, 5-4, Thursday afternoon at NYSEG Stadium. The red-hot Puello hit four home runs in the series and now has 12 on the season while batting .320/.401/.588 in 50 games this season. In a Boom or Bust feature on Sunday, I wrote...
Your intrepid columnist got a little jolt this morning. He clicked on MetsBlog.com to read that there is a very strong possibility that the Mets will be buyers at the trade deadline. Really? Buyers? After going from the extremely high mountaintop of sweeping the Yankees to the deepest of valleys in being swept by the Marlins? After even Matt Harvey got roughed up by a gang with...
Last Night's Quick Scores Las Vegas had the day off. Binghamton dropped to Trenton, 10-6. St. Lucie dropped to Lakeland, 4-2.  Savannah got shut out by Lexington, 4-0. Prospect Pipeline Teddy Klein took a look at five players the Mets could be targeting with their No. 11 pick in today's MLB Draft. MMO and MMN will feature live coverage all night, as Clayton Collier will be...
The New York Mets pounded out a season high 15 hits to beat the Washington Nationals by the score of 10-1 tonight at Nationals Park. The win snapped a four-game losing streak for the Mets who last won against the Yankees in the Subway Series oh so long ago. Marlon Byrd walloped two home runs, his seventh and eight longballs off the season. David Wright added another homer to give...
Here's some good news for a change… Left-hander Jon Niese tossed 39 pitches today, in a successful bullpen session at Nationals Park in Washington D.C. Niese said he had no problems, threw the ball free and easy, and was able to get his arm angle to where he wanted to. He does not foresee any after effects tomorrow and said he felt much better than his previous bullpens in between...
The New York Mets got some welcome new last night.  One of their top prospects is finally able to continue down the road to recovery.  Travis d'Arnaud has been cleared to begin rehab on his injured foot.  This means he will hopefully get the walking boot removed soon. According to Mike Puma of the New York Post, D'Arnaud is still wearing the walking boot, but he will...
Stop the presses! The Mets scored a bunch of runs last night while beating the Washington Nationals! While that doesn't bode well for their run scoring averages for the rest of the week, the Mets look to make it two in a row today as they take on the Nationals for the rubber game. Shaun Marcum gets the nod for the Amazin's as he faces off against Gio Gonzalez. Shaun Marcum is...
Latest News Center fielder Matt den Dekker, who suffered a fractured right wrist during a March 24 Grapefruit League game, is ready to get into games according to Adam Rubin.  Den Dekker was scheduled to DH in a back-field game in Port St. Lucie, Fla., on Thursday before heavy rains altered the plan. The hope is that den Dekker can begin to swing in games Friday. Prospect Pipeline...
Mets News

Delivered to your inbox

You'll also receive Yardbarker's daily Top 10, featuring the best sports stories from around the web. Customize your newsletter to get articles on your favorite sports and teams. And the best part? It's free!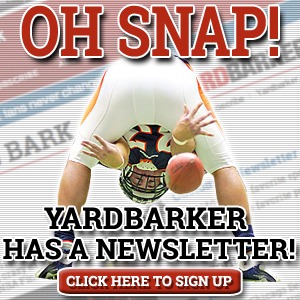 Latest Rumors
Best of Yardbarker

Today's Best Stuff

For Bloggers

Join the Yardbarker Network for more promotion, traffic, and money.

Company Info

Help

What is Yardbarker?

Yardbarker is the largest network of sports blogs and pro athlete blogs on the web. This site is the hub of the Yardbarker Network, where our editors and algorithms curate the best sports content from our network and beyond.