RingsideNews member Timothy Givens sat down with Mike Elgin at the PGP Show and discussed the ROH World Title Tournament and where he stands. Here is the transcript. TIMOTHY: SO ARE YOU BEING NAMED THE WINNER? ELGIN: I REALLY HAVE NO IDEA WHAT THEY ARE REALLY PLANNING. ROH AS NOT TALKED TO ME ABOUT THE WAY THE TOURNAMENT IS GOING OR IF I AM GOING TO BE THE WINNER AND NEW CHAMPION. ALL I KNOW IS THAT I'M TAKING ON LONDON. I WONT KNOW WHAT'S REALLY GOING TO HAPPEN TILL I GET THROUGH THE FIRST MATCH. TIMOTHY: WHAT WAS THE REAL DEAL WITH THE BRISCOES AND ROH? ELGIN: WELL FROM WHAT I KNOW THE TIMING OF HIS TWEETS AND THE WORDS FROM HIM OF BEING BROKEN UP AND REALLY HURT HE NEEDED SOME TIME OFF. I THINK WITH ALL OF THAT AT THE TIME MADE IT A EASY SAYING OF TRYING TO SAY THE GOODBYE. I KNOW HES IN THE TOURNY SO WE WILL SEE WHAT HAPPENS. TIMOTHY: DID PGP GIVE YOU A GOOD PAY TO COME HERE AND WRESTLE FOR THEIR WORLD CHAMPIONSHIP TITLE? ELGIN: PGP PAID ME REALLY WELL SO I HAVE NO COMPLAINTS. THESE GUYS HERE ARE TOP NOTCH AND GREAT TO WORK WITH AS WELL. I LOOK FORWARD TO RETURNING SOON. ( WHICH AFTER HIS MATCH HE SAID HE WILL BE BACK AFTER HIS ENGAGEMENTS ARE FULL FILLED FIRST ) TIMOTHY: WOULD YOU FILL HONORED IF I WAS ABLE TO TALK TO MY PWA COMPANY AND MAYBE DOWN THE LINE GET YOU A SPOT ON ONE OF OUR SHOWS. ELGIN: I WOULD LOVE IT. I LOVE COMING TO THE SMALL TOWNS AND GIVING ONE HELL OF A SHOW. TIMOTHY: WHAT TITLE ARE YOU HOLDING IN THE FLYER FOR TONIGHT'S SHOW? ELGIN: THAT'S THE HEAVYWEIGHT TITLE FOR ANOTHER PROMOTION AROUND HERE. TIMOTHY: DO YOU REALLY SEE ROH COMING TO SPRINGFIELD IL CIVIC CENTER? ELGIN: AT THE MOMENT I CAN'T SPEAK FOR SINCLAIR OR ROH. WE USUALLY PUT A SHOW ON IN ST. LOUIS CAUSE ITS A MUTUAL MEETING SPOT FOR MOST OF THE GUYS. TIMOTHY: WHERE DO YOU SEE ROH COMING IN BETWEEN WWE AND TNA? ELGIN: WWE? WELL WE ALL KNOW WHAT AND WHERE THEY WILL BE. TNA WELL FROM ALL OF THE BAD BUSINESS DECISIONS AND OTHER PROBLEMS I DON'T KNOW. ROH IS STARTING BUILD UP THE RESPECT OF ALL THE WRESTLING FANS ALL OVER THE US AND EVERY STOP WE HIT. ROH WILL SOME DAY MAKE A BIG NAME FOR ITSELF.
Original Story:
http://ringsidenews.com/article/10987...
MORE FROM YARDBARKER
All Sports News

Delivered to your inbox

You'll also receive Yardbarker's daily Top 10, featuring the best sports stories from around the web. Customize your newsletter to get articles on your favorite sports and teams. And the best part? It's free!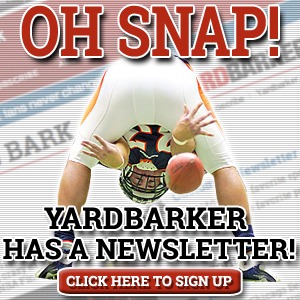 Latest Rumors
Best of Yardbarker

Today's Best Stuff

For Bloggers

Join the Yardbarker Network for more promotion, traffic, and money.

Company Info

Help

What is Yardbarker?

Yardbarker is the largest network of sports blogs and pro athlete blogs on the web. This site is the hub of the Yardbarker Network, where our editors and algorithms curate the best sports content from our network and beyond.