Found April 20, 2012 on Sports Blog Net:
PLAYERS:
Matt Kalil
,
Andrew Luck
,
Donovan McNabb
,
Christian Ponder
,
Adrian Peterson
,
Justin Blackmon
,
Morris Claiborne
,
Chris Cook
,
Antoine Winfield
,
Aaron Rodgers
,
Percy Harvin
TEAMS:
Minnesota Vikings
,
Indianapolis Colts
,
Washington Redskins
,
Green Bay Packers
,
USC Trojans
,
Stanford Cardinal
,
Oklahoma State Cowboys
,
LSU Tigers
[caption id="" align="alignnone" width="500" caption="Matt Kalil is an elite LT in our opinion."]
[/caption] Now that we officially know who the top two picks in the 2012 NFL Draft will be, following yesterday's announcement that the Colts informed Stanford Quarterback Andrew Luck on their intent to use the first overall pick on him, FantasyPPR.com is conducting an extensive NFL Draft Mock, to predict how the other 30 picks inthe first round will play out next Thursday in New York. Yet, we are going to do this draft mock a little differently than most websites. Instead of going a full 32-team mock draft, which is the norm, we are going to do a team-by-team draft mock profile. Meaning, we will have an in-depth post about every team leading up to the draft. This profile will predict the selection, as well as analyzing alternative options, such as trading, etc. Since both the Indianapolis Colts and the Washington Redskins already have their picks locked already, we are going to skip them and get right in the to the team slotted in at no.3 right now: The Minnesota Vikings: To put it lightly, 2011 was a complete diaster for the Vikings. The team traded for veteran quarterback Donovan McNabb with the idea that if he could return to his old form, the Vikes could possibly contend for a playoff spot. Well, it only took a couple of games for those delusional thoughst to dissipate, as the team blew fourth quarter leads in each of the first four games on their way to a miserable 0-4 start. After falling out of contention so early, The Vikings decided to  get 2011 first round pick Christian Ponder, the quarterback of the future, on the field for some valuable experience. He started a total of 10 games,  completing around 54% of his passes, throwing for 13 touchdowns and 13 interceptions. Overall, he acquitted himself well, yet,  there are still plenty of questions surrounding his development. To makes matters worse, Adrian Peterson, the heart and soul of the Vikings offense, injured his ACL at the end of last season, meaning he will not be completely healthy come training camp. According to the information floating around about his recovery, there seems to be a decent chance that he opens the season as the starting running back but will he ever be the same player he once was? Normally significant injuries, especially a significant knee injury like an ACL tear, takes time to heal completely. It also takes time for the player to gain the trust necessary to play the game at full-speed. So while we may see Peterson on the field in 2012, he probably won't be back to himself until 2013, if ever. Yet, the Vikings problems are not just limited to the offense which finished 19th in the NFL in scoring. The defense, which finished 31st in scoring, is also desperately in need of an influx of talent. With that in mind, let's examine what the Vikings should do with the no.3 overall pick in next thursday's draft. It's absolutely essential that the Vikings get a difference maker from this pick. Picking this high is not something the Vikes want to be doing often, therefore they need to make it count this time. Concerning the Vikings pick,  some interesting news surfaced yesterday, concerning the Vikings pick, as the St. Paul Pioneer Press reported  that General Manager Rick Spielman submitted three names to his staff: Matt Kalil, Justin Blackmon and Morris Claiborne for consideration and that one of those players would be the pick. The first option we will discuss  is USC left tackle Matt Kalil. Kalil is the player taken by the Vikings in our most recent mock draft and a compelling argument can be made that he should be the pick. Kalil has all the tools to be a successful left tackle at the NFL level, including the size, strength, arm length and hand size. He also has tremendous feet and athleticism for a player of his size and stature. Many offensive tackle prospects come into the league not ready to play on the blindside, therefore they move to right tackle for a year or two, while getting acclimated to the pro game. Kalil is not one of those players, he is a plug and play guy on the left side, where he will anchor the position for the next decade. Minnesota is in desperate need of some tackle help, so in addition to getting a great player, they also fill a huge need. Next up is LSU cornerback Morris Claiborne, unquestionably the top cover corner in the draft. Claiborne has good size at 5'11 188 pounds and speed, but is not a burner.  He played three years at LSU,  but hardly got on the field as a freshmen before  intercepting 11 passes and breaking up a total of 23 his sophomore and junior seasons Claiborne makes sense as the pick, because its a good value and at the same time fills a need. Minnesota drafted Chris Cook with a high-second round pick two years ago and he has been nothing but a disappointment. Furthermore, veteran corner Antoine Winfield is beginning to show signs of age, so adding Claiborne, a potential shutdown corner in a division with Aaron Rodgers and Matthew Stafford, is not a bad idea. The other option according to the report is Oklahoma State wide receiver Justin Blackmon, a talented receiver, who would join Percy Harvin to give Ponder a pair of exciting young playmakers in the passing game. Blackmon lacks elite size and speed, yet was highly productive in college. In three season with the Cowboys, he caught 252 passes, 232 of those receptions coming in 2010 and 2011, to go along with 40 total touchdowns. He's an exciting player and considering the Vikings need  for another receiver opposite of Harvin, it's a logical fit. Harvin is more of a slot/move guy and doesn't fare as well when asked to lined up on the perimeter. Blackmon, on the other hand, is a big physical receiver that is better suited to playing outside and can take pressure off of Harvin. Yet, there are questions about just how good Blackmon can be. One thing working against him is the fact that he played in a spread offense for three years, which inflated his stats and makes transitioning to the pro game more difficult. He should be a solid player but he will ever be elite? That's that question Minnesota needs to ask itself, cause they need an elite player at no.3, not just a solid contributor. Fantasy PPR NFL Draft Prediction: Matt Kalil: The Vikings need to be careful not to over think this pick. All three players reportedly being considering are talented and fill a need. Hence, the Vikings simply need to take the highest rated player on their board at this point, don't get cute, just take the best football player. In the eyes of FantasyPPR.com  that player is clearly Kalil. Scouts have a high opinion of him and he has all the  tools required to be a dominant left tackle for the foreseeable future. He may not be in the same league as Jake Long or Joe Thomas coming out, but he is not far off. While the thought of adding a playmaker for Ponder is an enticing thought, the value is just not there with Blackmon or Claiborne at no.3, cause when it comes right down to it, Kalil is simply the better prospect, therefore he should be the choice, simple as that. // window.dctile = Number(window.dctile) + 1 || 1; window.dc_ord = Number(window.dc_ord) || Math.floor(Math.random() * 1E10); if (dctile==1) {var vdcopt = 'ist';} else {vdcopt = '';} if (17>dctile) document.write('<script type="text/javascript" src="http://ad.doubleclick.net/adj/yb.pprfantasyfootball/;chan1=nfl;rating=pg;dcopt=' + vdcopt + ';yb=ad;s1=;s2=;tile=' + dctile + ';sz=300x250;ord=' + dc_ord + '?"><\/script>\n'); //    
Original Story:
http://winyourleague.sportsblognet.co...
THE BACKYARD
BEST OF MAXIM
RELATED ARTICLES
Matt Kalil/OT/USC:   Completely stonewalls guys who try and get around the corner on him, really impressive in those situations. Quickly recovers in the rare instances when guys get a step on him around the outside. Don't recall seeing him get whipped around the outside even once. Usually stood his man up, and if not, [...]
2012 NFL Draft Top 5 OTs by Eric Judd  NFL/Draft Writer @ericjudd111 Offensive Tackle is one of the most sought after positions in the NFL. Without one, your franchise QB will end up like David Carr (or Sam Bradford). In order to be successful, finding the right one takes time, patience and a little bit of luck. Who, in the top 5 of the 2012 NFL Draft, has fortune smiling down on...
Matt Kalil is an elite LT in our opinion. Now that we officially know who the top two picks in the 2012 NFL Draft will be, following yesterday's announcement that the Colts informed Stanford Quarterback Andrew Luck on their intent to use the first overall pick on him, FantasyPPR.com is conducting an extensive NFL Draft Mock, to predict how the other 30 picks inthe first...
All Sports News

Delivered to your inbox

You'll also receive Yardbarker's daily Top 10, featuring the best sports stories from around the web. Customize your newsletter to get articles on your favorite sports and teams. And the best part? It's free!
THE HOT 10: Who's Trending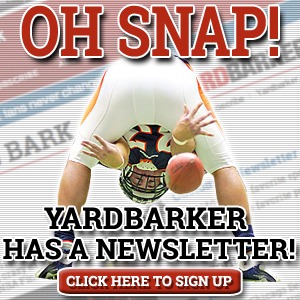 Latest Rumors
The Backyard

Today's Best Stuff

For Bloggers

Join the Yardbarker Network for more promotion, traffic, and money.

Company Info

Help

What is Yardbarker?

Yardbarker is the largest network of sports blogs and pro athlete blogs on the web. This site is the hub of the Yardbarker Network, where our editors and algorithms curate the best sports content from our network and beyond.