Found August 12, 2012 on Start 'N' Park Blog:
WATKINS GLEN, NY – Juan Pablo Montoya will lead the field to the green in Sunday's Finger Lakes 355 at the Glen NASCAR Sprint Cup race held at Watkins Glen International. Behind the wheel of the No. 42 Target Chevrolet, Montoya posted a new track record of 127.020 mph, collected his second consecutive pole position of the season, and earned his ninth Cup career pole.  Montoya's time beat the second place qualifier, Kyle Busch (Toyota) by five one-hundredths of a second.
In looking for his first career trip to victory lane at The Glen, Jimmie Johnson will start third in his No. 48 Lowe's Cortez Silver Chevrolet. This is one of only five tracks on the current NASCAR Sprint Cup Series circuit where Johnson has yet to notch a victory. Stewart-Haas Racing teammates Ryan Newman, No. 39 U.S. Army Chevrolet and Tony Stewart, No. 14 Office Depot/Mobil 1 Chevrolet will roll-off the starting grid from the sixth and seventh positions respectively.  Stewart has more wins than any other NASCAR Sprint Cup Series driver at The Glen visiting victory lane an unprecedented five times.
Montoya's Earnhardt Ganassi Racing teammate, Jamie McMurray, will start his No. 1 McDonald's Chevrolet from the 10th position.
Brad Keselowski (Dodge) qualified fourth, Marcos Ambrose (Ford) was fifth, Clint Bowyer (Toyota) will start eighth and Martin Truex Jr. (Toyota) was ninth to round out the top 10 starting spots.
The green flag will wave for the Finger Lakes 355 at The Glen on Sunday August 12th, 2012 at 1:00 PM EST and can be seen live on ESPN.
POST QUALIFYING PRESS CONFERENCE TRANSCRIPTS:
JUAN PABLO MONTOYA, NO. 42 TARGET CHEVROLET – POLE WINNER
BACK-TO-BACK POLES FOR YOU AND A NEW TRACK RECORD. TALK ABOUT THE LAP AND EXPECTATIONS TOMORROW AS WELL: "I think the lap was a really good lap.  You always make mistakes here and there.  It's never perfect.  You always think I went too far here, I went too little there, I lost it there, but I think everybody does.  It's about how well you can put it all together.  I thought we did a pretty good job of that.  I think everybody on the Target Chevy organization has been working really well even with the No. 1 car we are working really well together.  I think it's paying off.  I think tomorrow's race I think we are going to have a decent car.  I think we are looking for a lot more consistency than ultimate speed.  I will tell you the truth I was kind of shocked at how quick, we had an oil leak this morning and we lost like a half-hour of practice just changing the radiators and everything.   We put it in qualifying trim right at the end just to get an idea what the car was going to do and it was quick.  I was kind of happy."
LAST WEEK YOU SAID THE POLE WAS A PLEASANT SURPRISE WOULD IT BE CORRECT TO ASSUME THAT THIS ONE WAS NOT A SURPRISE? "No this one, I will tell you the truth, when I'm going to Sonoma it was my best qualifying there and it wasn't a great lap we were really loose through the esses and we struggled all day through the esses.  I felt that we made a lot of gains on the car and we did only one test.  We did a one-day test at VIR (Virginia International Raceway).  I felt we gained a lot on the understanding of the car and what we needed to do.  Here we made a few changes from what we had before and made it a lot better.  I was pretty pleased.  It seems lately I can push the car a lot more.  It's like I'm not just driving it around the last couple of weeks it feels I can actually push the car and use it and get more out of the car.  It's nice."
CAN YOU COMPARE YOUR OUTLOOK TO THIS RACE COMPARED TO LAST WEEK WHEN YOU SAT ON THE POLE AS WELL? "Last week I knew we were going to struggle.  Our race pace in practice was horrible.  When we went out and put it on pole it was like 'yes, how does that happen' (laughs).  This week we generally have been good all weekend.  I think like we did the Michigan test and I felt we gained a lot on the car.  We put some more in it in Pocono and we ran better.  We missed the race set-up completely and we knew we did.  From when I went into turn one the first lap I knew it was going to be a long day.  We work on it we make it… work as hard as we can to make it better and see what it brings.  I think this week; I think we can contend you know what I mean.  A few guys are really strong and you really have to as Kyle (Busch) said you've got to run your own race, save the brakes.  Having track position is a good thing because you just do it smart and see what it brings you and you go from there."
DO YOU THINK YOUR STRATEGY WILL JUST INCLUDE TWO STOPS TOMORROW? "It depends.  We haven't talked about it yet, but I assume so.  Last year we did three, I don't know why we did three, but if it's three and we've got to pass half of the field, we will pass half of the field.  It is what it is.  If you've got a good car and the sacrifice of having a good car is making three stops we will do three stops.  You know you've got cautions and we will have better tires and see what happens."
LAST WEEK JEFF GORDON WON AT POCONO AND WENT FROM BASICALLY NOWHERE TO THE SECOND WILD CARD SPOT.  IF YOU WERE TO WIN THIS RACE TOMORROW WOULD IT BE TOO FAR FETCHED TO PUT YOU IN THAT POSITION? "No, we were talking about it.  I mean even if we don't win tomorrow we believe that with the things that we have found lately maybe we still don't have the fastest car there but if you play the strategy right you know might come on fuel or something you might go into Richmond with a chance of making the Chase.  It would be shocking, but it would be awesome."
WE ALWAYS SAY THIS IS GOING TO BE THE YEAR THAT YOU ARE GOING TO WIN ON AN OVAL. "I know it's hard with our cars the way they run this year.  It's like I think today we have a good car were going to win and when we don't we don't.  Same thing we come to a road course everybody expects you to win, yeah I have an advantage because of my background, but the good cars run here as well as they run on the ovals.  The cars run as well here as in ovals.  I don't think about it.  We go out there every week to do the best we can and the best is winning we are going to be winning.  If it's finishing 20th we are going to finish 20th, it sucks to finish 20th.  I'm a guy that likes winning and I'm a guy that my whole life I raced to win.  The last couple of years have been really frustrating, but the only thing you can do is make sure you work the hardest you can and if the work with the right people like we have been doing this year I think we are going to get a good direction on the team and we will be fine."
IS THERE AN OVAL YOU FEEL PERHAPS MORE COMFORTABLE ON THAN OTHERS? "I'll tell you the truth, when the car works well you look like a hero anywhere.  You do, when the car sucks you are going to look as bad as anybody and when the car is great you are going to look as good as anybody."
A QUICK UPDATE ON YOUR RELATIONSHIP WITH 'SHINE' (CHRIS HEROY, CREW CHIEF): "It's great.  It's always been really good.  We have our up and downs, but I told him from day one there are days I'm going to be mad at you and I'm going to tell you what I think and I'm probably not even going to mean it.  We understand each other really well.  He gets mad as well.  He's very passionate and I think that is a really good thing."
IT COULD BE HIS BIRTHDAY PRESENT: "I know it's a good start for his birthday weekend."
JIMMIE JOHNSON, NO. 48 LOWE'S CHEVROLET – QUALIFIED 3RD:
"It was a very strong lap. I had an issue getting the power down off of Turn 6; I call it; or the Carousel. Outside of that, the lap was really strong. I've very pleased with my on-track performance. It was tough to sit, and then go out there and you get one shot of making a lap on these road course qualifying situations, but I seem to have been able to train myself on how to do that and get a good lap. So, I'm happy. There is such a small distance from where we are in third to where Juan Pablo Montoya is (on the pole). I wish I could have found a couple of hundredths. I would be over there taking a cool picture. I'm very excited about tomorrow as well. In race trim we did a nice 12-lap run and the car held pace really nice. So hopefully tomorrow is our day to win here."
WHAT IS MORE DIFFICULT: SITTING AND GETTING OUT OF RHYTHM AND HAVING TO RUN ONE LAP, OR THE INCREASED TEMPERATURES ON THE TRACK WHEN YOU TOOK THE TIME TODAY? "For me, I went a tenth faster so I'd have to say that the grip level stayed relatively close and it was more about getting out of rhythm. Like what they do with the Nationwide Series; you get a couple of shots at it, and that's a nice way to find your rhythm and it's really good for the Nationwide Series to qualify that way. A lot of the drivers don't have a lot of road course experience in this style of race car.
"At the Cup level, you don't get that luxury. To me it's all about the rhythm. It's a problem that I have at Martinsville. I'm such a rhythm driver that Martinsville qualifying gets me because we sit on ice for a couple of hours and then go back out to run and I miss it. But, road course-wise, I've been doing a better job."
WOULD YOU LIKE TO SEE THAT SORT OF QUALIFYING METHOD IN CUP? "I've been a part of both and I don't know. From a selfish standpoint, I'm finally good at this style. I see a lot of guys make mistakes and so I guess I'm content with it being like it is. But a couple of years ago, I would have lobbied for the other way."
IT SEEMS LIKE NOT MANY PEOPLE WILL BE POINTS RACING THIS WEEKEND. HOW DO YOU EXPECT THAT TO IMPACT THE RACE, ESPECIALLY THE END OF THE RACE? "It could if we have late-race-restarts, which we seem to have here. Fuel mileage is also an area where teams can try to pull something off. Everybody wants the bonus points. With the overall points being as close as they are at the top now, my eyes are set on leading the championship. I want to lead the championship going into the post-season and get some more bonus points so that I can be the guy leading when the post-season starts. That's my goal. I feel we have a good opportunity here with the guys we are racing with, to finish ahead of them; and hopefully get up on top of the overall points. But there will be some craziness taking place during the race. We see that on road courses, period. And if you're in position to take risk, I think you'll see a lot of it."
MAKING A MISTAKE ON A RACE TRACK IS ALWAYS CRITICAL. DO MISTAKES COST MORE ON A ROAD COURSE THAN ON AN OVAL? "Yeah; you have a lot narrower race track to deal with. Depending on where you make a mistake, you can end up off the road. But more than anything, the count in braking zones, turn-in points, and throttle application we have basically on an oval you do that twice in a lap. Sure there's a lot going on and you've got to manage your car, but there's at least three major braking zones here and then two other light braking zones. So you go from two sets of corners to worry about to really six or seven. And the numbers just work against you there and there are more opportunities to make a mistake than on an oval."
Original Story:
http://startnparkblog.com/?p=9757&utm...
THE BACKYARD
BEST OF MAXIM
RELATED ARTICLES
After a major disappointment at Watkins Glen, Kyle Busch looks to rebound at MIS…
Kyle Busch among Chase hopefuls needing a win or two over five-race stretch…
Kyle Busch, Juan Pablo Montoya, Carl Edwards lead final Watkins Glen practice...
NASCAR had one of the most exciting final laps in its history yesterday at Watkins Glen.  The last lap brought back memories of Petty v Pearson at the 1976 Daytona 500 and Kurt Busch's classic Darlington duel with Ricky Craven in 2003.  Kyle Busch took the white flag first, but careened off the track in the first turn.  Busch was then spun by Brad Keselowski in Turn...
The No. 54 Monster Energy team, with owner-driver Kyle Busch, entered the Finger Lakes region hopeful for a strong run on the 2.45-mile Watkins Glen (N.Y.) road course. What the Kyle Busch Motorsports (KBM) team encountered over the weekend tested their skills as a team. Overcoming a variety of hurdles – such as a practice session in the rain, a broken engine, a deficient oil tank...
Juan Pablo Montoya has won the Sprint Cup pole for the Finger Lakes 355 at Watkins Glen International. Montoya turned a lap around the 11-turn, 2.45-mile layout in 69.438 seconds at 127.020 mph to eclipse the track record of 69.767 seconds at 126.421 mph set a year ago by Kyle Busch. It's Montoya's second straight pole and ninth of his career. Busch qualified second, also...
Marcos Ambrose got by Kyle Busch and Brad Keselowski on an oil-slicked race track on Sunday to claim victory in the Finger Lakes 355 NASCAR Sprint Cup Series race at Watkins Glen (N.Y.) International on Sunday. It was Ambrose's second-straight win at the track. "It just feels so good to be back here in victory lane," Ambrose said. Busch was in the lead as the white flag waved...
Yesterday's wild finish at Watkins Glen was the best final lap of a Sprint Cup race this season. The white flag lap featured a controversial decision by NASCAR, a wrecked leader, and a paint swapping battle for the checkered flag seldom seen in the Sprint Cup all-about-sponsorship-and-points world.  The #47 of Bobby Labonte had put oil down, making for a slick track. NASCAR...
The Sprint Cup and Nationwide Series twist their way up to Watkins Glen International this weekend to compete in the road course race at Watkins Glen. Driver like Marcos Ambrose and Tony Stewart have dominated the Sprint Cup race in the past but drivers like Kyle Busch and Brad Keselowski are looking to become new favorites at the track. Wild wrecks filled the Sprint Cup race last...
  Road courses are consistently some of my favorite events of the year. The on-the-track action is almost unfailingly riveting. This weekend's action at Watkins Glen featured many of the things that I love about road course racing: tons of action, varying pit strategies, and constant shuffling of the running order to keep the interest level high even during sustained green...
Kurt Busch led the way with a lap of 70.529 seconds in the first practice for the Finger Lakes 355 At The Glen from Watkins Glen. Rounding out the top five was Ryan Newman, Brad Keselowski, Tony Stewart, and Jeff Gordon. Pos Car Driver Team Time Behind 1 51 Kurt Busch Phoenix Construction Chevrolet 70.529 Leader 2 39 Ryan Newman U.S. Army Chevrolet 70.897 -0.368 3...
Kyle Busch led the way with a lap of 69.199 seconds in the final practice for the Finger Lakes 355 At The Glen from Watkins Glen. Rounding out the top five was Juan Pablo Montoya, Carl Edwards, Marcos Ambrose, and Martin Truex, Jr. Pos Car Driver Team Time Behind 1 18 Kyle Busch M&M's Toyota 69.199 Leader 2 42 Juan Pablo Montoya Target Chevrolet 69.206 -0.007...
All Sports News

Delivered to your inbox

You'll also receive Yardbarker's daily Top 10, featuring the best sports stories from around the web. Customize your newsletter to get articles on your favorite sports and teams. And the best part? It's free!
THE HOT 10: Who's Trending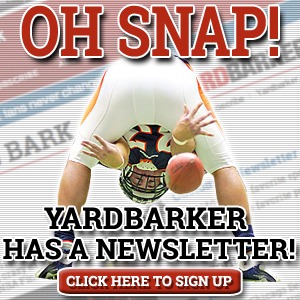 Latest Rumors
The Backyard

Today's Best Stuff

For Bloggers

Join the Yardbarker Network for more promotion, traffic, and money.

Company Info

Help

What is Yardbarker?

Yardbarker is the largest network of sports blogs and pro athlete blogs on the web. This site is the hub of the Yardbarker Network, where our editors and algorithms curate the best sports content from our network and beyond.