Found September 22, 2011 on Larry Brown Sports:
Via Larry Brown Sports: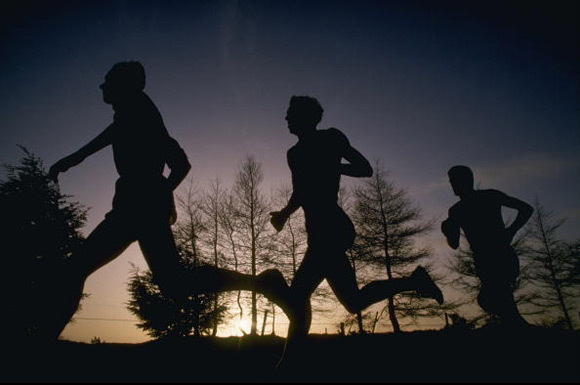 Andover High School cross country runner Josh Ripley carried an opponent a half mile after noticing the other runner was injured. Ripley was competing in the Applejack Invite in Lakeville, Minn. when he heard screams coming from another runner. While everyone else ran past the wounded runner, Ripley stopped to assist him.
Turns out Lakeville South runner Mark Paulauskas was bleeding from his ankle after getting spiked. Ripley was worried that Paulauskas punctured his Achilles, so he carried the injured runner a half mile to his parents and coaches before rejoining the race. Paulauskas ended up being taken to the hospital where he received more than 20 stitches.
So why did Ripley stop to help Paulauskas when everyone else ran by him?
"I didn't think about my race, I knew I needed to stop and help him," Josh said. "It was something I would expect my other teammates to do. I'm nothing special; I was just in the right place at the right time."
Ripley may not think his actions were special, but they were. He'll be honored by the school board on Monday for his excellent display of sportsmanship.
Chest bump to Off the Bench for the story.
Also from Larry Brown Sports
Stanley Cup champs refuse drinks from movie star after argument
High school hockey players skip prom for tournament
Former Red Sox star doesn't want team to make playoffs
Original Story:
http://larrybrownsports.com/everythin...
THE BACKYARD
RUMORS & GOSSIP
Mike Shanahan and his quarterback, Robert Griffin III haven't been on the same page for some time now. According to Mike Wise of the Washington Post, Griffin III and Shanahan haven't really seen eye to since last January.  According to the report, there's been tension brewing between the two for some time now and it started with Shanahan putting his quarterback in harms...
Thursday, the Knicks take on the Nets on TNT in a rivalry game that may not be as anticipated as originally expected due to their combined record of just 8-26. When Carmelo Anthony was asked about the Knicks, currently on a nine-game losing streak, likely being mocked by Charles Barkley and the TNT crew Thursday, he said, "We are the laughing stock of the league right now." Melo...
While discussing his ankle injury, DeMarcus Cousins made a joke at the expense of Derrick Rose. Unfortunately the Internet lost its sense of humor.
Photo credit: CBS Sports   It is every young boy's dream to be picked first overall in the NFL draft, and in 2004 Eli Manning did just that. It was nightmarish situation, however, as he made it very clear that he did not want to play for the team with the first overall pick, and the team that drafted him, the San Diego Chargers. After an intensely awkward thirty minutes, the Chargers...
The New York Knicks have lost nine games in a row, and the stench of defeat is starting to cause frustration in the locker room. Before Sunday's loss to the New Orleans Pelicans, Metta World Peace and Kenyon Martin reportedly got into a heated argument. Most of us assumed it had to do with the […]
Photo by @DCuniverse Former NFL head coach Tony Dungy was a guest on The Dan Patrick Show and talked about quarterback Robert Griffin III and whow he's dealt with this season. "I think the whole thing gets kind of exacerbated in Washington, with the whole setup there, the way it's been, the owner and everything, and the press," Dungy said via The Washington Post. "RGIII's...
NBA superstar Kevin Durant is getting tired of being number two, an exalted, yet still second-best rank that's dogged him since high school. But to his Oklahoma City fans and the city's tornado victims, "KD" is number one. Kevin Durant, 25, has already been the NBA's highest scorer three times. But he's come in second three times for the league's MVP; finished second...
Tweet With most premier NBA franchises, winning isn't the most important thing, it's the only thing. The same can be said for the New York Knicks, who are in the midst of a 3-13 tailspin to start the 2013-2014 season. And as you could expect, head coach Mike Woodson is on the proverbial hot seat. All-Star forward Carmelo Anthony said Tuesday that...
FOXBORO, Mass. – Bill Belichick was full of it on Wednesday morning. The typically dour head coach threw some humor into his morning press conference. Since Belichick coached in Cleveland for five years, his experiences with the Browns organization (which isn't really the same organization as the one the Patriots are preparing to play, despite what the NFL may want you to think...
A bidding war among TV networks for Tim Tebow is reportedly heating up. ESPN's SEC Network already has the makings of a college football show in place.
Latest Rumors
The Backyard
Going Viral

Today's Best Stuff

For Bloggers

Join the Yardbarker Network for more promotion, traffic, and money.

Company Info

Help

What is Yardbarker?

Yardbarker is the largest network of sports blogs and pro athlete blogs on the web. This site is the hub of the Yardbarker Network, where our editors and algorithms curate the best sports content from our network and beyond.