Found March 29, 2012 on Race Review Online:
The NASCAR Sprint Cup Series completed its trip out
west and now travels back east to Martinsville, Virginia for the Goody's Fast Relief 500.
So, what did we learn from the rain shortened race at Fontana?
Tony Stewart is still the driver to beat when it comes to intermediate tracks. Smoke has won six of the last eight races on intermediate tracks dating back to the start of the Chase last year. He also won the last race at Martinsville.
We also learned that Jimmie Johnson has finally found his golden horseshoe again. Johnson was running in the top five last week when his car began to smoke. The No. 48 car had an oil leak which would have caused Johnson to finish the race near the back of the pack if it were not for the rain ending the race. Instead of finishing the race somewhere near the 35th position, Johnson finished the race in the No. 10 position. That horseshoe might come in handy this week at Martinsville, though Johnson is traditionally one of the best drivers at the rural Virginia locale.
The race in Fontana and the race in Martinsville could not be more different. Fontana is a wide 2-mile track, while Martinsville is a narrow half-mile track. Martinsville is a unique track because of its paperclip shape and flat corners. There really is no other track like Martinsville on the circuit.
This week there are two teams to watch: Hendrick Motorsports and Joe Gibbs Racing. The two teams have won 15 of the last 18 races at Martinsville. If you count Stewart's win last year in a Hendrick Motorsports car, that would make it 16 of the last 18. Chances are that one of the drivers in a Hendrick Motorsports Chevy or a Joe Gibbs Racing Toyota will win the race on Sunday.
What to Watch For
NASCAR fans did not like the racing at Bristol (or Fontana, but that goes without saying) because the drivers did not beat on each other enough. This week the fans will get what they want. The only way to be fast at Martinsville is to run at the bottom of the track. There are only so many cars that can be on the bottom at once. The drivers will beat and bang on each other for position on the bottom of the track. Rubbing is racing and if fans want to see some aggressive racing, the Goody's Fast Relief 500 is the race to watch.
A rivalry is starting to take shape in NASCAR. Two of the strongest teams in 2012 have been the No. 11 (Denny Hamlin) and the No. 14 (Tony Stewart). At the end of the 2011 season Stewart released Darian Grubb from his Crew Chief duties for the No. 14 car and Grubb was hired by the No. 11 team. It seems as though the No. 11 team is out to prove they received the better end of the deal by hiring Grubb and the No. 14 team is out to prove that Stewart can win without Grubb as his Crew Chief. So far Stewart is winning the battle, with two victories to one for Hamlin.
Will Johnson's luck continue at Martinsville? There are only so many times a driver can make a withdrawal from the luck bank before he receives the "insufficient funds" receipt. Johnson may not need any luck on Sunday. He has been the most dominant driver at Martinsville dating back to 2004.
Will there be any payback towards Brian Vickers this week? Vickers will once again be driving the No. 55 Michael Waltrip Racing Toyota. In the last race at Martinsville there was a season high 18 caution flags. Vickers was involved in five of them. Vickers took rubbing to a new level last year and finally Matt Kenseth had enough. After beating on each other lap-after-lap, Kenseth knocked Vickers into the wall ending his miserable day. People say NASCAR drivers never forget. We will see on Sunday if the drivers seek any revenge on Vickers. 
Drivers to Watch
Denny Hamlin: In his 13 career starts at Martinsville, Hamlin has 11 top-10 finishes, nine top-5 finishes, 1,096 laps led, and won two pole positions and four races. Hamlin is now paired with the winning Crew Chief from the last race at Martinsville. To say Hamlin is the driver to beat on Sunday may be an understatement.
Jimmie Johnson: Johnson is another driver who knows how to get around the track at Martinsville. With all of the distractions from there Daytona car behind them, the No. 48 team can concentrate on winning races. Johnson has six Grandfather clocks in his trophy case. He will look to match his teammate Jeff Gordon by adding his seventh on Sunday.
Jeff Gordon: Hamlin, Johnson and Gordon have won 14 of the past 18 races at Martinsville. It is safe to bet that one of these drivers will win the race on Sunday. Gordon used to be the King of Martinsville before Hamlin and Johnson entered the picture. Gordon is still a driver to watch. He has had very good cars this year, but he has had bad luck. Maybe some of Johnson's luck will rub off on Gordon this week.
Tony Stewart: Stewart had a streak three races at Martinsville finishing outside the top 20 until he won the race last October. Ever since Stewart put on his Superman cape at the beginning of the Chase last year, he has been one of the drivers to beat each week. With his win last week Stewart will have momentum going into Sunday's race. Last year Stewart proved that a driver does not have to have the best car to win the race at Martinsville. Stewart drove the wheels off the car in order to bring it to victory lane. We will see if he can do it again on Sunday.
Kyle Busch: The Joe Gibbs Racing cars are always good at Martinsville. Although Busch has never won at Martinsville, he is due. In the last two races at the track Busch has led 277 laps. He has had good cars in the past, but Rowdy has had a hard time finishing the race. This could be the week he puts it all together and brings home another victory for Joe Gibbs Racing at Martinsville Speedway.
Martinsville Race Facts
- First Sprint Cup Race: September 25, 1949, won by Red Byron
- Last Sprint Cup Race: October 30, 2011, won by Tony Stewart
- 19 drivers have won the race from the pole position
- 75 percent of winners have started inside the top 10
- Chevy and (11) Toyota (4) have won the past 15 races at Martinsville
- Qualifying record set by Tony Stewart (98.084 mph) in 2005
Predicted Race Winner: Jimmie Johnson
Follow me on Twitter @HuskerMagic
Original Story:
http://sports-at-work.com/20120329199...
THE BACKYARD
BEST OF MAXIM
RELATED ARTICLES
Michael Waltrip says he's added two road course races to Brian Vickers' schedule this season. Vickers, who was already signed to run six races for MWR, will add the races at Sonoma, Calif., and Watkins Glen, N.Y., to his schedule. Vickers is running both races at Bristol, Martinsville and New Hampshire for MWR. The veteran made a strong return to the Sprint Cup Series last...
Michael Waltrip says he's added two road course races to Brian Vickers' schedule this season. Vickers, who was already signed to run six races for MWR, will add the races at Sonoma, Calif., and Watkins Glen, N.Y., to his schedule. Vickers is running both races at Bristol, Martinsville and New Hampshire for MWR. The veteran made a strong return to the Sprint Cup Series last...
On the strength of a successful run at Bristol Motor Speedway, Brian Vickers and Michael Waltrip Racing team owner Michael Waltrip announced to the media on Friday morning that MWR has extended their part-time ride basis for Vickers from six races to eight. "He made a statement," said Waltrip. In Vickers' inaugural race with MWR at Bristol Motor Speedway two weeks...
Brian Vickers (photo courtesy of NASCAR Media) Brian Vickers has beefed up his 2012 NASCAR Sprint Cup Series schedule behind the wheel of the No. 55 Michael Waltrip Racing entry by adding the two road course races on the schedule — Infineon Raceway on June 24 and Watkins Glen International on Aug. 12. "Brian did such an amazing job at Bristol that we wanted to reward him with...
Denny Hamlin has four victories and nine top-five finishes in 13 Martinsville starts...
photo credit:  getty images Looking for a Martinsville 'Ringer' this weekend for your fantasy league? Check out these three Martinsville rockstars! Jeff Gordon, Jimmie Johnson and Denny Hamlin. Oddly, neither won a Martinsville race last year (Kevin Harvick and Tony Stewart did), but that was a rarity. Every year since 2003, at least one of those three drivers has won...
All Sports News

Delivered to your inbox

You'll also receive Yardbarker's daily Top 10, featuring the best sports stories from around the web. Customize your newsletter to get articles on your favorite sports and teams. And the best part? It's free!
THE HOT 10: Who's Trending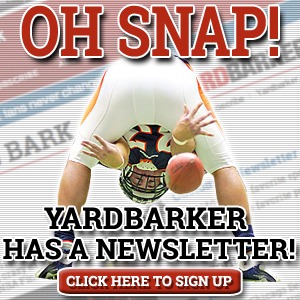 Latest Rumors
Best of Yardbarker

Today's Best Stuff

For Bloggers

Join the Yardbarker Network for more promotion, traffic, and money.

Company Info

Help

What is Yardbarker?

Yardbarker is the largest network of sports blogs and pro athlete blogs on the web. This site is the hub of the Yardbarker Network, where our editors and algorithms curate the best sports content from our network and beyond.