Found January 24, 2012 on Eye On Sports with Eric Williams:
Oh Mickey, you're so fine you're so fine you blow my mind,
hey Mickey (huff huff), hey Mickey (huff huff)
Sure, he's gotten plenty of 'hype' for his cover model look, but don't hate on Ricky Rubio people … the boy's actually got some game – even if it's a bit different from the me-first, shoot-first point guard play we've become accustomed to in recent years roundball lovers.
Unlike many of today's American-born floor leaders, Rubio actually makes his teammates better with his slick passing, much like the pass-first point guards of years ago (think Magic Johnson and John Stockton).
Just think, if you're a T-Wolves player that is on the floor with Rubio, now you know that you could get a pass coming your way at any time – even if it doesn't look like you're open. Maybe I'm an 'old-school' guy, but actually passing the ball to get a better shot for your team is actually very appealing.
Rubio is currently averaging 10.6 points per game while dishing out an impressive 8.1 dimes per game and adding a surprising 4.7 rebounds per.
"We're happy to have him now," said Minnesota's best player, all-star forward Kevin Love after a recent win. "Today's just an example of how good he is—and how good he can be. Who's to say? He's still working on his jump shot. He's still working on his game."
Well, Eye On Sports fans, Rubio has plenty of game already – and it's a scary thought to think how good he could be in another year or two of NBA hoops!
Original Story:
http://eye-onsports.blogspot.com/2012...
THE BACKYARD
BEST OF MAXIM
RELATED ARTICLES
Theres a viral YouTube video starring a talking shell that poses a surprisingly philosophical question. In an almost indignant tone because yes, miniature exoskeletons can be indignant the shell, Marcel, asks his audience: People say my head is too big for my body, and I say, Compared to what? Its a valid question. Now consider the Timberwolves. Ricky Rubio has become Minnesotas...
ATLANTA When Minnesota played Milwaukee in its second game of the season, Kevin Love had 30 and 20 and the Wolves lost a close game 98-95. Interestingly, Bucks guard Brandon Jennings didnt create a national stir with his performance. Jennings, the flashy and candid point guard had 24 points and seven assists, clearly outplaying Minnesota rookie Ricky Rubio. The Spanish import had...
As we eavesdrop on a mythical party for NBA rookies, we see Ricky Rubio in a far corner of the room. Quiet guy, doesn't say much. But there sure is a big crowd around him. Some of those admiring women are getting...
Averaging 10.7 points, 8.3 assists, 4.6 rebounds and 2.3 steals, Ricky Rubio has been a joy to watch. Two years ago, many of us expected Ricky Rubio to play like he's playing now, looking like a veteran in a rookie's body. I ranked him as the No. 2 player in the 2009 draft class largely because of the way he's able to get everyone around him to be more productive....
After a grueling offseason for the NBA's rookie class, the 2011-2012 class has showed an incredible amount of toughness and promise. Ricky Rubio has been putting a mizzle on the haters so far. SC's Gary Flick looks at the other contenders for ROY.
 Coming into the year we were pretty sure Kevin Love a borderline All-Star, we really really hoped Ricky Rubio was the real deal and we were quite sure Michael Beasley could score a ton of points if he was properly focused.  Well a month has passed and we know some things. The good news is that Kevin Love isn't going to let us pencil in Blake Griffin in at 1st team All...
When Ricky Rubio was nothing more than a figment of most Timberwolves fans' imagination upheld by grainy YouTube clips, Minnesota and Jonny Flynn had to endure one another for two seasons. Flynn says he let the Rubio hype get to his head. Reports the Pioneer Press: "Flynn, drafted No. 6 overall by the Timberwolves in 2009, was traded to the Rockets in June during the 2011 draft...
There must be something in the water, since all shaggy-haired Spaniards seem to have a preternatural ability to find an open teammate without having to actually see them. A cutting Gasol drew both his man and Andrew Bynum's, and a nifty little over-the-shoulder dump to Bynum was pretty and pretty effective. More »
League sources confirmed various reports out of Minnesota that the Timberwolves and Love's agent, Jeff Schwartz, are at an impasse on a fifth season for Love, who entered play Tuesday fifth in the league in scoring (24.9 per game) and second in rebounding (13.9), and who made his first All-Star Game appearance last season. The Wolves are offering Love a four-year deal worth ...
The Houston Rockets are closing in on their longest win streak in four seasons, and a matchup with an injury-plagued opponent that they've dominated in the past would seem to give them a good opportunity to accomplish that feat. The Minnesota Timberwolves, though, have shown some improvement with point guard Ricky Rubio in the starting lineup and will try to claim their fifth...
Bob Sansevere of the Pioneer Press: Even though Kevin Love would have been a restricted free agent and not likely to leave next season, the Wolves had to send a message to Love, his teammates and fans that they were committed to keeping him as a core member of the team. The message would have been even stronger if the Wolves had given Love the fifth year he wanted instead of an opt...
Timberwolves News

Delivered to your inbox

You'll also receive Yardbarker's daily Top 10, featuring the best sports stories from around the web. Customize your newsletter to get articles on your favorite sports and teams. And the best part? It's free!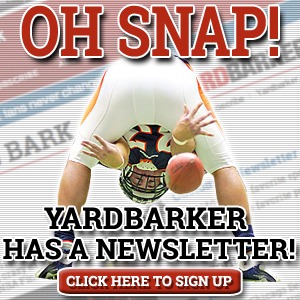 Latest Rumors
Best of Yardbarker

Today's Best Stuff

For Bloggers

Join the Yardbarker Network for more promotion, traffic, and money.

Company Info

Help

What is Yardbarker?

Yardbarker is the largest network of sports blogs and pro athlete blogs on the web. This site is the hub of the Yardbarker Network, where our editors and algorithms curate the best sports content from our network and beyond.