Found September 08, 2012 on Fox Sports North:
MINNEAPOLIS Carl Pavano's 2012 season is finished. There's a chance that the right-hander's career with the Minnesota Twins may be over, too.If it were up to the 36-year-old Pavano, though, he would love to come back to Minnesota next season after his current contract expires at the end of this year. Yet at the same time, Pavano knows it's not solely his decision to make."Of course I'm open to it. It takes two to tango, there's no doubt about it," Pavano said Friday. "But I think they know me, they understand me, they know what I'm about, and I know what the organization is about. There are great people in this organization, and I've enjoyed my time here, there's no doubt about it."Pavano was shut down for the season in late August when he received a new diagnosis on his sore right shoulder. Dr. David Altchek diagnosed Pavano with a bruise on his humerus bone, which requires time to heal.That means Pavano finished his 2012 season with just 11 starts after throwing more than 220 innings in each of the past two seasons. He last pitched on June 1 before going on the disabled list with what was diagnosed at the time as a right anterior capsular strain.Before landing on the disabled list, Pavano struggled with his velocity early in the season. His fastball was several miles per hour below what it was during his previous seasons with the Twins it averaged 86.2 mph this year compared to 88.7 mph in 2011 and 90.0 mph in 2010. Despite that, Pavano still feels he could get by in the majors with a lower velocity."The doctors told me that the bone bruise was just weakening the whole shoulder joint so much that even what I got out of it was pretty surprising, from strength-wise and being able to compete (with) borderline average stuff," Pavano said. "I feel like that'll all be there. But as you get older some of those things diminish. So we don't know until I get to that point, and that's far ahead of me, so I'm just really focused on now, and just every day continually feeling better."Pavano joined the Twins via a trade from Cleveland late in the 2009 season and was part of the Minnesota squad that won the American League Central by beating Detroit in a decisive 163rd game. He then won 17 games with seven complete games in 2010 as the Twins again won the division, this time in brand-new Target Field.But Pavano and the rest of Minnesota's roster experienced disappointment in 2011 when the Twins lost 99 games and finished in last place in the AL Central. Still, Pavano was a workhorse for Minnesota, pitching a team-high 222 innings. Pavano will now watch from the dugout as the Twins finish out September on their way to another losing season. But Pavano sees promise when he looks to the Twins' future."Obviously my season's over, but there are a lot of things around here that have been lost in the fray," Pavano said. " There's a good future ahead of us. We have some talent. I think there were question marks about that, but it takes younger guys to put it together, and I kind of like what I see with some of these younger guys. A lot of that gets lost in the fray through the inconsistencies of a season, but I try to look at that stuff as I analyze the year. I think it's kind of exciting."Whether Pavano will be part of that future remains to be seen. The Twins will no doubt be in need of starting pitching in 2013 as its rotation currently boasts the highest ERA in the American League (5.47 before Friday). Outside of left-hander Scott Diamond, there don't appear to be any certainties for next year's rotation.Pavano earned 8.5 million this year and will turn 37 before next season. He's pitched 14 seasons in the majors, but until this season, the veteran Pavano had stayed healthy while with the Twins, something he prided himself on.Will Pavano have enough left in the tank to pitch for Minnesota in 2013? He hopes so. Now it's up to the Twins to decide if he does."You have to listen to what your body tells you, but my mind as you get older you get stronger in your profession mentally," Pavano said. "It's unfortunate that this is a very physically demanding job and those things diminish. We'll see. If physically I feel like I can put the work in every day to be out there, then there are years ahead of me, but I won't know until I do it." Follow Tyler Mason on Twitter.
Original Story:
http://www.foxsportsnorth.com/09/08/1...
THE BACKYARD
BEST OF MAXIM
RELATED ARTICLES
Righty Carl Pavano knows that eventually his body will betray him. It happens to every athlete, and Pavano is more aware of it than ever because he turns 37 on Jan. 8. He hasn't pitched in a major league game since June 1 because of a shoulder injury. But the veteran is confident that hasn't happened yet and that he will pitch in 2013. Now that he has been diagnosed...
Chris Colabello's run from being last season's Independent Player of the Year (Baseball America) to setting a new team record for runs batted in during his first affiliated season to earning runner-up honors as the Eastern League's Most Valuable Player is little short of miraculous.  It also has given the 28-year-old first baseman a full plate of baseball for this fall and...
MINNEAPOLIS The list of names kept rolling. Former players. Former teammates. Retired numbers. Every one of them holds a place in the hearts of Twins fans, but for one evening, it wasn't about them. It could have been monotonous, this name after name after name, long walk after long walk across the same stretch of outfield that current players cover so quickly. But it wasn&...
Darin Mastroianni, the Minnesota Twins' fourth outfielder, has worked with trainer Perry Castellano on a regimen to keep himself ready for defense even when he isn't playing. On Tuesday in Chicago, that meant a series of long tosses to the center field wall at U.S. Cellular Field, where the Twins were playing the White Sox. Castellano would toss the ball over the fence...
The Indians dropped the second game of their weekend series in Minnesota on Saturday night, falling 3-0 at Target Field. The Tribe lineup managed just four measly hits off a combination of Cole De Vries and three Twins relievers. Cleveland AB R H RBI HR BB K SB LOB Season Avg S. Choo rf 4 0 2 0 0 0 2 0 0 .283 J. Kipnis dh 3 0 0 0 0 1 0 0 1 .256 A. Cabrera ss...
Happy afternoon. Nothing better than college football. Well, I guess wat until tomorrow. A very scary incident from from the Tulane-Tulsa game, where safety Devon Walker had to be resuscitated and given a tracheotomy on the field. Hey good news! The Twins aren't raising ticket prices!\ Who will have the first pick in 2013?  SCOREBOARD MLB Kansas City 7, Chicago 5 – If they...
Twins News

Delivered to your inbox

You'll also receive Yardbarker's daily Top 10, featuring the best sports stories from around the web. Customize your newsletter to get articles on your favorite sports and teams. And the best part? It's free!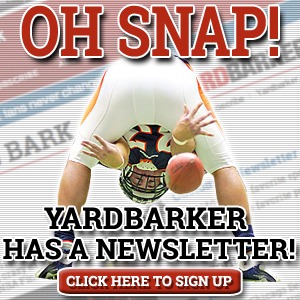 Latest Rumors
The Backyard

Today's Best Stuff

For Bloggers

Join the Yardbarker Network for more promotion, traffic, and money.

Company Info

Help

What is Yardbarker?

Yardbarker is the largest network of sports blogs and pro athlete blogs on the web. This site is the hub of the Yardbarker Network, where our editors and algorithms curate the best sports content from our network and beyond.