Kyle Schwarber and Ian Happ are expected to play in the Cubs' first Cactus League game on Friday against their National League Central rivals, the Brewers. Left-hander Michael Roth, a non-roster invitee who has pitched for the Angels and Rangers, is scheduled to start.
With spring training underway, there are several players that the Chicago Cubs will be looking toward to have a breakout season and take on a bigger role this year. Having a "breakout" year could really mean anything, and it does have a different significance to each guy on this list. One player listed here hasn't had a full opportunity to prove himself as a daily staple in the lineup...
The first thing Kyle Schwarber told new Cubs hitting coach? "I don't suck." It's Chili Davis' job to help Schwarber and other Cubs hitters prove that message correct.
Cubs hitting coach Chili Davis talks about what went wrong for Kyle Schwarber last season and how he plans to turn it around in 2018.
Didja like what I did with the double entendre punnage in the title? Because Chili could mean either the opposite of heat or like the food, which could be very hot. Wow, I just blew my lede on an explanation of my title. Anywho, let's get on to the business of the new Cubs hitting … The post Chili Davis Using Experience to Help Kyle Schwarber Heat Up appeared first on Cubs Insider.
Kyle Schwarber talks about his physical transformation.
When Kyle Schwarber and new Cubs hitting coach Chili Davis met, the two realized they had a lot in common. That connection could help Schwarber this season.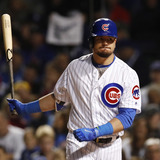 The 2018 MLB season should be seeing a leaner and meaner Kyle Schwarber.The Chicago Cubs slugger recently told Jesse Rogers of ESPN that he has lost 17 to 20 pounds this offseason. Moreover, he doesn't think he's sacrificed any strength in order to drop the weight."It's a lifestyle choice, and it's a professional choice too," said Schwarber, via Rogers' video. "You're only doing...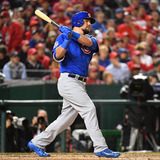 Cubs slugger Kyle Schwarber has some serious pop, and when he makes solid contact, he has the power to destroy a baseball.The Nationals learned that lesson during Game 5 of the National League Division Series on Thursday night, when he crushed a pitch from Sammy Solis off the outfield wall. Schwarber hit the ball so hard that it left a dent in the wall, which you can see below. Schwarber...
Chicago Cubs left fielder Kyle Schwarber is far from a defensive specialist. In Game 3 of the NLDS against the Washington Nationals, Schwarber's glove issues reared their ugly head.Nationals second baseman Daniel Murphy sliced a ball down the left field line. The play was a little more than routine, but certainly one that should have been made. However, Schwarber dropped the ball...
MORE STORIES >>
Cubs News

Delivered to your inbox

You'll also receive Yardbarker's daily Top 10, featuring the best sports stories from around the web. Customize your newsletter to get articles on your favorite sports and teams. And the best part? It's free!