Found February 28, 2013 on isportsweb.com:
PLAYERS:
Jimmy Rollins
,
Kyle Kendrick
,
Shane Victorino
,
Juan Pierre
,
Ben Revere
,
Michael Young
,
Sebastian Valle
,
Ryan Howard
,
Chase Utley
,
Mike Adams
,
Jonathan Papelbon
,
John Lannan
TEAMS:
Philadelphia Phillies
,
Boston Red Sox
,
Miami Marlins
,
Washington Nationals
The lineup is initiated by the offensive catalyst of the Philadelphia Phillies, who, until now, has been Jimmy Rollins.  Is there a changing of the guard on the immediate horizon? TAL'S HANDY CAPS WELCOME, NEWCOMERS: My articles are designed to represent a baseball man's thinking, the view from the dugout and the GM's box. Most fans do not consider the budget, prospects on the radar, the club's weaknesses, the track record, the competition and the other intangibles. Please go to my author archives or Phillies page for my most recent coverage. Scroll down to Tal's Handy Links at the bottom. Thank you. Check out:  Philadelphia Phillies storyline: The starting assignment Baseball-Fix Schedule I will continue the process of the previous Monday's approach, if appropriate.  For early birds Sunday evening is post time. Due to a strong response and a complicated offseason, my reviews will be weekly until spring training ends. The new summer schedule will allow me to publish the best 3 storylines each week, but there will be an updated calendar included with each feature:  Posts involving commentary, polls and stats will be listed for the upcoming 7 days. TIMEFRAMEFORMATPUBLISHING December to AprilBaseball-Fix MondayWeekly December to AprilSuds or Studs2-4 Times a Month April to Season's EndNitecap Insight3 Times a Week April to Season's EndSuds or Studs2 Times per 10 Days April to Season's EndTal's Handy Stats2 Times per 10 Days This review is a 2nd posting.   Kyle Kendrick Dials up a 4-seam Fastball during the 1st in Clearwater on February 26 against the Yankees.   4TH FEBRUARY BASEBALL-FIX MONDAY        The Next Chapter: Since Rollins has been a Phillie, he has never put his seal of approval on a successor for the leadoff spot, which incudes Shane Victorino and Juan Pierre. Victorino was roughly less effective and Pierre started only against right-handers. There is a unique situation this season with Ben Revere and Michael Young on the squad. Revere has put-the-ball-in-play ability with the speed to swipe bags and accumulate infield squeakers. The 3rd sacker is a potential .300 stick and an excellent opposite-field hitter, which are qualities that favor the 2 hole. However, the second spot sees a lot of fastballs, which is Rollins' favorite pitch, and even more with a stolen-base threat on first. Sebastian Valle Tries to Make the Catch during the 6th in Fort Myers on February 27 against the Twins. Last year half of the core four were recuperating, and only 1 leader was there from beginning to end. The other 3 had demons to battle. Ryan Howard basically was a one-legged warrior, and Chase Utley fixed one knee only to be hindered by the other. Doc Halladay compensated for his balky back which led to shoulder problems. The numbers in the below table are a reminder of the characters on this club. Granted, they will not win 100 decisions but they are not a .500 organization either. There are a lot of fans who think they will only finish 3rd in the division with 85 victories. However, these stars don't seem willing to accept a 85-77 mark (.525) or anything less than 90 triumphs. Identity-related Results: TIMEFRAMEW - L REC.PCT.FOR 162 GAMES 7-22-10 to 2010 End049 - 19.721117 - 45 2011 Season102 - 40.630102 - 40 7-22-10 to 2011 End151 - 59.719117 - 45 7-14-12 to 2012 End044 - 30.595096 - 66 8-04-12 to 2012 End *034 - 22.607098 - 64 9-01-12 to 2012 End018 - 12.600097 - 65 * After the 4 Players Were Traded.   Revere Swipes 2nd during the 1st in Fort Myers on February 27 against the Twins. Not only will Utley, Howard and Halladay reenergize the Bank, but Mike Adams will plug the 8th-inning leak. There were a dozen losses that developed about 3 outs short of Jonathan Papelbon. If Adams and Papelbon turn that into 9 wins, it would boost the Phils to a 90-72 record. And that one change among the calamity of 2012 would have captured the second wild card. In other words, this franchise will have more than 90 victories but not 100, because they have proven they are a cohesive unit. That number from 1 to 9 will also be predicated on the contributions of Revere, Rollins, Michael and Delmon Young. However, until the 2 sidelined players join the party, the center fielder, the shortstop and the 3rd baseman will bat 1st, 2nd or 5th. It was recently reported that Rollins was willing to move from the leadoff slot, which would be a first and the telltale verification of a special chemistry. John Lannan Loads up a 4-seam Fastball during the 1st in Fort Myers on February 27 against the Twins. Revere will swing first or 2nd, while Michael could protect Howard in the 5 spot. Of course, he would fit nicely between Revere or Rollins and Utley. Rollins hits from both sides. and has the power to produce behind Howard, while first or second in the order is plausible as well. This lineup has possibilities: Revere (L), Rollins (S), Utley (L), Howard (L) and 3B Young (R). The Nationals will be tested, because our game-hardened champions want to recapture the NL East pennant.   Phillies email notification: Email Notifications   LINK-UP BELOW: A link for Phillies email notification is provided below. Any holdups that may occur will be posted at Tal's Handy Caps on Facebook. This is the 17th storyline for 2013. Check out my recent publication (Questions, Answers and Madness) on the Phillies page or my author archives, where there is an excerpt photo. Also, my new feature is Suds or Studs.  The last one was Select One of Each. I will periodically publish the 2013 ERA for the NL East and the 2013 ERA for the MLB 5. Thank you, to all who bookmarked my page. TAL'S HANDY LINKS Email Notifications TAL'S HANDY CAPS on Facebook  Philadelphia Phillies storyline: The big surprise Philadelphia Phillies: New suds or studs, trades Phillies Tal Venada (Author Archives) Philadelphia Phillies: 2012 ERA for the NL East at final game 162 Philadelphia Phillies: 2012 ERA for the MLB 5 at final game 162
Original Story:
http://feedproxy.google.com/~r/isport...
THE BACKYARD
BEST OF MAXIM
RELATED ARTICLES
Third baseman Cody Asche made a major impact in the Phillies developmental ranks in 2012 and became one of the team's fastest rising prospects during his first full season as a professional.  Selected in the fourth round of the 2011 amateur draft out of the University of Nebraska, Asche is among a small group of talented prospects that could be contributing at the big league level...
With the 2013 season just around the corner, it's time to start another Phillies Nation fantasy baseball season, where it's free to enter and winners of each division win a prizes at the end of the season! If you are interested in playing this year, sign up below and we'll email you an invitation to join one of our leagues. Invites will be sent out in mid-March, but you can...
Philadelphia Phillies outfielder is (inexplicably) fighting for a job this winter after the team signed veteran Delmon Young (who hasn't played in a spring game yet after offseason ankle surgery). Brown is having himself a solid spring so far, and on Tuesday, he hit his second homer of the preseason. This shot, a solo blast off of Zach Nuding of the Yankees, actually cleared...
Atlanta Braves at Philadelphia Phillies Time: 1:05 pm Brighthouse Field– Clearwater, FL Weather: 72, Partly Cloudy TV: The Comcast Network Follow Phillies Nation on Twitter Cole Hamels will get the first crack at division rivals Atlanta today in Clearwater. Ethan Martin, Jonathan Pettibone, and Jake Diekman are scheduled to follow. Line-up notes: Ben Revere is again leading off...
Should Ben Revere or Jimmy Rollins be the Philadelphia Phillies leadoff hitter in 2013? Live from Clearwater, tune in from 7-9pm to listen to the only show dedicated only to the Phillies year round! Click here to listen now or download our FREE iPhone and Android apps by searching MTR Radio in your app store. Join our discussion on Facebook and follow us on Twitter.
Billy the Philly Fan and Steve from My Two Cents rant about the Philadelphia Phillies 2013 roster, today's game from Bright House Field, the team's defense, lineup, and more! Follow the Phillies at MTRphilly.com, on Facebook, Twitter, and listen to the MTR Morning Throwdown weekdays from 7-10am, Philly Baseball Beat Thursday's 7-9pm, and My Two Cents at 10pm on MTRRadio.com!
Ryan Howard hit his first home run of spring training, an opposite-field drive to left off All-Star closer Craig Kimbrel that helped the Philadelphia Phillies beat the Atlanta Braves 10-5 Thursday. Howard put the Phillies ahead with an RBI double in the first against loser Paul Maholm. Howard, who didn't play until July last year while recovering from a torn left Achilles tendon...
In a way, Matt Tolbert feels like he's starting all over. In a way, he is.
Don't miss the Philly Baseball Beat tonight from 7-9pm on MTRRadio.com. Bill Zeltman and Steve from My Two Cents break down the Philadelphia Phillies 2013 team, review Spring Training hits and misses, and give you the latest on your favorite team. Join in the discussion as they talk about who should lead off for the team, their concerns about the team's defense, and more. Tune...
All Sports News

Delivered to your inbox

You'll also receive Yardbarker's daily Top 10, featuring the best sports stories from around the web. Customize your newsletter to get articles on your favorite sports and teams. And the best part? It's free!
THE HOT 10: Who's Trending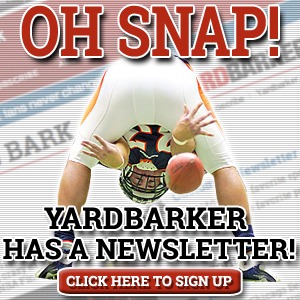 Latest Rumors
Best of Yardbarker

Today's Best Stuff

For Bloggers

Join the Yardbarker Network for more promotion, traffic, and money.

Company Info

Help

What is Yardbarker?

Yardbarker is the largest network of sports blogs and pro athlete blogs on the web. This site is the hub of the Yardbarker Network, where our editors and algorithms curate the best sports content from our network and beyond.