Found December 05, 2012 on NY Rangers Blog:
PLAYERS:
Bill Daly
,
Brad Richards
,
Sidney Crosby
,
Shane Doan
,
David Backes
,
Jonathan Toews
,
Donald Fehr
TEAMS:
New York Rangers
,
Pittsburgh Penguins
,
Arizona Coyotes
,
St. Louis Blues
,
Chicago Blackhawks
After meeting until after midnight, the players and owners appeared from their CBA discussions talking about good vibes and moving in the right direction. In fact, NHL Deputy Commissioner Bill Daly and NHLPA Special Counsel Steve Fehr held a joint press conference afterward and said this... Daly: "I think everybody is working hard. I think everybody wants to get a deal done, so I think that's encouraging." — Dan Rosen (@drosennhl) December 5, 2012 Steve Fehr: "We had a good dialogue. In some ways I'd say it might be the best day we've had." — Dan Rosen (@drosennhl) December 5, 2012 Steve Fehr went on to say he is not "painting too overly optimistic a picture" because there is still work to be done. — Dan Rosen (@drosennhl) December 5, 2012 Both sides are hoping to meet again tomorrow morning before the owner's Board of Governors meeting. Brad Richards was one of the 18 players to attend the...
Original Story:
http://www.nyrangersblog.com/2012-art...
THE BACKYARD
BEST OF MAXIM
RELATED ARTICLES
Steve Fehr and Bill Daly holding joint press conference although won't say much. Fehr called it maybe best day so far in this process — Pierre LeBrun (@Real_ESPNLeBrun) December 5, 2012   Daly: I think everyone wants to get a deal done, so that's encouraging. Will talk again tomorrow morning. Same group. — Nick Cotsonika (@cotsonika) December 5, 2012
I know that this evening's events have polarized fans somewhat, but Ron Hainsey offers an answer to Mr. Deep Inside's concern about Donald Fehr being the problem for the players. It sounds like Fearing Fehr is instead a divisive issue among the NHL's non-negotiators instead. Fehr's mere presence apparently injected a, "Screw it, we'll take our toys and go...
If you believe the concept that "leaks" are a bad thing, then this little origami paper crane flittering and fluttering over a bonfire is starting to smolder, as one might expect. Per the Toronto Star's Damien Cox: The conversation went something like this. "Let's leave," said Boston Bruins owner Jeremy Jacobs, turning to NHL deputy commissioner...
After three days of marathon meetings between the owners and players – without outside influence on either side — there seemed to be some promise in the ongoing NHL lockout discussions. And then, it was gone. On Thursday evening, a group of 16 players met with Donald and Steve Fehr to discuss the talks that took place without them earlier in the week, according to Comcast Sportnet...
Courtesy of PhiladelphiaFlyers.com On Tuesday, six NHL owners met with a group of players in New York, just one day before the Board of Govenors meeting.  The meeting went for about five hours, then had a dinner break, and concluded sometime around midnight.  The sides met for more than eight hours.  From the sounds of the meetings, this was a very constructive day.  TSN'...
Don Fehr just announced it.  He says looks like this will not be resolved in the immediate future. Says NHL will get back to them and Fehr says PA will advise players tonight. Fehr also mentioned the NHL may be pulling some items off the table. This was relayed to Steve Fehr by Bill Daly via voicemail.
I can tell you there's a hugely negative vibe emanating from both sides right now. Keeping this process on rails today will be challenging. — Bob McKenzie (@TSNBobMcKenzie) December 6, 2012 In related news, Gary Bettman and Donald Fehr are back in the negotiations this morning. ...are these guys really willing to flush the whole season down the drain? I don'...
I hold no responsibility if the CBA talks fall apart... from Kevin McGran of the Toronto Star, While optimism rose that a deal to save the NHL season was in sight, there are some questions regarding the logistics of getting 720 players scattered across the world to return to work. Q. Can the two sides make a deal without Donald Fehr or Gary Bettman in the room? A...
NEW YORK (AP) -- The next set of NHL labor negotiations were expected to get going later Thursday, but internal conversations by the players kept the sides apart by mid-afternoon. Owners and players were in touch with each other Thursday and made tentative plans to reconvene at some point in the afternoon. NHL deputy commissioner Bill Daly said after marathon talks ended shortly...
The NHL has rejected the NHLPA's latest offer and it seems like they've now pulled their own offer off the table. Or something. We're not even sure anymore. Someone help us. It looks like more games will likely be cancelled soon. It's December 6th and they've already cancelled games to the 14th. No way the season starts by the 14th. It's been a bizarre...
NEW YORK (AP) -- Talks in the NHL labor fight broke down after just one hour Thursday night, and it isn't known when the league and the players' association would get back together. After several hours of waiting for discussions to resume for a third straight day, the conversations didn't go well and had none of the momentum that existed Tuesday and Wednesday. NHL deputy...
Twitter almost broke last night when WBZ's Steve Burton announced on TV that there was a deal to be had, and will be signed and announced either today (during the NHL/NHLPA meeting without Gary Bettman or Donald Fehr) or tomorrow: WBZ's Steve Burton reports that a deal to save the #nhl season could be announced tomorrow or Wednesday – @JoeGiza Burton, who is widely known...
All Sports News

Delivered to your inbox

You'll also receive Yardbarker's daily Top 10, featuring the best sports stories from around the web. Customize your newsletter to get articles on your favorite sports and teams. And the best part? It's free!
THE HOT 10: Who's Trending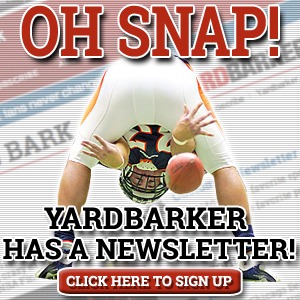 Latest Rumors
Best of Yardbarker

Today's Best Stuff

For Bloggers

Join the Yardbarker Network for more promotion, traffic, and money.

Company Info

Help

What is Yardbarker?

Yardbarker is the largest network of sports blogs and pro athlete blogs on the web. This site is the hub of the Yardbarker Network, where our editors and algorithms curate the best sports content from our network and beyond.