In the history books, 2012 will be remembered as the year of the caution. We've gone from not enough cautions to people proposing we throw them at random points to spice things up. This topic started last week at Kentucky when SMI's Bruton Smith suggested that there should be cautions thrown if a race is going to long on a green flag run. When the Sprint Cup Series hit Daytona, this was a popular topic to get driver opinions on. Below are some excerpts and I'll give my two cents on the debate. Jeff Gordon's take to the concept of a "TV time out" type of scenario was this: "TV time outs.  I don't see why we shouldn't have some TV time outs; I'd rather have that than some mysterious debris caution to be honest.  I don't know the integrity of racing and to me what it's all about is letting the race play out and sometimes that can be the most exciting finish you just don't know. Sometimes it's not, but trying to get in the middle of that can be challenging.  If you are going to do it obviously it's got to be something that is planned in advance and you take a break and you know it going into it. I'm not totally against it, but I'm also more leaning toward just let the race play out the way it's supposed to." This is interesting because Gordon waffles on his position, which I think most people are stuck at. While it'd be good to close the gap and let everything reset, at the same time you're taking the race out of the driver's hands. Gordon continued with what he would suggest they do to make excitement, and it has nothing to do with caution flags. "If you really want to know what I would like to see, I would like to see heat races and invert the field and have a 50 to a 100 lap shootout.  I mean that is what I grew up racing.  It's exciting, it's fun, and I never knew what a 500 mile race was until I came into NASCAR other than the Indy 500.  I mean if we are really going to just be here and speculate all about what is going to be entertaining that is going to be entertaining.  We all get set in our ways and you say but this is the history of the sport what it's been built on is four or five hundred mile races, but what is more important history and tradition or the most entertaining form of racing?  I don't know.  I'm glad I'm not making those decisions. Or figure eight, let's go backwards, half the field goes backwards the other one goes forward, I like Tony's (Stewart) ideas.  He's got some good ones." For Matt Kenseth, it's more a matter of what the media/fans/everyone is looking for in a race. What is your definition of exciting? "No, not really.  I mean, we kind of do that with competition yellows and stuff when the track is green.  I don't know that it matters a whole bunch.  I think when the track is green and there has been rain and they do it, it's always good because some guys maybe didn't get as much practice or something like that, but, other than that, I don't think we need that.  I think you have a pretty good mix of some races with long green-flag runs and some races with short runs.  I think some of the races that people have called us out on for not being exciting with those long greens at the end were actually pretty exciting.  It just depends what you're looking for because every race isn't gonna be green-white-checkers with cars all over the place.  I think of Kansas where they had that real long green at the end.  I think it had two full runs and it took Denny a run-and-a-half to run down the 56 car and pass him with like 10 to go, so I think some of those races are really good races, it just depends what you're looking for." A move towards mandatory cautions has many believing that this could create WWE like results, as in fixed results. That's what Greg Biffle said: "I've commented about it a few times now.  We don't want to create WWE or create something that one could look at it and say, 'Oh, well that's set up,' but I do agree that cautions create a little bit more excitement for the fans.  This is an entertainment business.  Fans are sitting in the grandstands and watching at home and restarts tend to create a little more excitement and a little more action.  We know that from sitting in the car, but, there again, now you've got to talk about how would you ever do that.  The other thing I mentioned is if you look at it and dissect it, the caution is always benefitting somebody.  The guy that's about to go a lap down or the guy that just got in the lucky dog spot.  When the caution comes out, it's helping those two guys so it's always disadvantaging somebody and helping someone else.  So you've got to figure out how to not do that if you want to create some kind of caution." Carl Edwards agreed with Biffle's assessment, "It's not gonna be a Game 7 moment every race.  That's what makes some races great.  To me, if you start affecting the competition like that, that is analogous to stopping a basketball game if the score gets too far apart and putting the score back even.  That, to me, is not what auto racing is about.  If you let these races play out naturally and let the racing be racing, sometimes there are some wild things that happen and things happen that are unexpected, and that's what makes that true, real drama that happens every once in a while.  That's why it's so appreciated in our sport, and once you try to create those things, it's my humble opinion, I'm not saying what's right or wrong – it's my opinion – that that takes something away from the sport.  If a guy wins by three laps, well he was meant to win by three laps and you don't want to take that away from that guy and that team." And then there are others who just get right to the point, like Kevin Harvick: "Same guy that ruined Bristol." To me, the lack of cautions is annoying as it does all those things. Breaks up the race for your own pit stop, allows teams to make bigger changes in cars to help them out, gets drivers their lap(s) back, and bunches up the field for excitement. But I don't believe that's the answer to make the races better. It's a double edged sword, with everything you do to please a large audience. If you keep things as is, people will complain that the races are too long and boring. If you implement a caution system, then people will complain that the races are fixed. Here's the real problem, as I see it, the economy is so bad in NASCAR that drivers are more apt to give than take out there. This isn't the case of all drivers, but any team that has a shoe string budget will either park or not push the envelope because they can't afford to fix their cars. You can't really fix that, unless you lower the cost of competing. I say keep it as is, eventually the cautions will come back. Cautions don't mean exciting races, it mostly means drivers making bad decisions. If a driver can run away with a race, kudos to them for having the right set up and good fortune during the day. Like Edwards says, that's what racing is all about. Going out there and performing at your best and you should give opportunities to those you didn't bring their A game just to spice things up.
Original Story:
http://startnparkblog.com/?p=8295&utm...
MORE FROM YARDBARKER
All Sports News

Delivered to your inbox

You'll also receive Yardbarker's daily Top 10, featuring the best sports stories from around the web. Customize your newsletter to get articles on your favorite sports and teams. And the best part? It's free!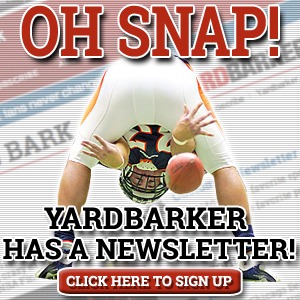 Latest Rumors
Best of Yardbarker

Today's Best Stuff

For Bloggers

Join the Yardbarker Network for more promotion, traffic, and money.

Company Info

Help

What is Yardbarker?

Yardbarker is the largest network of sports blogs and pro athlete blogs on the web. This site is the hub of the Yardbarker Network, where our editors and algorithms curate the best sports content from our network and beyond.