Found July 08, 2012 on centericechat.com:
PLAYERS:
Shea Weber
,
Rick Nash
,
Zach Parise
,
Ryan Suter
,
Alexander Semin
,
Marian Gaborik
,
Shane Doan
,
Andrei Kostitsyn
,
Ryan Carter
,
Mike Knuble
,
Bobby Ryan
TEAMS:
Nashville Predators
,
Columbus Blue Jackets
,
Minnesota Wild
,
Washington Capitals
,
New York Rangers
,
Arizona Coyotes
,
New Jersey Devils
,
Anaheim Ducks
The New York Rangers are still waiting to make their big move this offseason, as they are still desperate to add some playmakers to their roster to help them take the next step and get to the Stanley Cup Finals. After losing to the New Jersey Devils in six games in the Eastern Conference Finals last season, New York has been linked to many big names over the past few weeks.
The question is, will they be able to land any of them?
It was apparent from the beginning that New York would not be able to land Zach Parise, who was seen as the prize of this year's free agent class. The former Devils standout said he would never play in New York, and it was clear that he and Ryan Suter were going to be a package deal. The Minnesota Wild reaped the benefits of that particular package.
So with the top two free agents off the board, the Rangers have a few other options going forward. They could try and sign Alexander Semin to help bolster an anemic offense. New York would hope that after a somewhat down year last season, Semin could turn things around in his Broadway debut much like Marian Gaborik did when he joined the Blueshirts.
Or, they could try to sign a few players who would not cost as much against the salary cap, perhaps targeting Shane Doan. He would be an instant boost to New York's offense. They could also make a run at players including Andrei Kostitsyn, Ryan Carter, Mike Knuble or Daniel Winnink. Aside from Doan, none would carry the big name recognition, but adding a few of them would make a difference.
Or they could go the eventual route that many people are simply waiting for to happen and make a big trade.
The Rangers have been linked to Rick Nash since prior to last season's trade deadline, but they would not cave into the high asking price of the Columbus Blue Jackets. While I maintain they should still sit back and let someone else overpay for Nash, the Rangers may feel they are desperate. If they don't land Nash, they have also been rumored to have expressed interest in acquiring Bobby Ryan from the Anaheim Ducks, who I feel would be a better acquisition for many reasons.
But the latest rumblings have the Rangers getting involved with the Nashville Predators about defenseman Shea Weber. Once the Preds lost Suter, Weber became a little more hesitant in his desire to sign a long term deal in Nashville. Weber is a restricted free agent who the Predators will not let walk simply for draft picks, so they could sign him and trade him for a very lucrative package, and the Rangers certainly have the pieces. It is being reported that while certain players are off limits for a player such as Nash, they may consider moving them for Weber.
While not an offensive player, Weber was on the ice for more power play goals than any other player in the game last season.
Original Story:
http://www.centericechat.com/2012/07/...
THE BACKYARD
BEST OF MAXIM
RELATED ARTICLES
While the Rick Nash trade talks heat up, along with the temperatures in many parts of the country, many teams are dropping out of the Nash sweepstakes, as they are simply fed up with the Columbus Blue Jackets asking price. While it is unknown as to how many teams exactly are still highly involved in the Nash talks, it is known that many teams are through dealing with...
from Aaron Portzline of the Columbus Dispatch, "Most people I know feel like there's more to give there yet with Rick," said former NHL forward Ed Olczyk, now an analyst for NBC and Comcast SportsNet Chicago. "There's still that untapped ability. You wonder what numbers he could put up if he played on a really good team with really good offensive players. "Teams should...
Re-signing Shea Weber, whatever it may cost, is crucial for the Predators...
Wasn't it supposed to be a quiet offseason? Initially, the Boston Bruins promised that they weren't planning to very active in free agency, professing to be looking for roster tweaks rather than the splashy move. With the team's salary cap issues, it wasn't a surprising revelation for a club which just won the Stanley Cup 13 months ago and had kept its core relatively...
Unfortunately for you guys, I can't see you through my computer so here's some more Rick Nash nonsense from Aaron Portzline of the Columbus Dispatch..."One phone call could get the deal done, Howson has noted. Boston, Detroit, the New York Rangers, Philadelphia, Pittsburgh and San Jose are all on Nash's approved list, but the Rangers and Flyers would appear to have...
from Larry Brooks of the NY Post, Shea Weber is the player for whom you pay the bounty the Blue Jackets are demanding but won't get in exchange for Rick Nash. Weber is not yet 27 and universally regarded as a franchise player who plays the right defense position, the most difficult in the league to fill — and for whom any team's list of untouchables is slashed to the bare...
Ever since Rick Nash was formally put on the block last season, we have had quite a bit of discussion on the topic here at BSB.  Interestingly, it seems our readers (and writers, for that matter) are pretty evenly divided in the pro or anti-Nash camps.  This is understandable given his large and lengthy contract, his (seemingly) declining production and his superstar status on...
from Ken Campbell of The Hockey News, NEWS: Columbus Blue Jackets GM Scott Howson says he refuses to accept anything less than "market value" for disgruntled captain Rick Nash. VIEW: That's all well and good, but that same market is basically dictating Nash is not worth the combination of what Howson is asking, plus the pillaging of roster players and prospects Howson insists...
All quiet on the Penguins front. But there are two really good reads out there today. 1. That Columbus beat writer who probably is more well known outside of Columbus than in, had a great piece on the Rick Nash fiasco. [ Blue Jackets Extra ] Howson won't give him up until he gets market value, and his trade partners — the six clubs on Nash's approved list...
CBC's Elliotte Friedman and Section 303's Jeremy Gover join us to discuss the departure of Ryan Suter and what it means for Shea Weber...
One of the most frequently asked questions this offseason after, "is Rick Nash a Ranger yet?" has been, "who the heck is Kyle Jean?" The answer is simple: he's the latest gem uncovered by Gordie Clark and New York's superior scouting staff, which has developed something of a Midas touch over the last couple of years. It wasn't long ago that the Rangers were completely...
Before I lay my head down for a few hours and then prepare for that awful 6 AM alarm, here's a brief summary of the Red Wings news I missed over the past 36 hours. Done a little quickly and on a no-particular order source-by-source basis… Well, okay, except for the beginning. ESPN's Scott Burnside and Pierre LeBrun had a chat about the Red Wings as potential suitors for Rick...
All Sports News

Delivered to your inbox

You'll also receive Yardbarker's daily Top 10, featuring the best sports stories from around the web. Customize your newsletter to get articles on your favorite sports and teams. And the best part? It's free!
THE HOT 10: Who's Trending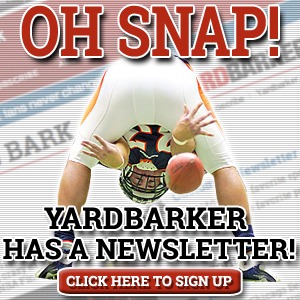 Latest Rumors
Best of Yardbarker

Today's Best Stuff

For Bloggers

Join the Yardbarker Network for more promotion, traffic, and money.

Company Info

Help

What is Yardbarker?

Yardbarker is the largest network of sports blogs and pro athlete blogs on the web. This site is the hub of the Yardbarker Network, where our editors and algorithms curate the best sports content from our network and beyond.