Found July 14, 2013 on Fox Sports Florida:
PLAYERS:
Jose Lobaton
,
Jose Molina
,
Joe Maddon
,
Evan Longoria
,
David Price
,
Kelly Johnson
,
Ben Zobrist
TEAMS:
Tampa Bay Rays
,
Houston Astros
,
Minnesota Twins
,
Chicago White Sox
,
Boston Red Sox
,
Baltimore Orioles
,
Toronto Blue Jays
,
New York Yankees
ST. PETERSBURG, Fla. -- Near the end of a long, rewarding homestand, Jose Lobaton and Jose Molina considered what could come ahead. The Tampa Bay Rays had lived a remarkable run -- they won 10 of 11 games, 14 of 16 and 17 of 21 after a 5-0 victory over the Houston Astros on Sunday at Tropicana Field -- and the catchers wondered if their momentum could continue after the All-Star break. Lobaton asked Molina about the second half. Molina, as Lobaton recalls the conversation, offered advice that the Rays would be wise to follow: "Just keep going." "I don't think we think too much about that," Lobaton said of his team's roll. "We just go every game, it's a different day. Whatever happens, happens." In the coming days, Rays players will enjoy a mental and physical break before they begin an intriguing 10-game road trip against American League East teams July 19. But lately, what has happened could be recalled as the key charge that lifted them amongst the AL's best if they advance to the postseason. Sunday's game followed a script that has been replayed plenty in July: They pounded an overmatched opponent. Tampa Bay finished this 14-game, pre-All-Star-break run against teams with losing records 12-2. There are two ways to study that development: Either (A) make light of whom the Rays played, a fair argument (the Astros, Minnesota Twins and Chicago White Sox are the three worst teams in the AL) or (B) consider that good squads, elite ones, throttle the dregs matched against them. There is truth in both perspectives, but the facts are these: The Rays are 55-41 and a major-league-best 41-23 since May 8, after starting 14-18. Players talk about a growing energy, a concept that is hard to both measure and confirm. However, an eye test has value too. Tampa Bay looks like a group rising. "You have to play teams that are not playing up to their potential sometimes, (and) you've got to make sure you put hay in the barn at that point," Rays manager Joe Maddon said. "We were able to do that." They were, and in the process, the Rays produced some lofty figures. The 55 first-half victories tie a club record set in 2008 (the 96 games played before the All-Star break this year are a franchise record). They have scored 449 runs, the second-most in club history before the All-Star break (they had 476 in 2009). Of course, for all their recent gains, there are unknowns to be learned. Evan Longoria has labored at the plate, hitting .139 with 11 strikeouts in games from July 5-14. Will David Price continue his post-DL efficiency, or will he live a slide similar to what he experienced before he strained his left triceps on May 15? Will Kelly Johnson, hitting .180 in his last 20 games played before the All-Star break, return to his May form, when he hit .330 with seven home runs and 26 RBI? Will Ben Zobrist, hitting .248 in his last 28 games played before the All-Star break, improve his consistency? "I'm not concerned," Maddon said. "The guys that are struggling a bit, I know they're going to come back. I know Longo is going to be hitting the ball well. I know Zobrist is also. I'm not worried about guys like that at all. ... Just to see some guys get back on track would be very nice." That is part of the intrigue to come after the All-Star break. The Toronto Blue Jays have failed to meet their preseason hype, and the injury-riddled New York Yankees appear to be fading. But the Boston Red Sox and Baltimore Orioles both figure to be formidable tests. Tampa Bay will receive a glimpse of the sprint to come when they open the second half against the Blue Jays (three games), Red Sox (four) and Yankees (three) on the road. "You want to play every day when you are winning games," Rays centerfielder Desmond Jennings said. "But it's a good time for us to take a few days off, rest up and come out with some energy in the second half." Said Rays right-hander Chris Archer: "Everybody's going to come back re-energized or carrying over the energy from this series, this homestand." Whether they do so will be learned in time. The Rays would be smart to keep going. You can follow Andrew Astleford on Twitter @aastleford or email him at aastleford@gmail.com.
Original Story:
http://www.foxsportsflorida.com/mlb/t...
THE BACKYARD
BEST OF MAXIM
RELATED ARTICLES
Team:  Tampa Bay Rays Record: 55-41 (2.5 GB) Biggest Surprise of 1st Half:  The Rays' batting leader through the first half of the season (.315/.366/.466), James Loney is the team's biggest first half surprise. About a year ago, he all but appeared finished with the Los Angeles Dodgers, stuck in a platoon with Juan Rivera.  By the time he left the Dodgers in a trade with...
ST. PETERSBURG, Fla. -- It was an era Tampa Bay Rays manager Joe Maddon learned to appreciate ... after it was gone. Saturday was "Disco Night" at Tropicana Field for the Rays' game against the Houston Astros. The Rays have been well-versed in theme nights this season -- "Turn Back the Clock Night" (a 1970s appreciation) and "Star Trek Into Darkness...
ST. PETERSBURG, Fla. -- It seemed like a good idea to invite Carly Rae Jepsen to throw out the first pitch. That is, until it happened. On Sunday, before a game between the Tampa Bay Rays and Houston Astros, the pop star was at Tropicana Field to perform as part of the Rays Summer Concert Series later in the afternoon. The Canadian singersongwriter, who received two Grammy nominations...
ST. PETERSBURG, Fla. -- Alex Cobb threw live batting practice Sunday at Tropicana Field, the latest development in his recovery from a mild concussion. The session for the Tampa Bay Rays right-hander, which occurred before the series finale between the Rays and Houston Astros, lasted about 30 minutes and included about 40 pitches against outfielder Sam Fuld and equipment manager...
The last time I wrote about Edge% it was in the context of the Tampa Bay Rays using it to get their pitchers into more favorable counts on 1-1. But now I want to take that topic and drill a little deeper to understand how often edge pitches are taken for called strikes. Overall, pitches taken on the edge are called strikes 69% of the time. But that aggregate measure hides some pretty...
Luke Scott had a go-ahead RBI single in the sixth inning after he tied it with a two-run homer in the fifth, leading the Tampa Bay Rays to a 4-3 victory over the Houston Astros on Saturday. Roberto Hernandez survived a shaky first inning to post the Rays' 14th straight quality start, going six innings and giving up three runs and six hits. He won for the first time in six starts...
The Tampa Bay Rays enter the All-Star break as baseball's hottest team, the result of beating opponents they should and a return to what has made them consistent winners in the past. Their record, 55-41, places them 2.5 games behind the Boston Red Sox in the American League East. If the season ended today, a wild-card game would be played at Tropicana Field. That fact is notable...
Call me maybe - just not to throw out a first pitch. Canadian pop star Carly Rae Jepsen had a good laugh at herself after she spiked the ceremonial first pitch at a Tampa Bay Rays game on Sunday. Jepsen, best known for the catchy Top-40 hit ''Call Me Maybe,'' posted a text-message conversation between her and her brother on Twitter that had the hash tag ''...
Rookie Chris Archer pitched a five-hitter for his first complete game in the majors and the Tampa Bay Rays beat the Houston Astros 5-0 Sunday. Archer (4-3) struck out eight and walked none in his 13th big league start, including nine this season. He made his debut last year. Desmond Jennings homered as the Rays won for the 14th time in 16 games. The Astros went into the All-Star...
This pitch is something I can't resist. This pitch is undeniable!I was in St. Pete for Saturday's Rays/Astros game, and it was great. The Rays won 4-3, the game was full of powerful home runs and great defensive plays and it was "Disco Night," so a guy was walking around in a nightmare-inducing "Disco Duck" costume and KC and the Sunshine Band played when it was done...
Carly Rae Jepsen is really good at getting guys to call her (well, maybe), but her first pitch attempt at the Tampa Bay Rays game was just plain bad.
You would think that if you knew ahead of time that you were going to go out in front of 30-40,000 people just to throw one pitch at a baseball game you would maybe practice a little bit, right? Not Carly Rae Jepsen. The Tampa Bay Rays may want her to call them (maybe), but there is little chance that they will ever want her to pitch again--not even maybe.
All Sports News

Delivered to your inbox

You'll also receive Yardbarker's daily Top 10, featuring the best sports stories from around the web. Customize your newsletter to get articles on your favorite sports and teams. And the best part? It's free!
THE HOT 10: Who's Trending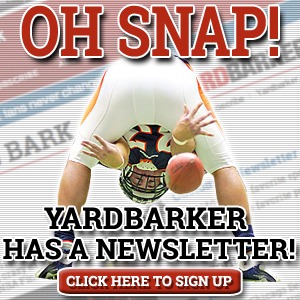 Latest Rumors
The Backyard

Today's Best Stuff

For Bloggers

Join the Yardbarker Network for more promotion, traffic, and money.

Company Info

Help

What is Yardbarker?

Yardbarker is the largest network of sports blogs and pro athlete blogs on the web. This site is the hub of the Yardbarker Network, where our editors and algorithms curate the best sports content from our network and beyond.