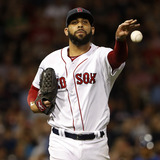 The 2017 MLB playoffs is set to begin with a countless number of intriguing storylines. There are, of course, the familiar names expected to carry the load for their respective teams. However, every October there are unexpected heroes that make their mark, such as Cody Ross for the Giants in 2010 or David Ross on last year's World Series champion Cubs.So which players will take their...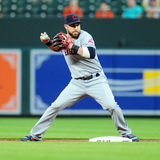 The hand injury to Bradley Zimmer has opened up a spot in center field for the Cleveland Indians, and the team is considering multiple options to fill the spot. One idea they're entertaining is playing second baseman Jason Kipnis in center.Kipnis is on the DL recovering from a hamstring injury that's kept him out since Aug. 22. He typically plays second, but since his injury Jose...
An in-depth look at Yandy Diaz's recent string of fly balls. The second act of the Yandy Diaz Experience debuted last week, and it's certainly less depressing than part one. The Cleveland Indians have been romping in one way or another through this August gauntlet, all but sealing up the division and crushing hearts in KC. It's easy to lose Diaz in the mix of great pitching tape...
We finally saw Yandy hit some balls into the air. It was glorious. I appreciate your willingness to come in on a Saturday. Our usual meetings occur Friday in the early afternoon. For one, I did not expect that I might be writing another Yandy Watch this week. That is not to say that I have not kept the faith, but I am a realist, my friends. I also recognize your restraint. You...
Cleveland Indians minor league recap for August 21, 2017. Columbus Clippers 6, Pawtucket Red Sox 1 Box Score · Clippers fall to 66-61 A four-run seventh inning helped the Columbus Clippers to their 66th win of the season yesterday, and it also helped Jarret Grube coming away from a solid start empty handed. The 35-year-old Grube pitched six innings with three strikeouts and...
Yandy Diaz was already interesting before the 2017 season began. His combination of offensive and defensive skills compelled Carson Cistulli to include him often as a member of the Fringe Five, a group that's building quite a track record. He became more interesting early this season, however, when he made the Indians' 25-man roster and filled in at third base (while Jose Ramirez...
The Cleveland Indians will have some new muscle in their lineup to start the 2017 season. Yandy Diaz, who batted .325 in 95 games at Triple-A Columbus last season, made the big-league roster out of camp and is expected to garner substantial playing time at third base during the early going as Jose Ramirez has shifted to second in place of the injured Jason Kipnis, who is expected...
Diaz might be the first Tribe prospect we see at the show in 2017 Perhaps one of the biggest surprises in the voting thus far, Cuban prospect Yandy Diaz beat out slugger Bobby Bradley as well as former first round picks Brady Aiken and Will Benson to earn the LGT #4 prospect ranking. Acquired in late 2013, Diaz has made one hell of an impression in a short amount of time, beating...
Coming into the season, the name Yandy Diaz was not one that anyone had really heard much about. In the league for just one season, he hadn't quite made a name for himself just yet. That might not be the case anymore, as Diaz has worked his way up the ladder and is now a legitimate option for the Indians, possibly sooner rather than later. Diaz was signed by the Indians prior to...
The Indians may have something special brewing at third base in Akron. Third base may be one of the shallowest positions through the Indians minor league system. They currently have Giovanny Urshela manning the hot corner, with Lonnie Chisenhall also able to fill that role, as he has been there on and off for the last five seasons. Aside from the two of them, there are bunch of guys...
MORE STORIES >>
Indians News

Delivered to your inbox

You'll also receive Yardbarker's daily Top 10, featuring the best sports stories from around the web. Customize your newsletter to get articles on your favorite sports and teams. And the best part? It's free!