Found February 02, 2012 on Sports Blog Net:
Before there was Plaxico Burress, there was Monty Franklin Pierce Stratton (man, people knew how to name their kids back in the day! See:
Tenace, Fury Gene
). Once upon a time, Stratton was, seemingly, a young promising pitcher for the Chicago White Sox. An All-star, Stratton compiled a 36-23 record by the time he was 26. He completed 62 of the 70 games he started and had a 3.71 ERA and 1.31 WHIP. He did the bulk of his work in 1937 (164.2 IPs) and 1938 (186.1 IPs). In '37, Stratton posted a sparkling 2.40 ERA with a 3.77 K/9 rate and 2.02 BB/9 rate. His BABIP was .254 and his FIP was 3.39. It seems Stratton wasn't great, just a tad lucky. That said, in '38, he posted a .265 BABIP, a 3.96 K/9 rate and a 2.70 BB/9 rate. His ERA was 4.01 and his FIP was 4.31. It would have been interesting to see if he was one of those guys who posted low BABIPs and beat his FIP routinely. For what it's worth, Jimmy Dykes "foresaw unlimited possibilities" for the youngster according to Harold Sheldon's Finishing the Stratton Story in 1949's
Baseball Digest
. Alas, everything changed for Stratton on November 27, 1938. Stratton had handled guns since he was 10 and owned five, including a .22 caliber pistol. "Monty stuck the .22 in his holster, and thought he had it on 'safety,' but it wasn't, and when he pulled the gun out of the holster…it went off right away," said his brother Hardin. There are some reports that Stratton tripped and fell and the pistol went off. Stratton spent 30 minutes crawling toward his family home and was rushed to a hospital 10 miles away. However, they couldn't get the bullet out, so they took him to a hospital in Dallas six hours after he was shot. Apparently, that didn't really matter as Stratton, incredibly unluckily, completely severed the popliteal artery which is right behind the knee. The doctors had to amputate the leg. Five months after the accident, Stratton signed a three-year coaching contract with the White Sox to throw batting practice and coach first base. Four years after the accident, Stratton pitched in the minors. While managing the Lubbock Hubbers, Stratton sent himself to the mound in relief several times. He threw 9 innings and gave up 19 hits and 17 runs. He didn't stay manager long. However, four years after that, he threw 218 innings for the Sherman Twins. He posted a 4.17 ERA on a wooden leg. He pitched 103 innings the following year for the Waco Dons and would pitch intermittently until 1953 – 15 years after the accident. All told, he threw 814 minor league innings, 388 of them were after his leg was amputated. Forgive me if this is all old news to you because you saw
the 1949 movie
, which featured cameos by Dykes, Bill Dickey and Gene Bearden, but my dad was barely born then. Stratton died on September 29, 1982, at the age of 70 – almost 6 months exactly after I was born.
Follow Albert on twitter (@h2h_corner):
https://twitter.com/h2h_corner
Original Story:
http://baseballpastandpresent.sportsb...
THE BACKYARD
BEST OF MAXIM
RELATED ARTICLES
Plaxico Burress sounded like he's one-and-done with the New York Jets. Burress had little to say about his season and didn't offer a ringing endorsement of beleaguered Jets quarterback Mark Sanchez. When asked his opinion on Sanchez, Burress told the New York Post: "Mark Sanchez is Mark Sanchez." The Jets lost their final three games to finish 8-8 and miss the...
New York Giants running back Brandon Jacobs doesn't believe that his good friend Plaxico Burress will be returning to the Jets next season. Jacobs was asked if Burress wanted to return to the Giants during last year's offseason. "Oh, no question, I know he did. I know he wanted to come to the Giants. We just didn't think it was going to be able to be done financially. But...
Wide receiver Plaxico Burress is not expected to remain with the Jets for the 2012 campaign, according to ESPN New York. Fantasy Spin: The 34-year-old vet caught just 45 passes over 16 appearances with the AFC East club in 2011, and reportedly lacks faith in young quarterback Mark Sanchez. He still managed to collect eight touchdown receptions though, and should remain a valuable...
Despite the perception that there's a bit of bad blood between the two, Plaxico Burress has nothing but good things to say about his former quarterback, Eli Manning. Really good things. As Super Bowl XLVI looms near, Burress thinks Eli will one day join his brother in the hallowed halls of Canton, provided he can pull off the upset against the Pats — again. "He's one win...
EDINBURGH, Ind. – Plaxico Burress is tight with Santonio Holmes. 
The Sporting News named Jets receiver Plaxico Burress its comeback player of the year. That's understandable. After spending 20 months in jail, Burress came back to the NFL and had 612 receiving yards and eight touchdowns. Pro Football Weekly/Professional Football Writers Association named... Presented By: Chicago Booth Business Forecast   Ads by Pheedo
EDINBURGH, Ind. -- Plaxico Burress is tight with Santonio Holmes.
INDIANAPOLIS — If there was any doubt about Plaxico Burress' future with the Jets, it vanished last night. Burress said a lot by saying a little when asked about his season with the Jets after an autograph show here. The wide receiver made it sound as if he wanted to forget...
Indianapolis Plaxico Burress' disappointing tenure with the Jets is likely over. And that might open the door for him to return to the Giants. At least that's what Brandon Jacobs thought on Tuesday.
Giants running back Brandon Jacobs said Tuesday that Plaxico Burress wanted to sign with the New York Giants -- not the New York Jets -- when he became a free agent last summer.
Jets receiver Plaxico Burress is in Indy, signing autographs.  He's likely not finishing with a flourish that includes "Jets 2012." As Brian Costello of the New York Post writes, Plaxico was less than gushing in his praise of quarterback Mark Sanchez, or in other comments about the team. Basically, Plax followed the "it is what…
White Sox News

Delivered to your inbox

You'll also receive Yardbarker's daily Top 10, featuring the best sports stories from around the web. Customize your newsletter to get articles on your favorite sports and teams. And the best part? It's free!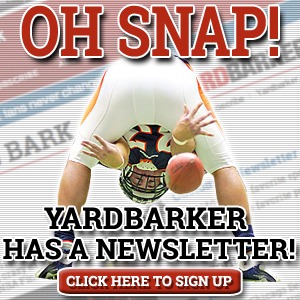 Latest Rumors
The Backyard

Today's Best Stuff

For Bloggers

Join the Yardbarker Network for more promotion, traffic, and money.

Company Info

Help

What is Yardbarker?

Yardbarker is the largest network of sports blogs and pro athlete blogs on the web. This site is the hub of the Yardbarker Network, where our editors and algorithms curate the best sports content from our network and beyond.