Found March 11, 2013 on WhoDeyFans:
PLAYERS:
Michael Johnson
,
Kevin Huber
,
Clark Harris
,
Mike Nugent
,
Josh Brown
,
Cedric Peerman
,
Jeromy Miles
,
Vincent Rey
,
Reggie Nelson
,
Wallace Gilberry
,
Terence Newman
,
Thomas Howard
,
Dan Skuta
,
Dennis Roland
,
Andre Smith
,
Rey Maualuga
,
Pat Sims
,
Bruce Gradkowski
TEAMS:
Cincinnati Bengals
In the first few days of free agency, the Bengals are generally about as active as a university library on a Friday night. This year is shaping up no differently. If you were watching the headlines over the weekend for teams looking to bring in new guys, you saw plenty of teams being discussed. But the Bengals were not one of them. That is not to say that the Bengals have not been busy in this run up to the start of free agency. As has been referenced for months, the team has been very active in pursuing their own free agents, trying to maintain the roster they have built and prevent their own from hitting the open market. In the past few days, they have made a number of such moves, beginning with the franchise tag of Michael Johnson that consumed $11M of the teams' estimated $55M in cap space. Since then, they have returned the entire special teams unit of field-flipper Kevin Huber, flawless long snapper Clark Harris, and opting to keep the younger (though often injured) Mike Nugent over his good replacement, Josh Brown, which has been received with mixed reviews. My suspicion is that the club felt that they rolled 7s last year with Brown after calling him off of the couch to kick after Nugent went on IR. Nugent will have to stay healthy all season for the front office to look good on this decision. But keeping a good kicking unit in place this weekend was a win for the team. The team also kept a trio of up-and-comers in Cedric Peerman, Jeromy Miles and Vincent Rey. The coaches like all three players, and they are likely to see their roles expanded this year. Depending on who and when the Bengals take their first running back (they will likely draft two), Peerman could be the front runner for working in tandem with BJGE. And with the need at safety, Miles could get a long look to start opposite Reggie Nelson. Both will be primary backups if they do not win the starting gig. Rey is far less likely to start, but he could still move up the depth chart and see his number of snaps in rotation increase. Finally, the team made their most lauded signing of the weekend by offering Wallace Gilberry a 3-yr/$6.75M deal. He definitely looks to be the right guy in the right place at the right time, fitting well in Zimmer's rotational system after being cut by two other teams. If Gilberry simply holds steady in his production, the team will have made a steal. If he improves at all, they will look absolutely brilliant. A lot of work remains, however, if the team wants to not regress. Re-signing Adam Jones is imperative. He proved how valuable he can be when healthy, and the team invested a lot of patience in him, waiting through injury after injury to get him there. Terence Newman ought to want to stay with the team because he is far better with Zimmer than without. I would not be surprised if the team does (or does not) announce deals with guys like Thomas Howard, Dan Skuta or Dennis Roland. The team looks poised to allow Andre Smith and Rey Maualuga to test the open market. They seem to want both back, but not at their current asking prices. Allow Smith that chance is a riskier move than Maualuga (who likely will see very little interest), but at an asking price of $9M based on one really good year, who can blame them? And the team appears ready to part ways with both Pat Sims and Bruce Gradkowski. As for guys outside the roster, there is not even a rumor to report. With teams free to start signing guys on Tuesday, there probably still won't be much to report until late in the week when the spending frenzy is over and coaches can do some scouring for more of those "diamond in the rough" players that they have become pretty good at finding. So while we are likely to be a bit underwhelmed at whomever the team finally does sign, hopefully they will bring more to the team than we see at first.
Original Story:
http://whodeyfans.com/2013/03/11/righ...
THE BACKYARD
BEST OF MAXIM
RELATED ARTICLES
The Bengals beat the free agency starting gun by re-signing defensive end Wallace Gilberry on Tuesday. Terms of the deal were not released but according to ProFootballTalk.com Gilberry will receive a three-year deal worth 6.75 million. Gilberry, who was signed as a free agent after being released by Tampa Bay on Sept. 14 last year, played in 14 games plus the playoffs for the Bengals...
The Cincinnati Bengals have re-signed place kicker Mike Nugent for two years, preventing him from becoming a free agent. No terms of the deal were announced Sunday. A nine-year veteran, Nugent has been with the Bengals for three seasons. A calf injury kept him out of the team's last four games of 2012 and its playoff loss to Houston. In 2011, Nugent set a Bengals records for...
The Cincinnati Bengals are coming off back-to-back playoff appearances. They are loaded with young, talented players. It seems they are a team ready to contend and still on the rise.The Bengals have already started bringing back some of their numerous free agents before they're gobbled up by other teams. The special teams unit is pretty much intact with the signings of punter...
The clock has struck midnight, or in this case 4 p.m., and the new NFL calendar year has begun. With the new year comes the start of free agency. The Bengals have as much space under the NFLs 123 million salary cap as any team but their main goal, as stated by head coach Marvin Lewis at the combine, is to sign back as many of their own players as possible. They will look around at...
Before allowing them to explore the free agent market, the Cincinnati Bengals have agreed to terms with some key special team players.Punter Kevin Huber was a top priority to keep within the fold and Bengals fans can rest a little easier now that he has agreed to a long-term deal.Huber is coming off of an excellent season where he led all NFL punters with seven punts inside the five...
Robert Geathers Geoff Hobson of Bengals.com writes that Cincinnati "would like to strike a deal" with free agent DE Robert Geathers. The Bengals have already franchised Michael Johnson and re-signed Wallace Gilberry to a three-year contract last weekend. Despite having plenty of cap space to work with, there hasn't been a lot of speculation regarding potential free agent...
According to Geoff Hobson, sources say that the Bengals and defensive end Robert Geathers have come to terms on a new contract. Geathers has been a solid rotational player for Cincinnati and contributed three sacks in a limited role in 2012. In 2013, he'll look to split repetitions and compete for time with Carlos Dunlap, another solid lineman. Cincinnati is starting off free...
We go through this every year. The doors to the candy store burst open, and all the kids on the street flood the shop with gluttonous screams as they race toward the prizes of NFL Free Agency they have been dreaming of for months. Meanwhile, Bengals fans sit outside on the curb watching all of the fun because Dad won't part with our allowance just yet. It stinks to watch. Every...
Bengals News

Delivered to your inbox

You'll also receive Yardbarker's daily Top 10, featuring the best sports stories from around the web. Customize your newsletter to get articles on your favorite sports and teams. And the best part? It's free!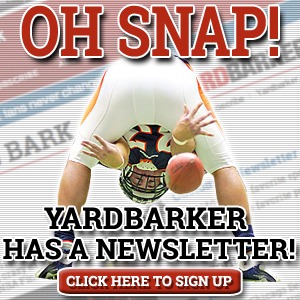 Latest Rumors
Best of Yardbarker

Today's Best Stuff

For Bloggers

Join the Yardbarker Network for more promotion, traffic, and money.

Company Info

Help

What is Yardbarker?

Yardbarker is the largest network of sports blogs and pro athlete blogs on the web. This site is the hub of the Yardbarker Network, where our editors and algorithms curate the best sports content from our network and beyond.