Found March 28, 2013 on Juiced Sports Blog:
SCOTT JACOBS The streak is over. It died a strange and unexpected death last night at the United Center in Chicago, where a raucous Bulls crowd of 23,014 hooted and hollered the home town Los Bulls over the El Heat, in a 101-97 victory (history will surely frown on those jerseys). There was no crack at a buzzer-beater. No last second shot that could've tied it. It didn't even come down to one possession. Nope. Attempt at consecutive win #28 was ripped helplessly from Chris Bosh's mitts by Kirk Hinrich and a Bulls team missing a host of important key regulars (including Richard Hamilton, Joakim Noah, and Derrick Rose). With a chance to clinch the East and take one step closer to history on the line, Miami never got close enough to threaten. In 2 hours and 39 minutes, a Heat team that hadn't tasted defeat in 54 days, finally fell.And with that, the second longest streak in the history of North American pro sports, came screeching to a halt: at 27 games, an amazing accomplishment in a day and age of prima donnas, absurd contracts, never-ending media watch-dogging, and fan scrutiny. The NBA season is so long that it's a punch-line. Teams lock up their spot in the hierarchy quickly and coast. That's what happens. Especially with the really good teams, who rest starters just because it's Thursday (looking at you, Spurs), and they don't feel like wearing 'em out over the long grind of an 82 game slate. The playoffs are far more important. It's not even close. The divide between the NBA's best and its worst is huge. We're talking about some of the most competitive athletes on the planet having to rise up and summon the same excitement they channel for the league's best, when they're faced with the likes of the Bobcats, Wizards, and Magic. On a nightly basis, it wears on their competitive drive. The gap in talent is obvious. When you know you're that much better than another team it's easy to take your foot off their throats. It's easy to take the night off. It's easy to let a W slide. Miami toyed with some of the NBA's worst teams throughout this crazy streak, which started on Super Bowl Sunday and ended nearly 2 months later on the eve of the Sweet Sixteen. In that span, the Ravens redid almost their entire defense, the Jaguars and Dolphins unveiled new logos, the Yankees watched their whole team get devoured by injury, the USA bowed out meekly in a WBC that few people could even watch, and FGCU captivated the nation (a nation that eventually learned it was Florida Gulf Coast, not Golf Coast). The Heat's remarkable road streak started in Canada, moved west to Oklahoma City, then Atlanta, Chicago, and Philadelphia. A week and a half later, the show went to Madison Square Garden and then Minnesota. When Miami got back on the road 9 days later to play in the City of Brotherly Love once more, their streak had ballooned to 19. Stops in Milwaukee, Canada again, Boston, and LeBron's old stomping grounds Cleveland would speed the streak up to 24. By the time Miami hit the road again to face a depleted Magic squad, the Lakers hallowed 1971-72 record of 33 in a row was within sight. Miami beat Orlando before heading off to Chicago. The streak was alive and kicking at 27. But ultimately, even a team as stacked as Miami defied the odds from the get-go in getting that far. The NBA is a marathon, not a sprint. Key players get hurt (the Heat managed to avoid that bug until the tail end, with Dwyane Wade sitting out the last 2 games of the winning streak). Teams have off-nights, which Miami had. Teams start out slow: something Miami did regularly. They kept pushing their luck as the games continued to get tighter and the deficits grew larger. The NBA season is so long that it's a punch-line. Teams lock up their spot in the hierarchy quickly and coast. That's what happens. Especially with the really good teams, who rest starters just because it's Thursday (looking at you, Spurs), and they don't feel like wearing 'em out over the long grind of an 82 game slate. The playoffs are far more important. It's not even close. This was a team playing with playoff-level intensity in the second half for 28 straight games. In almost 2 months they won more games than 10 teams have this season (that's a third of the league). The streak was bound to end. It just didn't add up. In essence, you could argue, Miami was thirsting for its winning ways to take a day off, so they could get a break from the madness. Sure on paper Miami was better every time they took the floor, and they began to figure out that they could turn on the jets and just go whenever they felt like it. But there's too many unknowns in basketball. Too many things can go wrong. Sometimes your shot just isn't on target. Sometimes, the least heralded guy on the floor has the game of his life. The high flying Heat, known for a ferocious fast break had no fast break points against Detroit. They won by 14. Shot just 42% versus the Hawks. Won by 17. They allowed 129 points to Sacramento. Still won by 12 in double overtime. LeBron had just 13 points versus Indiana. The Heat still triumphed by 2 touchdowns. Wade had just 11 points in Cleveland, and the Heat not only won by 3, they overcame a ridiculous 27 point 3rd quarter deficit to do so. The Celtics shot 54% vs the Heat in Boston. Miami still came out on top. The Heat had just 11 points in the paint against the Clippers (they averaged 43.7 during the streak), and still claimed victory by a cool 22 points. They won games on every day of the week from the afternoon to late night and did it with the sports world breathing down their neck. And they did it while erasing an entire conference from relevance. That's the other impressive aspect. Halfway into the streak, Miami had all but locked up the Eastern Conference. Alas the streak continued. Their half game edge over the Knicks, ballooned to double digits and Miami kept trucking along knocking off everything in its path. They trailed the Spurs by 5.5 games for the league's best record and appeared to be disinterested In besting that mark. And then the streak happened. They had the league's 9th best road record before it commenced. Now they own the best. So much happened in 27 games that it's almost impossible to fathom how the Lakers did it 6 games longer. If anything, the streak brought back to light just how remarkable that Lakers team was. And how that streak may never be broken. It made the regular season fun again. Like 'em or hate 'em, the league's most polarizing team added a pulse to a season on life support. There are few exciting playoff races this year and selling fans on seeding over clinching is not exactly a story-line that blows minds and pushes papers. The NBA needed this. Because the season is too long. Because the divide between the wealthy is too great. Because it gave every team their own Super Bowl – winning record or not. The defending champs in any sport always get a team's best shot, but throw in history and a streak of this size, and the bull's eye on Miami's back was enormous. Their off night, usually tucked away underneath the many layers of a long regular season, was on center stage every night. Every game felt like win or go home. By the time it was over, Miami had bested the Dolphins perfect season by a cool 11 games. And yet they were still 2 weeks worth of games away from LA's 33 game streak. Heat detractors point to a weak Eastern Conference this year, and understandably so. But Miami is 23-5 vs the West, 82 percentage points ahead of the next best team in that category, Oklahoma City. They've beaten every team in the NBA this season (the first time they've done that in franchise history), and they did it in just 61 games. Let us, if only for a moment, appreciate the magnificence of this streak regardless of our biases. 27 games. That's nearly half a semester for a college student. Or as one writer put it: from Super Sunday to the Sweet 16. The Heat's place in history will ultimately lie with what they do in the playoffs, but in our throwaway society, this is an accomplishment worth remembering. No matter what happens, it could be another 40-50 years before something like this happens again. Think about that for a moment. Let that sink in. And with that, let us appreciate the numbers behind the greatness. Could be awhile before one team is this must see TV again. Team Stats Shooting Heat FG%: 50.7% Opponent FG% allowed: 45% Total Points scored: 2843 Heat PPG: 105.25 Opponents PPG: 93.9 Fast Break points per game: 12.2 Points in the Paint average: 43.7 Margin Average margin of victory: 11.3 Games decided by 5 or less: 5 Games decided by 15 or more: 6 Win breakdown Wins: 14 home / 13 road Playoff teams (currently): 12 / Non Playoff-teams: 15 East: 19 / West: 8 Individual Stats LeBron total points: 728 LeBron PPG: 26.5 LeBron total minutes played: 1018 LeBron minutes per game: 37.7 Wade total points: 576 Wade PPG: 24.3 Schedule Stats: February: 12 wins / March: 15 Wins by day: Sunday: 7 Monday: 4 Tuesday: 3 Wednesday: 5 Thursday: 2 Friday: 5 Saturday: 1 Back to backs: 6 Longest gap between games: February 14-20. Games on even numbered days: 19 Games on odd numbered days:  8 By Uniform: Throwback Reds: 11 times Regular Road Reds: 7 White hot: 3 Regular Home Whites: 3 Black El Heat: 3 Photo: Getty Stats compiled by Juiced Sports
Original Story:
http://juicedsportsblog.com/2013/03/r...
THE BACKYARD
BEST OF MAXIM
RELATED ARTICLES
Miami Heat forward LeBron James said Friday that he doesn't care what other people think about the comments he made over the hard intentional fouls he encountered Wednesday night. "I actually 
LeBron almost went Gloria James on the fan, but cooler heads prevailed. The fan should know that LeBron's hairline can only be shown under perfect circumstances, so I understand why The King was a bit upset. From a practical perspective  you shouldn't try to steal gear off a player's body, while they are walking to the locker room. In the streets that might get you punched...
This Miami Heat team has always needed failure to help find and define how great they can be. And so, in the end, with its near-historic winning streak halted at 27, it's true again: Their setback allows us and them to sit back, marvel at what they accomplished and fully grasp just how much LeBron James has transformed himself, his team and his league. Two years ago, the Heat...
OKC's Kevin Durant and Miami's Dwyane Wade co-star in Gatorade's new "Fixation" commercial, a story about the persevering determination of athletes to be the best that they can be.
ALL OVER HIM
Mean...
The Miami Heat Streak is now a song, remixed by the one and only DJ Steve Porter.
In all sports it's always impressive when a team or players can perform at the max level for a string of consecutive games. While taking the sport(s) to new heights, these amazing feats also inspire, encourage and excite.After the Miami Heat's amazing run of 27 straight victories came to an end in Chicago last night, I decided to look back at some of the best streaks in NFL...
LeBron James and Taj Gibson spent together last summer.
LeBron James released some his of frustrations on fouls towards the refs following the Miami Heat's loss to the Chicago Bulls on Wednesday.
After the Chicago Bulls ended the Miami Heat 27-game winning streak, a rather dejected LeBron James found his way down the visitor's tunnel at the United Center.Before he disappeared from view of the rowdy Chicago crowd, one Bulls fan attempted to jack his headband right off his head:Nice try dude...Nice try...
The Chicago Bulls knocked off the Miami Heat on Tuesday night and ended their 27-game winning streak. Here's what the fans had to say.
With less than a month left in the season and around 10 games to be played for each team, here are my 2012-2013 NBA homestretch Power Rankings.  It's safe to say that everyone knows the Miami Heat climbed to the top of the standings after their "historic" run of 27 consecutive wins in a row. [...]
All Sports News

Delivered to your inbox

You'll also receive Yardbarker's daily Top 10, featuring the best sports stories from around the web. Customize your newsletter to get articles on your favorite sports and teams. And the best part? It's free!
THE HOT 10: Who's Trending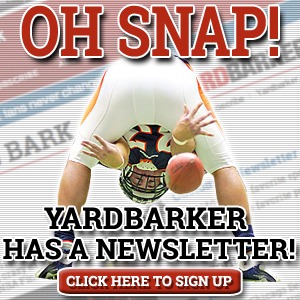 Latest Rumors
Best of Yardbarker

Today's Best Stuff

For Bloggers

Join the Yardbarker Network for more promotion, traffic, and money.

Company Info

Help

What is Yardbarker?

Yardbarker is the largest network of sports blogs and pro athlete blogs on the web. This site is the hub of the Yardbarker Network, where our editors and algorithms curate the best sports content from our network and beyond.