Found May 18, 2012 on The Other Paper:
Robert Griffin III cracked up 
The Tonight Show with Jay Leno
audience after telling the host that he has met President Barack Obama and challenged him to a game of basketball.
"I have met him, I have not been to the White House since he's been there," said RG3. "I heard he's a huge basketball fan, and I challenged him to a game of basketball.  But he told me he wouldn't play me."
"He's not afraid or anything."
The new Washington Redskins quarterback paused and laughed,  "I did not say that."
Griffin continued, "[Obama] said that he would play
with
me. We can play on the same team, maybe take on you [Leno] and whoever else you want to bring... not against me."
RG3 sure knows how to work a crowd and he went on to talk about how he proposed to his girlfriend Rebecca Liddicoat after Baylor clinched its first bowl appearance in 16 years.
"I didn't do it on the field like the big cliche," he said.  "So I actually did it after the game, brought her to our indoor facility."
He gave a pair of his signature Adidas socks to Leno and
House
 star Hugh Laurie to whom he turned and cracked," Mr. Hugh, I don't know if you like socks, but you can cut these up and make a tie out of them."
The ubiquitous Griffin had Laurie and the audience rolling in the aisles.
RG3 passed his late night debut with flying colors, now we'll wait and see how he passes against NFL defenses.
Original Story:
http://ihatelupica.blogspot.com/2012/...
THE BACKYARD
BEST OF MAXIM
RELATED ARTICLES
BEATBOXER EXTRAORDINAIRE
I don't have nearly as much of a problem with this as the Tim Tebow O's jersey. At least O's/Skins fans exist. I'm one of them, and, considering there wasn't an NFL team in Baltimore or MLB team in D.C. from 1984-1995, there are probably many more. Still, if you're going to get an O's shirsey you should probably get an actual O's player on the back. They do own the...
There was no breaking news about the Washington Redskins' selecting of quarterback Robert Griffin III in the first round (second overall) of the 2012 NFL Draft, as the choice was expected.  Nevertheless, it was great news for the Redskins and their fans. "That is the one we always thought we would get from the beginning," said Redskins executive vice president/head coach Mike...
African countries will get 3 Billion Dollars from the United States to fight hunger and malnutrition. US President Barack Obama made the pledge at the opening of the G8 summit Friday. It is good news especially for the four African leaders including President Mills who are participating in the summit. President Mills in his address pledged his government?s commitment to ensuring...
Robert Griffin III was on with Jay Leno last night and was pretty much the most likeable version of himself, which is to say he was the most likeable person ever. The full interview is above, starting with the band playing "Hail to the Redskins" and ending with RGIII beatboxing. Yes, he even makes beatboxing likeable. [Real Redskins] Nats lose to Pittsburgh as Andrew McCutcheon...
Now that, my friends, most definitely — to utilize NBC's old tagline when it dominated prime-time television viewing — would not be "Must See TV." Ouch. Fans of either unwatchable late-night television talk shows or the Washington Redskins (or both) are aware that Robert Griffin III made an appearance on The Tonight Show on Thursday [...]
Is there anyone left who doesn't like Robert Griffin III after his appearance on the Jay Leno Show Thursday evening? The man showed grace and wit as though he's done Leno a hundred times before last night. RG3 revealed a little more about his character in his answers to Leno's questions. What single play does he believe clinched the Heisman Trophy for him? Griffin...
Well, if you're good at something might as well show it off. Redskins QB Robert Griffin III was on the Tonight Show with Jay Leno last night, but he wasn't showing off his masturbatory skills as WTOP 103.5, Washington's only all-news radio station, would have you believe with the above headline.  No, RG3 flashed his winning smile, "Go Catch Your Dream" custom socks with...
The wealthy executive who considered and then dropped a proposal to revive controversy over the relationship between President Barack Obama and his former pastor is a rising conservative maverick with ties to the Chicago Cubs baseball team. He's also linked to a ''super'' political action committee that bankrolled an upset in Nebraska's recent Republican...
Manny Pacquiao is opposing President Barack Obama views of gay marriage -- as the President supports the right that gay people have to marry within their sex.The boxer, who did an interview with the National Conservative Examiner, criticized President Obama stance on the issue, going as far as to evoke the Old Testament cities of Sodom and Gomorrah. "God only expects man and...
Hot Problems - feat. Mitt Romney. How poor is Barack Obama? Not too bad. He's offering you the chance to win dinner with him, valued at $5k. Every time you check twitter or facebook, think --... Full story at Bob's Blitz ~ http://www.bobsblitz.com
The world is watching Chicago this weekend, but it's not to see the 19-21 White Sox take on the 15-24 Cubs. Solider Field will host an event with worldwide interest and global implications, but it's not the Bears vs. a rival NFC power for the chance to go to the Super Bowl. On Sunday and Monday, President Barack Obama is home to host the NATO Summit 2012. (Complete with shoot...
Redskins News

Delivered to your inbox

You'll also receive Yardbarker's daily Top 10, featuring the best sports stories from around the web. Customize your newsletter to get articles on your favorite sports and teams. And the best part? It's free!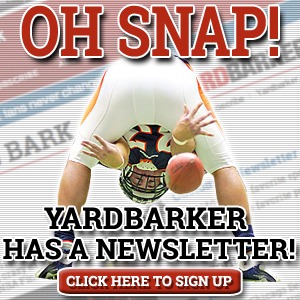 Latest Rumors
Best of Yardbarker

Today's Best Stuff

For Bloggers

Join the Yardbarker Network for more promotion, traffic, and money.

Company Info

Help

What is Yardbarker?

Yardbarker is the largest network of sports blogs and pro athlete blogs on the web. This site is the hub of the Yardbarker Network, where our editors and algorithms curate the best sports content from our network and beyond.