Found August 31, 2012 on Start 'N' Park Blog:
Roush Fenway has 161 Sprint Cup starts at AMS, where they have tallied six wins, 67 top-10 finishes and 37 top fives. The organization boasts an 18.5-place avg. finish at AMS in Cup racing. In the Nationwide Series Roush Fenway has 39 entries, having won on six occasions and giving the organization 12 NASCAR wins overall at Atlanta. Wild Finish to the Chase With two races remaining before the cutoff point, Roush Fenway's Greg Biffle leads the Sprint Cup point standings, having already secured his place in the 2012 Chase. Matt Kenseth is fourth in the standings and clinched a least a wild card spot in the Chase, while Carl Edwards looks for another win at Atlanta to secure a place as a wildcard. Seasonal Changes All but one of Roush Fenway's Sprint Cup wins at AMS came in the fall, with Carl Edwards claiming the only spring win at Atlanta in 2005. Conversely, all but two of Roush Fenway's six Nationwide wins came in the spring. The NASCAR series races only once in Atlanta this season. AMS/Roush Fenway History Roush Fenway competed in its first NASCAR event at AMS on March 20, 1988, finishing 31st after getting involved in an early crash. However just three years later the organization claimed its first win there in the fall of '91 with the No. 6 Ford. Roush Fenway won its first of six Nationwide wins at the track in the spring of '97. Roush Fenway's top outing at AMS came in the fall of 2005, then the organization placed four cars inside the top seven, with three cars finishing top five including race winner Carl Edwards. In fact in the two races at AMS in 2005, Roush Fenway posted six top-five finishes and two wins. Edwards Gets It Done at Atlanta Roush Fenway's Carl Edwards is one of the most successful drivers in AMS history and the organization's most successful driver there. He earned his first Cup win there in the spring of '05, sweeping both the NNS and Cup races. He went on to sweep both the Cup events at AMS in '05 and added another Cup win at the track in the fall of '08 and in 2011. RFR Celebrates "25 Winning Years" Roush Fenway celebrates "25 Winning Years" in 2012. During that span, RFR has accumulated the most wins in NASCAR history with 306, and is the all-time race winner in both the Nationwide and Truck Series. During the season the team will highlight the performance, people, innovation and partners that have been the cornerstone of its performance. Greg Biffle #16 3M/Manheim Auctions Ford Atlanta Stats: Biffle has an average starting position of 13.1 and average finish of 16.1 at Atlanta. Point Standings: Biffle clinched his spot in the 2012 Chase for the Championship last weekend at Bristol and is leading the NASCAR Sprint Cup Series driver point standings; 11 points ahead of second. Follow: On Twitter fans can follow @163MTeam and @3MRacing for the latest info on Biffle and the No. 16 Pit Bulls. Greg Biffle on racing at Atlanta Motor Speedway: "Atlanta is a fun race track.  It's a 1.5-mile track, but it's different than a lot of the 1.5-mile tracks we go to.  It still has old pavement, when it seems like everywhere we go has new pavement. It's that old Atlanta where you have issues with tires not having enough grip and I like it.  You can run the high line, middle line and low line.  We've been pretty successful at Atlanta, but we haven't won there.  We've been pretty close and I think this weekend could be the turning point. Crew chief Matt Puccia on racing at Atlanta Motor Speedway: "Atlanta is a unique 1.5-mile track, the surface has aged enough that it creates sliding around and tires are worth a lot there.  Managing tires the whole race is a big deal.  Lots of different pit scenarios tend to play out and most of the time tires will win the race.  It's great to be locked into the Chase, so now we are looking to win a race to get valuable bonus points for the Chase." Matt Kenseth #17 Ford EcoBoost Ford In 23 Cup starts at Atlanta, Kenseth has completed 7,080 of 7,423 laps (95.4 percent) and led for 253 Kenseth has an average starting position of 22.3 and an average finishing position of 12.9 at AMS Kenseth has achieved eight top-five and 13 top-10 finishes at Atlanta in the Cup series This weekend at Atlanta, Kenseth will pilot the No. 17 Ford EcoBoost Fusion Following last weekend's race at Bristol, Kenseth earned himself a position in the 2012 Chase for the Sprint Cup Championship Entering this weekend at Atlanta, Kenseth is currently fourth in the NSCS driver point standings Matt Kenseth on racing at Atlanta Motor Speedway: "Atlanta is a place that I always look forward to coming to and racing at since it's a high-banked and fast track where we can run several lines.  It's a really fast track and it always seems to get slicker as the race goes on and the track rubbers up, so you're always looking for a groove that helps you get more grip.  We carry a lot of speed into the corners there, so we work on making sure that our handling is set up so that our No. 17 Ford isn't loose in the turns.  We really need a good finish, so I'm hoping that we can do that this weekend at Atlanta." Crew chief Jimmy Fennig on racing at Atlanta Motor Speedway: "Atlanta is a great track to race at because it's a place where there are several grooves, so drivers can race two and three-wide there.  Handling in the corners is a focus for us as we go into this weekend since Atlanta is a track where cars carry a lot of speed into the corners and you want to make sure that they aren't loose on entry.  Roush Fenway historically has a pretty good track record at mile-and-a-half tracks so I'm looking forward to this weekend to hopefully get a good finish that we need right now as we prepare to head into the Chase." Carl Edwards #99 Subway Ford CARL EDWARDS enters Atlanta 12th in the NASCAR Sprint Cup point standings, 34 points behind 10th place.  He has earned two top-five and 11 top-10 finishes this season, along with one pole. FOR THE RECORD… In 14 starts at the 1.54-mile Atlanta track, Edwards has three wins, eight top-five and 10 top-10 finishes. His average start is 10.1, and his average finish is 13.6.  Edwards has completed 94.4% of laps attempted at Atlanta. IN THE LOOP… According to NASCAR's Loop Statistics compiled over the last 14 races at Atlanta, Edwards has turned 339 of the track's fastest laps which is a series high, spent 3,265 laps (76.8%) in the top 15 and led a total of 345 laps. Edwards' driver rating is fourth best among active drivers. ON THE TRACK…The No. 99 will carry the Subway paint scheme at Atlanta this weekend. The crew will unload RK-782 which last ran at MIS in June where Edwards finished 11th, and also ran the All Star race and California. REWIND, ATLANTA, SEPTEMBER 2011… Edwards was running fourth, but in the closing laps Tony Stewart made a charge out of nowhere to get by him.  Edwards finished the race in fifth place. Carl Edwards on racing at Atlanta Motor Speedway:  "We could not be going to a better race track for our team right now, all the guys are pumped.  We've had great success there.  Atlanta is one of the more challenging tracks to drive.  It's fun, it's fast, there are bumps and different grooves.  The track has character and that's what makes it so much fun to race.  We're going there expecting a victory.  The last time we raced a Subway car we won in the Nationwide Series at Watkins Glen.  It would be a lot of fun to relive that and do a backflip on Sunday." Crew chief Chad Norris on racing at Atlanta Motor Speedway: "We are headed to Atlanta this weekend knowing what we need to do as a team.  We are focused and determined, and we refuse to give up on making the Chase.  We have two races left and Atlanta has always been a great track for Carl.  A win there would put us right in the thick of the battle for the two wild card spots.  In the next two weeks we've got 725 laps to give it all we have."
Original Story:
http://startnparkblog.com/?p=10741&ut...
THE BACKYARD
BEST OF MAXIM
RELATED ARTICLES
A lot of fans have asked me in recent weeks whether I believe Carl Edwards' Chase of the Sprint Cup dream for 2012 is over since has yet to win a race and there are only two left in NASCAR's regular season. I don't think Edwards is done. Last Saturday night, Edwards and his team had a great opportunity to close the gap on their points situation. I don't think they...
NASCAR's only stop at Atlanta Motor Speedway came at just the right time for Carl Edwards. Last year's Sprint Cup runner-up is struggling just to make the Chase, coming into Sunday night's race 12th in the standings. The top 10 get in, plus two wild cards based on season victories, and Edwards has yet to win this season. He needs a strong performance the next two weekends...
CONCORD, N.C. –  To help SUBWAY® celebrate its 47th birthday, Carl Edwards will run a special SUBWAY® SUBprize Party paint scheme this weekend at Atlanta Motor Speedway.  The last time Edwards had SUBWAY® as a primary sponsor he ended up in victory lane in the Nationwide Series at Watkins Glen earlier this month. SUBWAY® Restaurants, the world's largest restaurant chain...
Carl Edwards, driver of the No. 99 Fastenal Ford Fusion, has three NASCAR Sprint Cup wins at Atlanta Motor Speedway, including the first of his career in 2005.  A win this weekend would help Edwards in his quest to make the Chase for the NASCAR Sprint Cup field, which will be determined after the next two races.  He spoke about his chances during a national teleconference this...
Tony Stewart is lobbying well before the rest of the politicians arrive at Charlotte Motor Speedway next Tuesday as part of the Democratic National Convention. And he's doing a damn fine job. Following the fireworks Stewart ignited with Matt Kenseth at Bristol last Saturday, Stewart made an appearance at the Chalotte track Tuesday and, on this day, the racer is incredibly charming...
Carl Edwards has dismissed a rumor that he will join Penske Racing next season. Edwards brought the rumor up unprompted Wednesday in an effort to silence the discussion. He is in the first year of a new contract with Roush Fenway Racing, but there had been speculation he was trying to negotiate an out to take the opening at Penske. Edwards says he's never had any discussions...
Matt Kenseth will drive a white version of the Ford EcoBoost paint scheme this weekend at Atlanta Motor Speedway. The No. 17 Ford Fusion will need to finish 40th if it leads no laps and 41st if it leads a lap in order to clinch a birth in the NASCAR Chase. Kenseth has run the EcoBoost scheme numerous times this season. Typically these are races in which Roush Fenway Racing has not...
CONCORD, N.C. – Roush Fenway drivers Greg Biffle and Matt Kenseth each clinched a spot in the 2012 Chase for the Sprint Cup 'playoff' race with their respective finishes last Saturday night at Bristol. Roush Fenway has now placed 24 entries inside the Chase since its inception in 2004. Leading the point standings and now locked into his fifth Chase berth, Biffle says his team...
Carl Edwards squelched rumors that he was a candidate for the No. 22 Penske Racing Ford – at least for 2013.
Two of NASCAR's major stars, Carl Edwards and Kevin Harvick, have had crew chief changes take place during this season. I don't care who it is, any time you have something new it is something fresh. It can tend to energize a team and a driver. In Kevin's case, it's more like the old is new again. He went back and is paired once again with the crew chief who guided...
After last weekends helmet toss between Tony Stewart and Matt Kenseth, there had been a lot of emphasis on how the two would react to each other at this weekends AdvoCare 500 at Atlanta Motor Speedway. When reporters initially spoke with Stewart he vowed to seek Kenseth out and wreck him any chance he got, but over the past few days he may of softened up a little saying on Tuesday...
Dog Whisperer Cesar Millan recently caught the NASCAR bug at Daytona (Fla.) International Speedway. The results may be seen Saturday night on the Sept. 1 episode of Dog Whisperer on Nat Geo Wild at 8 p.m. ET. In this espisode, Millan pays a visit to the Halifax Humane Society with Greg Biffle and his wife Nicole. He also heads to the motorcoach lot at Daytona to pay a visit to Kevin...
All Sports News

Delivered to your inbox

You'll also receive Yardbarker's daily Top 10, featuring the best sports stories from around the web. Customize your newsletter to get articles on your favorite sports and teams. And the best part? It's free!
THE HOT 10: Who's Trending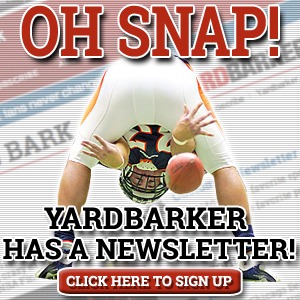 Latest Rumors
Best of Yardbarker

Today's Best Stuff

For Bloggers

Join the Yardbarker Network for more promotion, traffic, and money.

Company Info

Help

What is Yardbarker?

Yardbarker is the largest network of sports blogs and pro athlete blogs on the web. This site is the hub of the Yardbarker Network, where our editors and algorithms curate the best sports content from our network and beyond.