Found November 19, 2012 on Rams Herd:
As the St Louis Rams' record continues to slide following a heartening 3-2 start to the season, Sam Bradford's progression on the "elite quarterback growth curve" is receiving increasing scrutiny. Whether he has a strong game (275-2-0 versus the 49ers) or a weak one (170-2-1 vs the Jets), unless the Rams win the criticism will always be there. It's just a matter of volume.  It doesn't help that younger quarterbacks like Andy Dalton, Andrew Luck, and Robert Griffin III have stepped ahead of him in the public spotlight, nor does it help that Bradford signed the last of the big-money rookie contracts, a $79-million-dollar shadow that looms over his unimpressive win-loss total like the Sword of Damocles.  In fairness, none of those things are relevant to Bradford's growth as a quarterback or his ability to lead the Rams to the playoffs. All we can do is look at the hallmarks of his performance that are improving, or that still need to improve. And we can look to football history for comparables. As it turns out, we don't have to look back too far to find a highly-paid #1 overall pick who struggled to live up to expectations through his first three years, and turned out okay. That is, if winning two Super Bowls and their corresponding MVP awards is okay.  Sam Bradford vs Eli Manning: a Statistical Comparison QB GS COMP ATT YARDS COMP% TD INT YD/ATT Bradford 2010-12 36* 747 1249 7918 58.7% 36 29 6.2 Manning 2004-06 37 690 1276 8049 54.1% 54 44 6.3 *Through 10 games of 2012 For now, let's take wins out of the equation, since wins and losses are a 53-man calculation. If we just look at the statistics, we see two quarterbacks who have thrown almost exactly the same number of passes, with very similarly underwhelming results. Bradford has been more accurate, on balance, while Manning had more game-changing plays, both good and bad.  Arguably, on balance, both quarterbacks gave their teams a roughly equal chance of winning their games. Now, let's look at their QB records over that same span:  2010-12 Rams* (w/ Bradford): 11-24-1 2004-06 Giants (w/Manning): 20-19 The Giants, with Manning, were a picture of mediocrity in his first three years. And despite the team making the playoffs in year 2, the team was widely credited with getting there despite their quarterback, who completed only 52% of his passes. Moreover, their playoff visit was a short and unpleasant one, losing 23-0 to the Carolina Panthers on the Giants Stadium grass. Here was the media's perception of Manning's play in that 11-5 sophomore season:  And while Coughlin wants more from his quarterback than to be the offense's manager - "The quarterback's got to be a playmaker," he said - the statistics show that the Giants do not need Manning to win games as much as they need him to prevent losing them. - NYT, 2005 To make matters worse, the team took a step back in the standings in year 3, as Manning failed to take a perceived evolutionary step forward, and people began openly wondering whether trading away from Philip Rivers to take Manning was a mistake.  The cocoon from criticism has a way of wearing thin in Year 3, a sort of unwritten deadline for quarterbacks to turn potential into performance. It is a time when most highly drafted quarterbacks either continue to glide into the comfort of a distinguished career, or slip forever into the unforgiving realm of draft-day regrets. - NYT, 2006 As Giants fans continued to grumble restlessly and look wistfully at other quarterbacks' success, Eli continued to make maddeningly slow progress. Not knowing the radical step forward he was about to take in the 2007 playoffs, unseating four consecutive favored teams on the road including the almighty 18-0 Patriots, the media's criticism of Manning reached its heights that autumn:  "Whatever 'It' Is, Eli Is Without It," read a headline over a column in The Record of Hackensack, N.J. A pair of Newsday reviews were topped with "Unfortunately, Eli's as Good as He's Going to Get," and "Eli's O.K. — That's the Giants' Problem." ... Manning will never be a fiery leader, but he did not need to be if his play provided the talking. Now his growth curve has flattened, and he is having a season that is not appreciably different than the one before it, or the one before that. His key statistics — completion percentage, yards, touchdowns and interceptions — all fall in the category of average. Average is not what the Giants hoped to have from Manning in his fourth season. - NYT, Nov 2007 In fact, he arguably did not become as polished a passer as Sam Bradford is now until his fifth season in the NFL. And mind you, this is with superior receiving talent and the benefit of a consistent offensive system throughout.  QB GS COMP ATT YARDS COMP% TD INT YD/ATT Bradford 2012 per game 10* 20.2 33.2 224.2 60.8% 1.2 0.8 6.8 Manning 2008 per game 16 18.1 29.9 202.4 60.3% 1.3 0.6 6.8 However, by this point Eli had delivered the hardware to New York, and his critics - even the ones that came from his own locker room, like Tiki Barber - were forced to admit that they had been wrong.  "In fairness to Barber, he wasn't wrong, nor was he saying anything groundbreaking back then. At the time, there were a million doubters about Manning's leadership abilities, including some of his bosses and some of his teammates. At the time, it was perfectly fair for a TV commentator to wonder out loud whether Manning would ever become the leader the Giants needed him to be." In fact, all Eli has done from that point forward until now is get better, his recent "tired arm" aside. The 2007 playoffs were his watershed moment. Since that magical run, he has completed more than 60% of his passes in each of the following five seasons, cracked the 4000-yard mark three times, thrown 129 TDs against 76 INTs, and yes, even had his name mentioned in the "elite" conversation.  None of this is a guarantee that Sam will follow Eli's growth curve exactly, or that he will deliver multiple championships to St Louis. But it speaks eloquently to the fact that Bradford's play at this point in his career is far from the guarantee of long-term failure that his ardent critics like to think it is.  This comparison also points out the worthlessness of terms like "elite" when evaluating QB play. Bottom line: Bradford has to play well enough to give his team a chance to win consistently, week after week. Manning learned how to do that over time. If Bradford continues his growth, and the team continues to stock the team with talent on both sides of the ball, he will too. 
Original Story:
http://www.ramsherd.com/2012-articles...
THE BACKYARD
BEST OF MAXIM
RELATED ARTICLES
It was easy to look at the good work the Rams offense did against the 49ers, and call it a turning point. Earlier in the week, we outlined six signs of offensive success that the Rams were capable of repeating. Sam Bradford and the offense utterly failed at four of those six factors, and it cost us a win against a very beatable opponent.  Aside from limiting pre-snap penalties...
My Week 10 Duds Team - So it looks like Cincinnati's defense was much better than anticipated and held Eli Manning to 4.6 points which also marks the 3 game in a row that Eli hasn't throw a single TD in! Ryan Mathews was bad, but not overly impressive either with 10.1 points. Dwayne Bowe wasn't [...]
Focus man, that's what Justin Tuck is saying in a nutshell. The two time Super Bowl champion knows a little about the art of second half football, and the Giants are in a good position this time around. The team is usually fighting down to the wire, but this year they have a chance to take it all off the table earlier than previous years. The key is always health, and a healthy...
GREEN BAY, Wis. -- This is not going to be just another regular-season game. No, the Packers' upcoming matchup with the New York Giants means far more to coach Mike McCarthy's group than the win or loss that will come from it. It was the Giants who ended what was nearly a perfect season from Green Bay in 2011. A dominant Packers offense that led the NFL in scoring could muster...
DURHAM, N.C. -- Duke has agreed to a contract extension with coach David Cutcliffe, who has the Blue Devils bowl eligible for the first time in nearly two decades. The school announced the agreement Wednesday. It will run through June 2019, though contract terms were not released. The fifth-year coach -- who was Peyton Manning's offensive coordinator at Tennessee and Eli...
The 2006 season to the New York Giants may be too long ago, but to the average fan it's becoming clear the Giants are self-destructive like they were in 2006. In 2006, the Giants got out to a 6-2 record by the midpoint of the season, but finished 2-6 for the remainder. Sure, you can doubt it as just a short term issue, but look at the remaining schedule for the Giants in 2012...
Duke has agreed to a contract extension with coach David Cutcliffe, who has the Blue Devils bowl eligible for the first time in nearly two decades. The school announced the agreement Wednesday. It will run through June 2019, though contract terms were not released. The fifth-year coach - who was Peyton Manning's offensive coordinator at Tennessee and Eli Manning's head...
Fantasy Football owners in need of a starting running back or quarterback may be in a lot of luck this week. Searching for solid pickups on the waiver wire in Fantasy Football Week 12 is never easy, yet a few injuries have presented owners with some interesting options late in the season.
Week Twelve (12) Sit 'Em & Start 'Em for the 2012-2013 Fantasy Football season by Koopafantasy. Have questions? Find me on Twitter: @Blackie_Mike Start 'em: I am banking on Manning and the Giants playing much better now that they have had their bye week. (NYG) Eli Manning vs. (GB) – Going to be quick with this one. Eli had been terrible before the bye week and there...
It has been awhile hasn't it? The New York Jets ended their three game losing streak with a dominant win over the St. Louis Rams, 27-13. After allowing an early touchdown drive, the Jets defense took over by forcing three turnovers and constantly staying in the face of Sam Bradford who was completely overwhelmed all afternoon. Shockingly, Brian Schottenheimer's offense countered...
All Sports News

Delivered to your inbox

You'll also receive Yardbarker's daily Top 10, featuring the best sports stories from around the web. Customize your newsletter to get articles on your favorite sports and teams. And the best part? It's free!
THE HOT 10: Who's Trending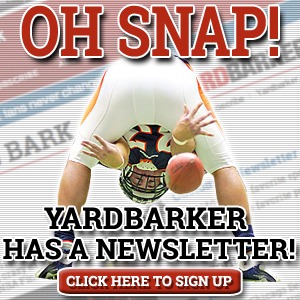 Latest Rumors
Best of Yardbarker

Today's Best Stuff

For Bloggers

Join the Yardbarker Network for more promotion, traffic, and money.

Company Info

Help

What is Yardbarker?

Yardbarker is the largest network of sports blogs and pro athlete blogs on the web. This site is the hub of the Yardbarker Network, where our editors and algorithms curate the best sports content from our network and beyond.