Found July 26, 2013 on Midwest Sports Fans:
This Sunday, America's most famous race track will hold its annual NASCAR race in Indianapolis, Indiana. Ironically, it's no longer called "The Brickyard 400." Instead, the Samuel Deeds 400 at the Brickyard will commence Sunday afternoon, confusing both hardcore NASCAR fans and casual observers alike. NASCAR's most popular races can usually be referred to with one word: Daytona, Talledega, Bristol, etc. And to this day, the race in Indy remains one of the most coveted titles to earn on the circuit. Just this week, Dale Earnhardt Jr. talked about how much he wanted to bend over and kiss the bricks for the first time. In the grand scheme of things, it seems a little counter-intuitive for NASCAR to make "The Brickyard" part of the title an afterthought. And then there is Crown Royal, the actual sponsor of the event. For years, beverage companies like Coca-Cola and Pepsi have sponsored NASCAR events and turned their races into national brands. What do you make of a company that spends enough money to sponsor one of the biggest events in NASCAR, only to practically leave its name completely off the title entirely? The deal is that this weekend is all about Samuel Deeds, a real American hero. For several years now, Crown Royal has been sponsoring the "Your Name Here" race, first in Richmond and now in Indy. NASCAR fans from across the globe are able to submit candidates that they think are worthy of having an entire race named after them. When you hear a little bit about Samuel Deeds, you will understand why NASCAR and Crown Royal have so generously given him the spotlight this weekend. So who is Samuel Deeds? Via NASCAR.com, While deployed in Iraq, Deeds came across an improvised explosive device (IED) while setting up a vehicle checkpoint. Upon seeing fellow Marines approaching, he exposed himself to the device, risking his own life to save others. He was severely injured and underwent more than 30 surgeries and procedures following the blast. Three years later, while still recovering, Deeds' heroic instincts took charge once again when he saved the lives of three individuals caught in a rip tide off the coast of North Carolina. We throw around the "hero" word a lot in sports. NASCAR drivers exhibit great bravery in driving around a track at 190 MPH. NFL kickers are viewed as heroic when they make 50-yard field goals to win playoff games after getting "iced" by opposing coaches. Olympians are national heroes for shaving one-tenth of a second off of their time. And yet, in our wonderful country, there are heroes like Samuel Deeds who go unrecognized every single day of the week. Ironically, marines like Samuel Deeds would never ask for this type of attention themselves. Two years ago, I was privileged to meet Matthew Hansen, a Marine whose brother died in Afghanistan and still went back to serve several tours overseas. Matthew and his brother had the race in Richmond named after them, and NASCAR was able to honor them for the weekend. Of course, Matthew was humbled by the entire experience, and kept repeating that he was NOT a hero and that he was no different from the countless men he left behind in Iraq. This weekend when I meet Mr. Deeds, I expect the same outcome. I hope to look into the eyes of an American hero and not break down in tears from gratitude. I hope to be able to tell him thank you for his service for our country. And I hope for just one weekend that he really will allow himself to be honored. But I expect he won't. Marines just aren't built that way. He would never ask for this honor in a million years. In the same way that it was most likely a no-brainer for Samuel to throw himself on a bomb in order to protect his fellow-soldiers, he will in no way, shape, or form desire this type of recognition. Which is why NASCAR and Crown Royal are choosing to do it. Thank you, Samuel Deeds, for your unbelievable service. Thank you, NASCAR and Crown Royal, for honoring him. And thank you, soldiers everywhere, for fighting and giving your lives so that we could have the opportunity to watch a silly little race this weekend. The post Samuel Deeds – An American Hero appeared first on Midwest Sports Fans.
Original Story:
http://www.midwestsportsfans.com/2013...
THE BACKYARD
BEST OF MAXIM
RELATED ARTICLES
Dale Earnhardt Jr, driver of the No. 88 Chevrolet for Hendrick Motorsports spoke with media on Saturday at Indianapolis Motor Speedway. Earnhardt Jr. was asked about the rumors of a new sponsor for the team. Earnhardt Jr. said it is too late in the season to expect a multi-year deal. "Anybody who has got any sense about how the corporate world works knows that it's too late into...
For sale by owner: Major sponsorship for NASCAR's most popular driver. Act fast, time is running out. Dale Earnhardt Jr. is not only looking for his first win of the season, he's still hunting for a big-bucks sponsor for 12 Sprint Cup races this season. Earnhardt said he's not worried, a sign that perhaps Hendrick Motorsports has a deal on the horizon. ''It...
For sale by owner: Major sponsorship for NASCAR's most popular driver. Act fast, time is running out. Dale Earnhardt Jr. is not only looking for his first win of the season, he's still hunting for a big-bucks sponsor for 12 Sprint Cup races this season. Earnhardt said he's not worried, a sign that perhaps Hendrick Motorsports has a deal on the horizon. ''It...
Dale Earnhardt Jr. has a love-hate relationship with the Indianapolis Motor Speedway. While the 38-year-old appreciates the history of the track, his results on the two-mile loop have been less than stellar -- until last year. After 13 starts at Indy, Earnhardt posted his first top five behind the wheel of the No. 88 Chevy in the 2012 Brickyard 400. But Junior remembers his first...
POINTS AFTER NEW HAMPSHIRE: Dale Earnhardt Jr. holds the fifth position in the NASCAR Sprint Cup Series championship standings. He trails leader and teammate Jimmie Johnson by 118 points with seven races remaining until the 12-car field is set for the Chase for the NASCAR Sprint Cup. AT THE BRICKYARD: In 13 Sprint Cup starts at Indianapolis Motor Speedway, Earnhardt has recorded...
ROUND TWO AT IMS - Along with the Nationwide Series, JRM's two-car team makes its second trip to the famed Indianapolis Motor Speedway this weekend. The series made its debut at the historic 2.5-mile facility last year. KAHNE BACK IN 5 CAR - Kasey Kahne returns to drive the Great Clips Shark Week Chevrolet this weekend in his eighth of 12 scheduled races for JR Motorsports this season...
After the success of Wednesday night's Mudsummer Classic at Eldora with the Camping World Truck Series, can one or both of NASCAR's top tours be far from getting "dirty,'' too? "It might be sooner than you think," one source said. Dale Earnhardt Jr., who fields teams in the Nationwide Series, believes running that running cars on the dirt at Eldora...
The NASCAR Truck Series stop at Eldora Speedway this week created a lot of buzz that still hasn't died down. Drivers in Indianapolis for this weekend's Brickyard race were talking Friday about a possible Sprint Cup series race at the Ohio track - someday. The race on Wednesday was NASCAR's first stop on a dirt track since Sept. 30 1970. Jeff Gordon said he would like...
All Sports News

Delivered to your inbox

You'll also receive Yardbarker's daily Top 10, featuring the best sports stories from around the web. Customize your newsletter to get articles on your favorite sports and teams. And the best part? It's free!
THE HOT 10: Who's Trending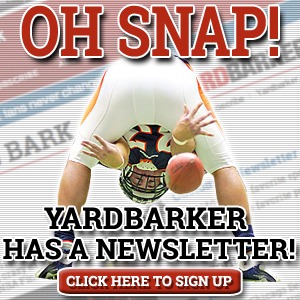 Latest Rumors
Best of Yardbarker

Today's Best Stuff

For Bloggers

Join the Yardbarker Network for more promotion, traffic, and money.

Company Info

Help

What is Yardbarker?

Yardbarker is the largest network of sports blogs and pro athlete blogs on the web. This site is the hub of the Yardbarker Network, where our editors and algorithms curate the best sports content from our network and beyond.