Found July 02, 2012 on Online Sports Guys:
Jerry Sandusky Interesting. We felt compelled to tell a story here because we just read through the grand jury testimony of former Penn State athletic director Tim Curley and former V.P Gary Schultz. And it was a fascinating read. But first, the explosive report from CNN about e-mail chains between the two men and school president Graham Spanier continue to add to what is a scary and immensely disappointing portrayal of how Penn State didn't react when confronted about possible Sandusky indescretions. The e-mails, first mentioned a couple of weeks ago, talk about the group deciding after consulting former coach Joe Paterno advised them to be quiet, to do just that. CNN is expected to release more e-mails this week. Now...back to the Grand Jury testimony. OSG Sports read through a large portion of the 276 page testimony of Schultz and Curley at the Dauphin County Courthouse. You can read the testimony by following the link RIGHT HERE Without giving...
Original Story:
http://feedproxy.google.com/~r/blogsp...
THE BACKYARD
BEST OF MAXIM
RELATED ARTICLES
At the end of his life, there were only two ways to view Joe Paterno. One camp suspected that Paterno, the most important and powerful person on Penn State's campus, had to have been involved in the cover-up of Jerry Sandusky's crimes. The other merely hoped his name would stay far enough removed to protect his lifelong legacy of good work. But only one of those sides is...
Joe Paterno's family and supporters are defending the late coach against a leak of apparently damaging material released during highly secretive investigations into former assistant coach Jerry Sandusky. Details from a decade-old email have raised new questions about whether the Hall of Fame coach tried to cover up a sex abuse complaint against Sandusky. With Paterno no longer...
In totally untimely news, Joe Paterno finds himself in hot water due to the inability of the PSU administration to actually discuss things face to face over coffee instead of sharing their thoughts in an email. Damn, this gives the PSU faithful another target to point fingers of blame at other than Paterno… "If it wasn't for computer technology Joe wouldn't be in trouble...
Photo by Bill Moore. Copyright 2006 Bullz-Eye.com When the Penn State/Jerry Sandusky scandal broke last fall, I asked a simple question: What did Joe Paterno know and when did he know it? Now, following the Sandusky trial and news reports alleging a Penn State cover-up, the answers to this question will likely destroy the legacy (or myth) created by Paterno over the years. For...
He had me fooled. Like many in the sports world I bought into the Joe Paterno legacy. The long tenured Penn State coach seemed to exemplify all that is right in sports and the fact he had built the program into a traditional power without violations only added to that image. For over forty years he roamed the Penn State sideline, winning league titles, national titles, producing...
Silver linings do not diminish tragedies; they merely make them possible to stomach. About the only way to avoid curling into a fetal position of despair upon hearing what Jerry Sandusky did to, took from and killed in those boys was to tell ourselves a little white lie about how something positive could come of this tragedy. And then, somewhat shockingly, a silver lining did come...
Guilty. Guilty. Guilty. Guilty…. As the jury foremen rendered the verdicts against former Penn State defensive coordinator Jerry Sandsusky on Friday night, the anticipated and expected verdict was finalized as he was convicted on 45 of the 48 charges he faced. With everything from endangering the welfare of a child to indecent contact with a minor to involuntary deviate sexual...
Joe Paterno's family is calling on the Pennsylvania attorney general and former FBI Director Louis Freeh to release all emails and records related to their investigations into the Penn State child sex abuse scandal.
Photo by Bill Moore. Copyright 2006 Bullz-Eye.com With the news that Joe Paterno may have been involved in a cover-up at Penn State, here's a look back on an article that detailed Paterno's "come back" in 2005 after Penn State officials tried unsuccessfully to ease him into retirement. This was dug up and highlighted by SPORTSbyBROOKS and it's instructive on how Paterno...
Over the weekend it became more clear that the powers that be within Penn State's administration had collaborated in a futile attempt to coverup grotesque actions by former defensive coordinator Jerry Sandusky. CNN revealed a portion of emails between Graham Spanier, Tim Curley and Gary Schultz that confirmed the ugly reality that many had suspected to be the case since as...
It had to happen. Everyone knew it. One day, someday, Joe Paterno would be finished at Penn State. Problem was, even though everyone KNEW it would happen, it was hard to believe it. The man had simply lasted year after year (since 1950 as an assistant and since 1966 as a head coach) and outlasted head coach after head coach (almost 900 changes in major college football during his...
The emails exchanged by Penn State administrators that were uncovered by CNN have made it painfully obvious that President Graham Spanier, Vice President Gary Schultz, and athletic director Tim Curley were consciously covering up Jerry Sandusky's sexual abuse. We've already summarized what was discussed in the alleged emails between the administrators: they considered contacting...
Nittany Lions News

Delivered to your inbox

You'll also receive Yardbarker's daily Top 10, featuring the best sports stories from around the web. Customize your newsletter to get articles on your favorite sports and teams. And the best part? It's free!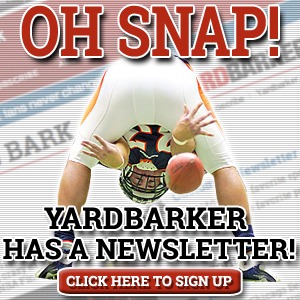 Latest Rumors
The Backyard

Today's Best Stuff

For Bloggers

Join the Yardbarker Network for more promotion, traffic, and money.

Company Info

Help

What is Yardbarker?

Yardbarker is the largest network of sports blogs and pro athlete blogs on the web. This site is the hub of the Yardbarker Network, where our editors and algorithms curate the best sports content from our network and beyond.