Found November 29, 2012 on Kukla's Korner:
from Pierre LeBrun of ESPN, So if you're the PA, what do you do here?  On the one hand, players have long ago and predictably tired of Bettman -- name-calling and all -- so the opportunity to see him removed from the bargaining room seems like an offer too good to resist.  On the flip side, some people were quick to argue on Twitter Thursday night that the NHL has always wanted to find a way to split Fehr away from the players, so perhaps this was a chance to do it?  I'm not sure I buy that, but certainly you can make the case the NHL has long been concerned in this process that it hasn't been able to properly get its message directly across to the rank and file players. So this would certainly present that chance.  If I'm in the NHLPA, as my ESPN colleague Katie Strang suggested Thursday night, I only agree on doing this if all 30 owners are invited to join if they so chose to.  I'd go further. I'd request that Jeremy Jacobs also join Bettman on the be...
Original Story:
http://kuklaskorner.com/hockey/commen...
THE BACKYARD
BEST OF MAXIM
RELATED ARTICLES
Not sure how we've never seen this before but the headline says it all. Amazing. This is kinda how we sound every morning we wake up and there's no new CBA in place. Also, video is still kinda relevant even after all these years. Earlier today Joe Haggerty wrote a column ***** slapping Jacobs for bullying teams into prolonging the lockout. Winnipeg Jets...
The NHL lockout seems to be dragging on and on and the end doesn't appear to be in sight. Commissioner Gary Bettman is usually the target for both players and fans voicing their displeasure with the lockout. However, Boston Bruins owner Jeremy Jacobs has seemed to come across as worse than Bettman and making it [...]
from Joe Haggerty of CSNNE, Winnipeg Jets representation at a recent NHL Board of Governors meeting piped up to say it was opposed to engaging in a long, bloody lockout sure to stymie their franchise's momentum and hurt the game of hockey. It wasn't Winnipeg owner Mark Chipman, but rather one of the alternate governors representing the Jets. Bruins Principal Owner...
Pic via our boys at Days Of Y'Orr Interesting stuff on the Internet. Usually the cry from people who don't know any better about the lockout is this: "THIS IS ALL GARY BETTMAN'S FAULT," While that is probably true, the Internet has turned it's lazers on Boston Bruins owners Jeremy Jacobs.  This article lays it out pretty clear: Winnipeg...
from Ed Tait of the Winnipeg Free Press, The Winnipeg Jets and the National Hockey League are denying a report out of Boston that suggests Bruins' owner Jeremy Jacobs reprimanded a Jets' representative at a recent NHL Board of Governors meeting.... The story said Jacobs 'answered by reprimanding the Winnipeg representative as one of the "new kids on the block...
Scrooge McJacobs With the season on the brink of destruction, and the loyalty of the fans wavering, the NHL is going to need to come up with some very creative marketing schemes to get fans back in the stands. I, along with many others, am fed up with the game of chicken that is going on in the negotiating room, and am particularly fed up with Jeremy Jacobs and his all-or-nothing...
Twitter is abuzz right now with Jeremy Jacobs bashing and it is fabulous. If tweets were throwing knives, Jacobs would be sliced, diced and cut into a fine mash. He's getting CRUSHED and rightfully so. The guy is a total asshole. He's currently the President of the NHL Board of Governors, which basically means he's running the lockout while people are too busy blaming...
Boston Bruins (Photo credit: Wikipedia) This is one of the stories that emerged today... Apparently, one of the Winnipeg Jets one of the alternative governors of the Winnipeg Jets spoke out of turn and Boston Bruins owner Jeremy Jacobs put him back in his place. Joe Haggerty; CSNNE --- Winnipeg Jets representation at a recent NHL Board of Governors meeting piped up to say...
Bruins News

Delivered to your inbox

You'll also receive Yardbarker's daily Top 10, featuring the best sports stories from around the web. Customize your newsletter to get articles on your favorite sports and teams. And the best part? It's free!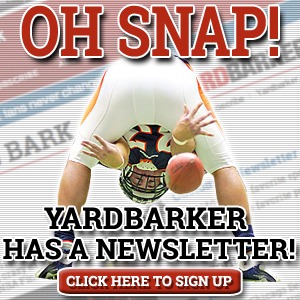 Latest Rumors
Best of Yardbarker

Today's Best Stuff

For Bloggers

Join the Yardbarker Network for more promotion, traffic, and money.

Company Info

Help

What is Yardbarker?

Yardbarker is the largest network of sports blogs and pro athlete blogs on the web. This site is the hub of the Yardbarker Network, where our editors and algorithms curate the best sports content from our network and beyond.