Found January 15, 2013 on Busted Coverage:
We told you earlier today about Brett Favre participating last week in a $30 per team church dodgeball tournament in Hattiesburg, Mississippi. Now the videos start to roll in. BC reader Brian Byrd was in the gym recording Favre launching a dodgeball and reports in. "There were 40 teams. His made it to final 16. Same as our team. Think some may have put a bounty in him. He was hit quite a bit," Brian reports. Imagine that, a bounty on Favre. As for his arm, the video clearly shows that the Gunslinger still has the arm strength. Aim, however, might be an issue. Have another video of Favre playing dodgeball that we need to see? You know where to find us. mail@bustedcoverage.com Filed under: Football
Original Story:
http://bustedcoverage.com/2013/01/15/...
THE BACKYARD
BEST OF MAXIM
RELATED ARTICLES
2012 was certainly a banner year for the Minnesota Vikings. A team projected to finish with roughly three wins blew their expected win total out of the water as they notched double digit 10 victories on the year, beat high profile playoff teams throughout the season, and snuck into the playoffs. But hardly any of that matters when you consider how great of a year it was for Shirtless...
Franchise quarterbacks are a rare commodity in today's NFL. Many teams go years or even decades (see Chicago Bears) without finding a consistent and talented leader at the position. The Minnesota Vikings have had as much trouble as any team finding a keeper at QB. Since the team began in 1961 only three quarterbacks, Fran Tarkenton, Tommy Kramer, and Daunte Culpepper, have started...
The Vikings season is over, and despite our team not ending up winning the Super Bowl AGAIN, that doesn't mean that our season was a total loss. Each year we're left with games that dropped our pants in how amazing they were, and others that near made us punch our distant cousins in their hippy loving faces. Essentially, good games and bad games, both which leave a lasting...
Even though Donovan McNabb retired from the NFL last season, his mom Wilma McNabb, is obviously still very proud of her son.  This song that she wrote, is meant to commemorate his career, and obviously show off her love for Donovan.  Wilma had this to say on her "Mama McNabb" YouTube page:"This song has been ringing in my head for 13 years, while my son Donovan played as...
The Vikings have six unrestricted free agents on offense, but none bigger (literally) than Phil Loadholt. GM Rick Spielman, Loadholt and his teammates talked about the pending free agent's status and value.
MAMA'S BOY
I'm going to keep this simple and let the full lyrics, which I have painstakingly transcribed and assembled below the jump, speak for themselves: Donovan McNabb, who retired in 2011 and played his last meaningful game in 2010, has a very supportive mother His mother, Wilma McNabb, recently recorded a song about her son The song, which has a grudge against choruses, features a creepy...
Since this requires virtually no setup, I am, uh, not going to set it up. Just this: Minnesota Vikings running back Adrian Peterson supposedly saying, "Egg roll, I wish I had a breeze running down my leg. I'd kill for a cookie. Sting-ray a double-sided Scooby Snack" to Pam Oliver is well worth the price of admission, and that's only the first one in nearly three minutes of...
According to the description of this video, Wilma McNabb has had the song you're about hear in her head for 13 years while her son Donovan McNabb was playing the NFL. And now that his career looks to be over, "Mama McNabb" has recorded the ballad entitled, "When Your Heart is on the field." McNabb himself thinks it's a "can't miss". Twitter follower check this out...
In our continued review of the 2012 Minnesota Vikings, we pause today to take a look at the five WORST games of the season. Similar to what we did yesterday by looking at the five BEST games of the year, these five worst had a similar impact on defining this squad of misfits, but often times for the worst. I know what you're thinking though ... How can you only choose five games...
Ray Lewis has one, maybe two more chances to do his signature dance for national audiences. Unless Lewis pulls a Brett Favre and returns next season, this is it for one of the most popular men in Baltimore.  And so it's pretty cool to see a Baltimore Marriott pay homage to one of the greatest defensive players of all time with this light show displaying the dance the soon...
When Peyton Manning channeled his inner Brett Favre and threw across the coverage against Baltimore, he broke the cardinal rule of quarterbacks — never throw across coverage. Earlier in the season, Peyton threw a touchdown against the Carolina Panthers, breaking the "No. 1 rule you never do." In the video you can hear Peyton tell teammate Brandon Stokley, "That's what...
Vikings News

Delivered to your inbox

You'll also receive Yardbarker's daily Top 10, featuring the best sports stories from around the web. Customize your newsletter to get articles on your favorite sports and teams. And the best part? It's free!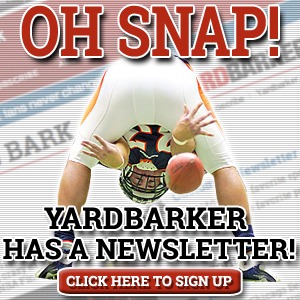 Latest Rumors
Best of Yardbarker

Today's Best Stuff

For Bloggers

Join the Yardbarker Network for more promotion, traffic, and money.

Company Info

Help

What is Yardbarker?

Yardbarker is the largest network of sports blogs and pro athlete blogs on the web. This site is the hub of the Yardbarker Network, where our editors and algorithms curate the best sports content from our network and beyond.