Found October 25, 2012 on Fox Sports Southwest:
Very few Cowboys have such a polarizing effect on fans as Spencer does. Fans want to find a proper bookend for DeMarcus Ware and look at Spencer as the baseline for the position who could be easily upgraded. I remember calls last year that he simply be allowed to leave as a free agent and that we will just plug in Victor Butler or anyone and would be just fine. The fact that he was (properly) franchised by the Cowboys last spring was enough to cause unrest in many corners of the fandom because surely a player like that isn't worth 8 million dollars. To me, not only is he worth 8 million, but I have been saying for quite a while that I am fine with them offering a contract like Doug Free's (4 years, 32 million) to Spencer and now only wonder if it would be accepted by Spencer and his agent, Jordan Woy. Here are a few of the essays I have written on the Spencer situation from last winter here and then another one here where I was suggesting the franchise tag. He is certainly not a sack machine and likely never will be, but a day like Sunday shows you that he has things in his game that even Ware doesn't, and if the Cowboys lost him in free agency, they would have to spend their 1st Round pick on his replacement rather than upgrade other spots on their team that are not properly filled right now. Spencer is a very strong outside linebacker who has versatility to do everything you ask of him. We are caught up in sacks as the complete evaluation for a LB, and that is simply not proper. He drops in coverage well, he defeats run plays consistently, he can rush the passer, and he is constantly running to the ball through the whistle, regardless of how far it is away. In a word, he is a guy that would cause many issues if you lost him. With that positioning statement out of the way, I wanted to look at this game where he was credited with six tackles and one sack. But, what I thought was impressive were the plays in which he was not credited with anything, but his role in the play helped others make the stop. So, of the following five plays we will look at, he will only be credited with a statistic on the final play. Otherwise, these are all plays where nothing goes in the stats or box-score. But, he played a major role in each one - all of them in the second half. Play 1 - Here we go, 3rd and 1 from the Carolina 29. The Panthers run this play in short yardage, and with a QB like Newton, this has a very high conversion percentage because it only needs 1 yard. The play here is to not block Spencer, and then for Newton to read Spencer. If Spencer crashes to Stewart, then Newton goes around him and gains yardage. If Spencer sits on Newton, then the give to Stewart should gain a yard. Simple. Unless, Spencer can cause indecision by covering both options. Spencer takes that step towards Stewart, so Newton thinks he has him. And he will, but Spencer shares many of the same quickness traits for a big man as Newton does. This requires a very quick start and stop ability that Spencer has, and he is merely bluffing Newton. He then reverses his direction and is able to, as you see below, beat Newton back to the edge despite operating backwards and Newton is going forwards. The picture above is fantastic. Look how he turns Newton back inside into the teeth of the defense. Here comes Conner and Sensabaugh to make the stop short of the marker. Spencer did all of the work here, but did not receive even a mention in the play-by-play. But, he absolutely ruined this play by his ability to not fall for Newton's trick - unlike Ware a bit earlier. === Play 2 - Here is another key 3rd down situation where the Cowboys want to get off the field. 3 man rush, and Spencer is going to beat RT Garry Williams to the edge before Williams is out of his stance. Wiliams is going to hold Spencer below by the back of the jersey and somehow avoid a clear hold. Newton is flushed out quickly back to Spencer's side to avoid the sack from Spencer despite the hold. Again, we see that Spencer's ability to keep running despite the complete change in direction puts him right on Newton all the way to nearly the sideline. With some help to Ratliff, who never really rushed but rather seemed to be spying Newton, this play goes from a potential breaking of contain by Newton to a harmless throw away to get out of trouble and a subsequent punt. Again, another example of Spencer ruining a perfectly good 3rd Down situation for Carolina without any sort of statistical mark to prove it. A player with less quickness and restart ability would perhaps have Newton into a scramble situation where he can move the chains without throwing the ball. This is a real challenge when rushing the mobile QB. Rushing him without losing contain. Not easy, but the Cowboys did very well late in the game at making sure this was an objective. === Play 3 - Here, after having some great success running the read option at Ware, they decide to try Spencer on again. The play is a read off of Spencer on whether Newton keeps or shovels ahead to Stewart who is cutting to RT. The idea is either Newton can go outside Spencer or Stewart can cut back inside him. This is a direct attack at the OLB on the right side, Spencer. The picture below shows Spencer's bind. His first priority has to be Newton, because he has some reinforcements on Stewart, but if Newton crosses his face to the outside, this can get very dangerous for a huge chunk of yardage. Again, Spencer does something that Newton is not used to. He can cover both options very well. This, of course, is why many people wonder about the option in the NFL - the recover ability of the linebackers on Sunday are superior to what they are used to seeing in college. Spencer has the ability to chase Newton away from keeping, but still get back and close off an escape route for Stewart to the inside. He makes it look easy, but it certainly is not. Bruce Carter is credited with the solo tackle, but it is another case of Spencer rejecting the Panthers idea. === Play 4 - This is one that is tough to do justice with pictures, so if you still have the game, try to go find this play. Newton is looking to get out on the move here by letting the edge rushers go past him and then get out on the run where he can do real damage. Look below, and see Spencer to Newton's right, actually past Newton upfield. At the very moment the picture is being taken, Newton is seeing that inviting path and Spencer is trying to slam on the brakes to get back and close off the path that Newton sees. And then, as Spencer shows back in the hole, Newton panics and throws the ball away quickly. It goes down on the stat sheet as an incomplete pass, but Spencer again seems to be messing with Newton, showing him things to get him to believe something is available and then racing back to take it away. === Play 5 - And finally, the play that seals the game. 3rd and long and Newton needs a big play. But, his offensive line was not holding up. Spencer bulls right past Williams at Right Tackle and gets the sack. This is only the 2nd time in 2 seasons under Rob Ryan where you can say the defense ended a close game with a splash play at the end. Both have come from Anthony Spencer sacks - this one, and the sack against Washington in Week 3 of last year. Pretty strong job and in some respects, a trial run for the upcoming dates with Robert Griffin III, as this team is going to have to deal with the read-keep options that Washington is rolling out 2 times every season. It is vital to have strong play from the outside linebackers in these situations in particular. There is nobody on the roster who comes close to Spencer's ability on the edge opposite Ware. He is in his prime and he is a player who would be snapped up by a 3-4 team if he hit free agency. An extension this past summer would have been cheaper, I suspect, but it still behooves them to get something done. We have seen what he does and what they miss when he is injured or gone. I think Sunday was just another example of his value to this team moving forward.
Original Story:
http://www.foxsportssouthwest.com/10/...
THE BACKYARD
BEST OF MAXIM
RELATED ARTICLES
BUCK UP, DOUBLE-J!
Cowboys owner Jerry Jones is worried about his team's upcoming match-up with the New York Giants because of injuries, saying, "we wanted all hands on deck."
It is difficult to find trends of success through 6 games from this Cowboys' offense. In week 1, they did many things very well and looked balanced and competent. Since then, the Garrett-Romo offense has been anything but consistent, with a horrendous performance in Seattle, near absence against Tampa Bay, a turnover machine versus Chicago, and then a power-running team against...
Dallas Cowboys linebacker Sean Lee is facing surgery on his right big toe. According to several reports Tuesday night, including one on the team's own website, Lee has ligament damage in his toe that will require surgery and could end his season. Lee, the team's leading tackler with 58 stops, got hurt in the second half of Sunday's win at Carolina. He was on crutches...
Dallas Cowboys LB Sean Lee Out For Remainder Of Season - Dallas Cowboys stud linebacker Sean Lee will miss the rest of this season due to a toe injury he suffered during the teams game against the Panthers. Lee underwent an MRI Tuesday night, which revealed how serious the damage was, according to the 'Dallas Morning News'. This is a huge loss for the Cowboys defense. Lee has...
Dallas Cowboys safety Barry Church only played in three games this season before he suffered a season-ending Achilles injury and now he's been signed a four-year extension. Church received a … Continue reading »
IRVING Aside from a 29-point outburst in a loss to the Baltimore Ravens, the Cowboys have struggled to score points. On Sunday, they'll face a New York Giants team that has scored at least 30 points on three separate occasions and averages 29.3 points per game. So why haven't the Cowboys been able to hit the 30-point mark? They met or exceeded that total five times last...
The Dallas Cowboys ruled out starting running back DeMarco Murray for Sunday's game against the New York Giants, ESPN Dallas reported Friday. He has a sprained foot. Murray's backup, Felix Jones, is questionable with a bruised knee. He was limited in Friday's practice. If Jones cannot start, Phillip Tanner will replace him. Outside linebacker DeMarcus Ware missed...
Here's a behind the scenes look at the 2013 Dallas Cowboys Cheerleaders calendar. Nothing gets me ready for planning the new year like a bunch of ladies leading nobody in cheers on a beach for no reason! Yeahhh! (via Terez Owens)- Follow us on Twitter @withleather - Follow me personally @MrBrandonStroud and Burnsy @MayorBurnsy - Like us on Facebook.LinksColbert To Trump: I'll...
TweetThe New York Giants (5-2) and Dallas Cowboys (3-3) meet week 8 of this 2012 season for an NFC East showdown. New York comes into this game in sole possession of first place and with an opportunity to really hurt the Cowboys. A win would be the GMEN's second divisional win but it would also [...]
All Sports News

Delivered to your inbox

You'll also receive Yardbarker's daily Top 10, featuring the best sports stories from around the web. Customize your newsletter to get articles on your favorite sports and teams. And the best part? It's free!
THE HOT 10: Who's Trending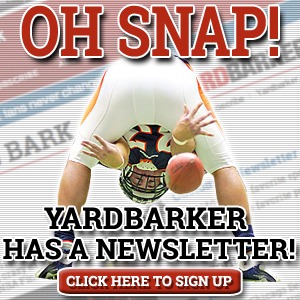 Latest Rumors
The Backyard

Today's Best Stuff

For Bloggers

Join the Yardbarker Network for more promotion, traffic, and money.

Company Info

Help

What is Yardbarker?

Yardbarker is the largest network of sports blogs and pro athlete blogs on the web. This site is the hub of the Yardbarker Network, where our editors and algorithms curate the best sports content from our network and beyond.