Dak Prescott vowed not to have a sophomore slump, but in the end, he did. The Cowboys quarterback still won nine games, but his numbers were down in every area except interceptions, which increased from four in 2016 to 13 in 2017. Ron Jaworski said he believes it was a combination of things that affected [more]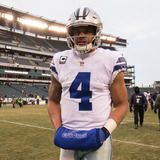 Dallas Cowboys quarterback Dak Prescott has heard enough rumors that he lacks chemistry with wide receiver Dez Bryant.Prescott told NBC Sports Radio's The Newy Scruggs Show that he has no worries about his chemistry with Bryant, and that the two will continue to work to forge a better connection with each other."Me and Dez, we're continuously growing," Prescott said, via Kate Hairopoulos...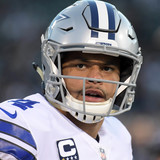 Dak Prescott had a frustrating year on the field, but the Dallas Cowboys quarterback has become one of the most popular players in the league.The NFLPA revealed that Prescott beat out NFC East rival Carson Wentz of the Philadelphia Eagles for the highest-selling jersey from March 1 to Nov. 30. Prescott's teammate, running back Ezekiel Elliott, landed at No. 3.Although Wentz led the...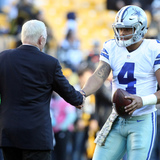 The Dallas Cowboys missed the playoffs after their first-place finish in the NFC East the year before. Many things went awry, and quarterback Dak Prescott did not exactly repeat his stellar rookie campaign.Knowing the Cowboys will need to make some adjustments, owner Jerry Jones spoke specifically about what they plan to change for Prescott. "We just need to take advantage of what...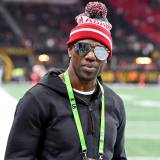 If Terrell Owens keeps hearing Dallas Cowboys fans criticize Dak Prescott on social media, we may end up getting a repeat of his infamous teary-eyed "that's my quarterback" speech.Owens answered some questions for fans on Twitter over the weekend, and it wasn't long before the Q&A turned into a chance for him to vent about how his run with the Cowboys ended. When one follower...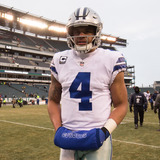 The Dallas Cowboys are looking at ways to retool their offense after missing the playoffs, and they appear intent on building around their quarterback.Cowboys vice president Stephen Jones said Monday that the team hopes to center the offense more around Dak Prescott going forward, in the belief that he can be one of the game's elite players. Though the Cowboys have Ezekiel Elliott...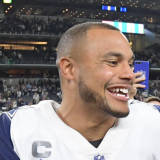 Cowboys quarterback Dak Prescott teamed up with Albertsons to brighten the holidays for one particular NFL fan, but the exchange didn't go exactly as he would have expected.Prescott delivered groceries to the contest winner in Frisco, Texas, so it was assumed that she was a Cowboys fan. She wasn't, however, and not only that, when the Cowboys signal-caller arrived at her front door...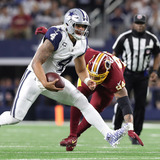 Cowboys quarterback Dak Prescott absorbed a big hit on an option play in the second quarter of Thursday's game, and he paid for it.Prescott pitched the ball on the play, but was drilled immediately afterward by Redskins linebacker Josh Harvey-Clemons. The hit left his throwing hand swollen, and here's what it looked like. The Cowboys quarterback underwent X-rays, but returned to...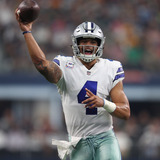 Cowboys quarterback Dak Prescott has been linked to Instagram model Yasmine Nicole, and it's interesting that the team has now compiled back-to-back home losses since she first began showing up at games. We're sure the talking heads won't be mentioning that at all.Nicole first hit up the Rams-Cowboys game, as she posted a photo on Instagram wearing a Prescott shirsey. The caption...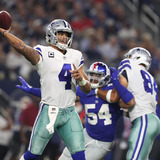 If the Denver Broncos fail to intercept one of Dak Prescott's first two passes on Sunday, the Dallas Cowboys quarterback will make NFL history.In his regular season career, Prescott has attempted 498 passes with only four interceptions. If he gets to 500 attempts with five or fewer picks, he'll be in a group by himself. For Prescott, the record was never his goal. Rather, being in...
MORE STORIES >>
Cowboys News

Delivered to your inbox

You'll also receive Yardbarker's daily Top 10, featuring the best sports stories from around the web. Customize your newsletter to get articles on your favorite sports and teams. And the best part? It's free!