Sports & Politics Intersect: Nassar's victims put USA Gymnastics, MSU on trial
Front Five: The top stories that shaped both sports & politics this week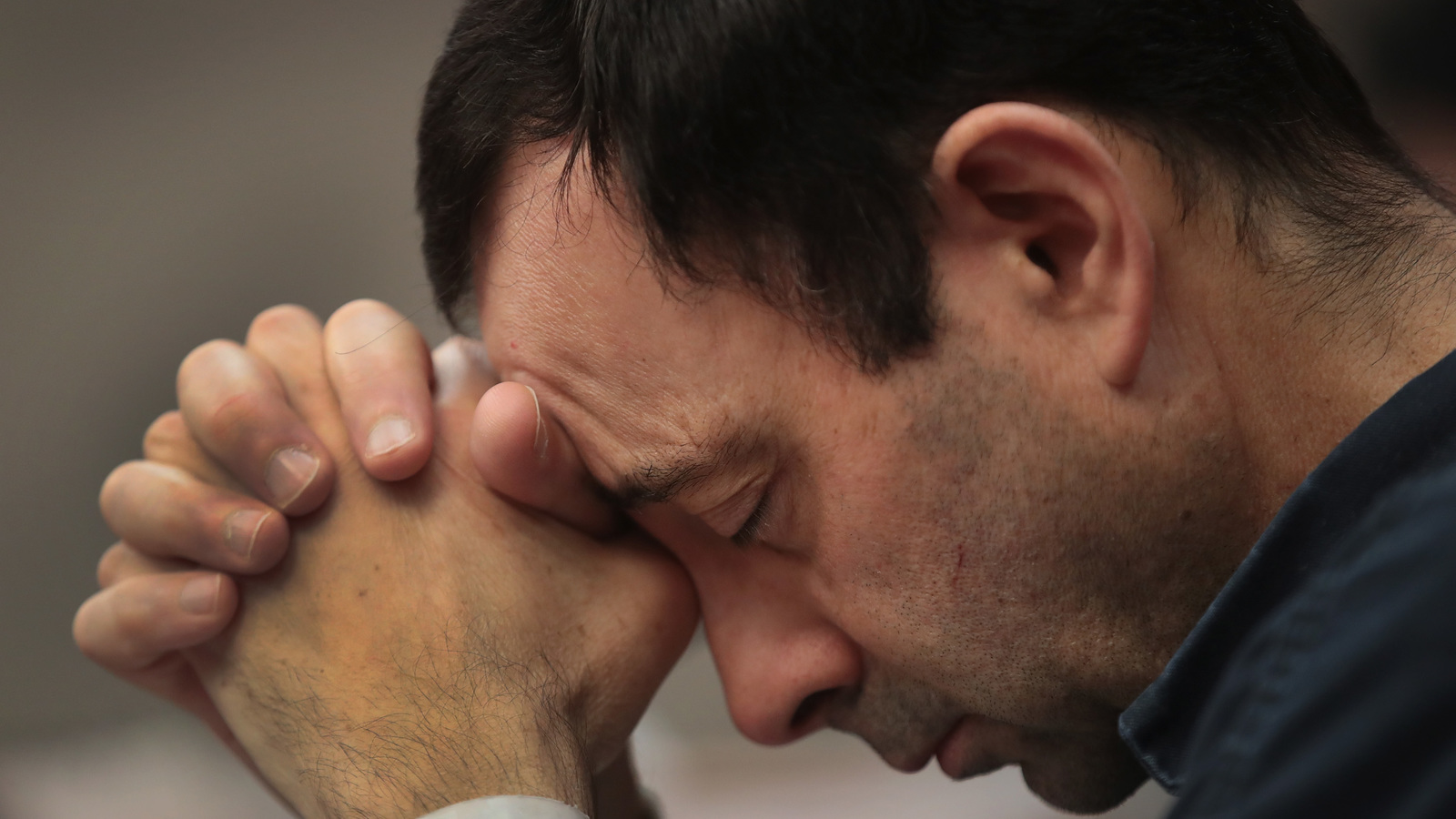 Scott Olson/Getty Images
"I have represented the United States of America in two Olympics and have done so successfully. Both USA Gymnastics and the United States Olympic Committee have been very quick to capitalize on and celebrate my success. But did they reach out when I came forward? No." - Olympic gold medalist Aly Raisman
Former USA Gymnastics team doctor Larry Nassar was supposed to be sentenced on Friday after pleading guilty in November to seven charges of molestation. Instead, presiding Judge Judge Rosemarie Aquilina has postponed the sentencing hearing to sometime next week to allow the more than 120 victims (and counting) who have stepped forward to read their statements.
Among Nassar's victims are Aly Raisman, Jordyn Wieber, Gabby Douglas, McKayla Maroney – all members of the 2012 gold medal-winning Olympic team – and Simone Biles, who stepped forward on Monday in a letter posted on Twitter. What was said in that Michigan courtroom was nothing short of heart-wrenching.
"Lying on my stomach with you on my bed insisting that your inappropriate touch would help to heal my pain," Raisman said during her statement.
"The reality is that you caused me a great deal of physical, mental and emotional pain. You never healed me. You took advantage of our passions and our dreams.
"I have spent months trying to think back on my experience and wonder how I didn't know what was happening to me and how I became so brainwashed by Larry Nassar and everyone at USA Gymnastics," added Jordyn Wieber.
"Both whom I thought were supposed to be on my side."
A recurring theme in the statements – other than the repudiation of Nassar – has been USA Gymnastics' institutional failure. And while it's Nassar who was on trial, the case can be made that the organization was negligent, arguably even willfully. On Tuesday, for example, model/actress/author/businesswoman Chrissy Teigen offered to pay the fee in McKayla Maroney's non-disclosure agreement with USA Gymnastics to settle her case against Nassar (USA Gymnastics would later waive the fee). Thursday, the Detroit News reported that Michigan State University – Nassar was also MSU's team doctor – had been warned of Nassar's abusive behavior at least 14 times, and they did nothing. MSU officials were absent at Nassar's hearing earlier in the week despite the fact that the campus is less than five miles away. Taylor Cole, who spoke about her abuse while under the care of Nassar, said, "I hate the colors green and white, and I despise anything that has to do with MSU."
USA Gymnastics has tried to clean up some of its mess, including ending its relationship with the famed Karolyi Ranch, the Texas facility that served as Team USA headquarters and the primary location of Nassar's abuse. Still, it's not enough.
"Unfortunately you've taken on an organization that I feel is rotting from the inside," Aly Raisman told new USA Gymnastics CEO Kerry Perry during the reading of her statement. "And while this may not be what what you thought were getting into ,you will be judged by how you deal with it."
- Fidel Martinez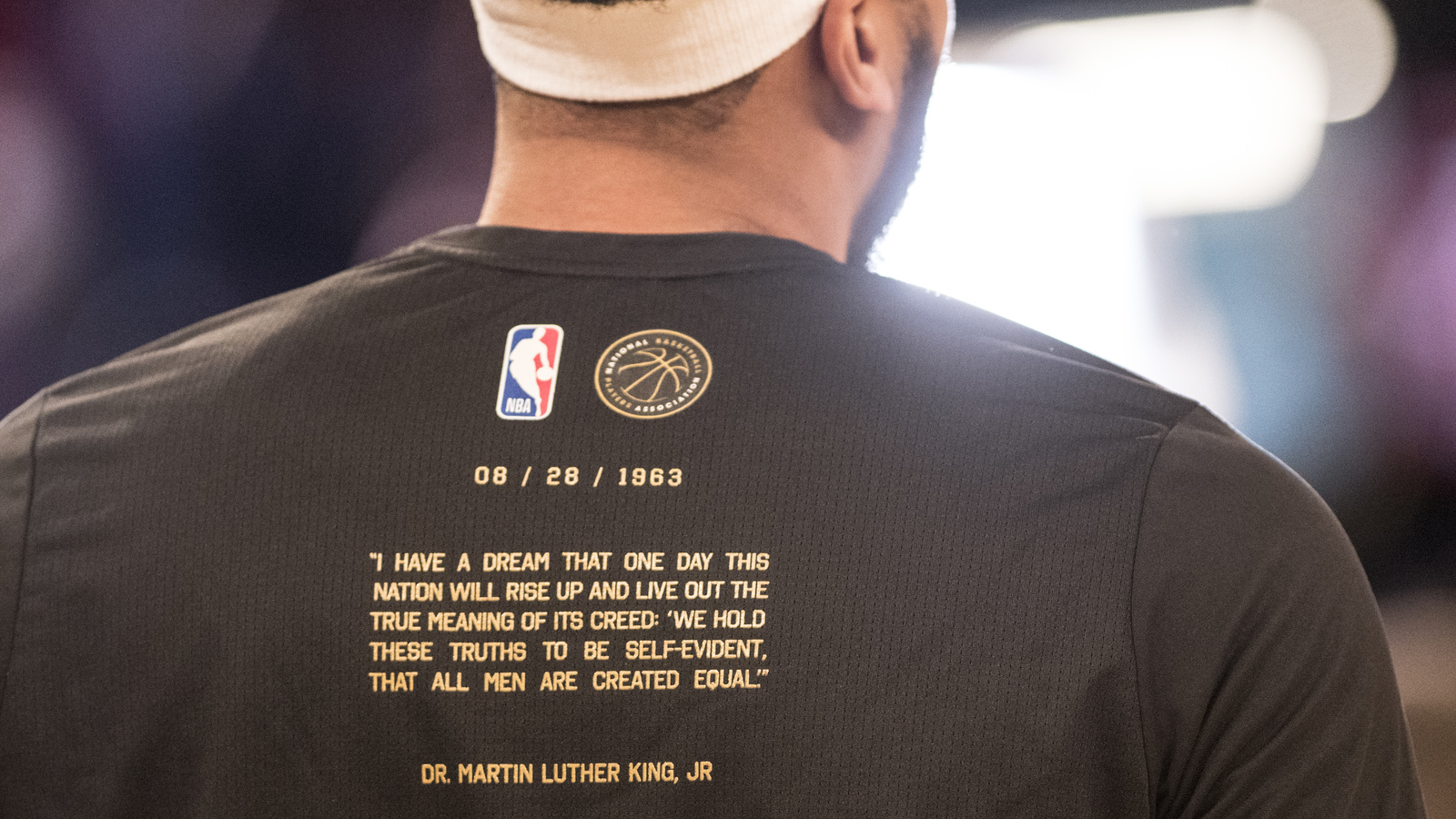 Matteo Marchi/Getty Images
"This day is a reminder of the progress we've made but will continue to highlight the things that need to change." - Golden State Warriors guard Stephen Curry on Dr. Martin Luther King, Jr.
On Monday, the nation and the NBA celebrated the legacy of Dr. Martin Luther King, Jr. The NBA's slate of 11 games featured every team wearing warm-ups with quotes from King's "I Have A Dream" speech, with players talking about what King's legacy meant for the country and their communities.
Players and coaches alike also used the day to speak out about the country's social injustices and racism in the wake of President Donald Trump allegedly calling African countries and Haiti "shithole countries."
Spurs head coach Gregg Popovich has been one of the most outspoken critics of the president, and didn't hold back when speaking to reporters before the team's game in Atlanta. "[...]. And that's what I find really dangerous and really disgusting. The way he uses his comments, and then will tell you that he's not a racist. It's mind boggling, but it's pretty darn obvious that he isn't fooling anybody," Popovich said about Trump's most recent comments.
Pop wasn't the only one who was forced to use the day to speak about the president. Stephen Curry and Kevin Durant talked about how the NBA is able to use its platform to bring people together. LeBron James spoke of Dr. King's legacy and how we have to come together despite the country's leadership. Mike Malone pleaded for Americans to fight for equality now more than ever considering the comments coming out of the White House.
Much like the NBA, a group of Haitian NFL players felt compelled to speak out because of Trump's comments about immigration. Among those was Seahawks' defensive end Cliff Avril. "As a proud descendant of Haiti, I'm disappointed by the divisive words from the President," said Avril. "Haitians and others have contributed to this country and should be able to continue to do so."
Former offensive lineman Gosder Cherilus was a lot more direct in his criticism of Trump's words. "If you've been paying attention to that man, he's been saying small-minded things for a while," Cherilus began. "He thinks it's a game. When someone tells you, 'Hey, I'm a fool,' I have to believe you. I don't think it should have taken what he said about these countries for people to start jumping up and down about it. He's American – look how he describes Chicago. That's sickening."
Philly's Carson Wentz went to Haiti last year and shared his experience while calling the people of Haiti "resilient."
It's unfortunate that a day honoring Dr. King was overshadowed by xenophobia, but the sports world showed that coming together in trying times is bigger than the words of a single man.
- Phillip Barnett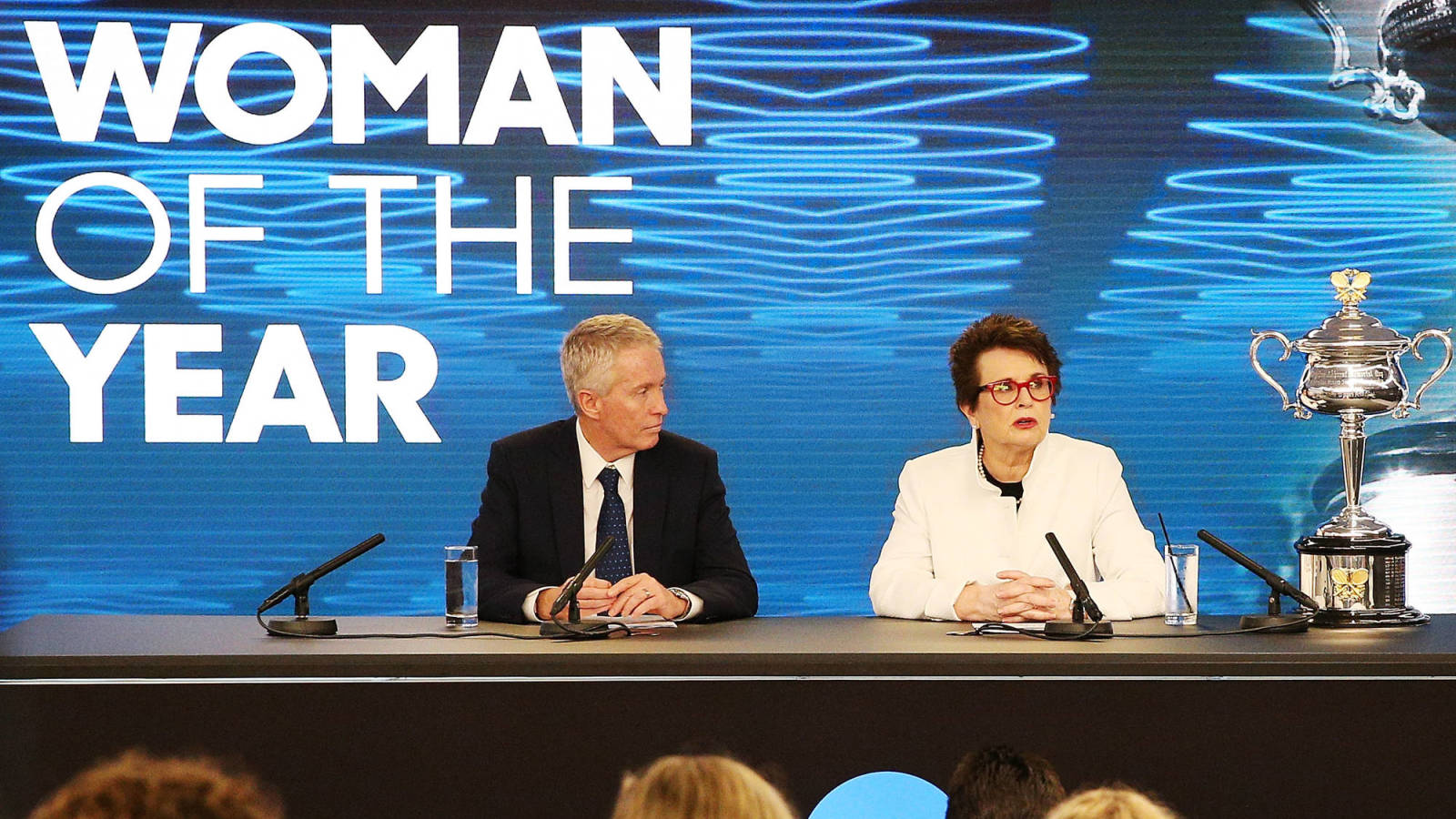 Michael Dodge/Getty Images
"I think it's really important if you're going to have your name on anything that you're hospitable, you're inclusive, you open your arms to everyone that comes. It's a public facility." - Billie Jean King on Margaret Court Arena
Billie Jean King has joined those who believe that the name of Margaret Court Arena should be changed after several strong comments volleyed at the LGBTQ community.
King, who initially supported the Australian Open in naming its main court after Court, believes that her former rival had gone too far during an interview with 20 Twenty Vision Radio with her comments on children struggling with gender identity.
"That's all the devil – that's what Hitler did and that's what communism did: got the mind of the children," said Court. "It's a whole plot in our nation, and in the nations of the world, to get the minds of the children."
Said King of the comments: "I was fine until lately when she said so many derogatory things about my community – I'm a gay woman – about the LBGTIQ community. That really went deep in my heart and soul."
Court's husband, Barry, argued that the comments King referenced weren't true and suggested that King "check her facts" in a statement to the Sydney Morning Herald.
Even without the satanic references to children trying to understand their identity, Court has a history of homophobic remarks, including a public boycott of Qantas Airlines because the company supported same-sex marriage legislation in Australia, stating that she was "disappointed that Qantas has become an active promoter for same-sex marriage."
Richel Hogenkamp and Laura Robson are among those currently competing on the WTA tour are among those who have asked for the name of the court to be changed because of Court's comments.
Martina Navratilova wrote an open letter to Margaret Court Arena asking for a name change not just for her words anti-LGBT community, but because of her racist comments from the 1970s about apartheid in South Africa. Court, in the early 1990s, called Navratilova a bad role model because she was a lesbian.
There's no telling whether the Australian Open give into these requests, but the tennis community seems like it's ready for a change.
- Phillip Barnett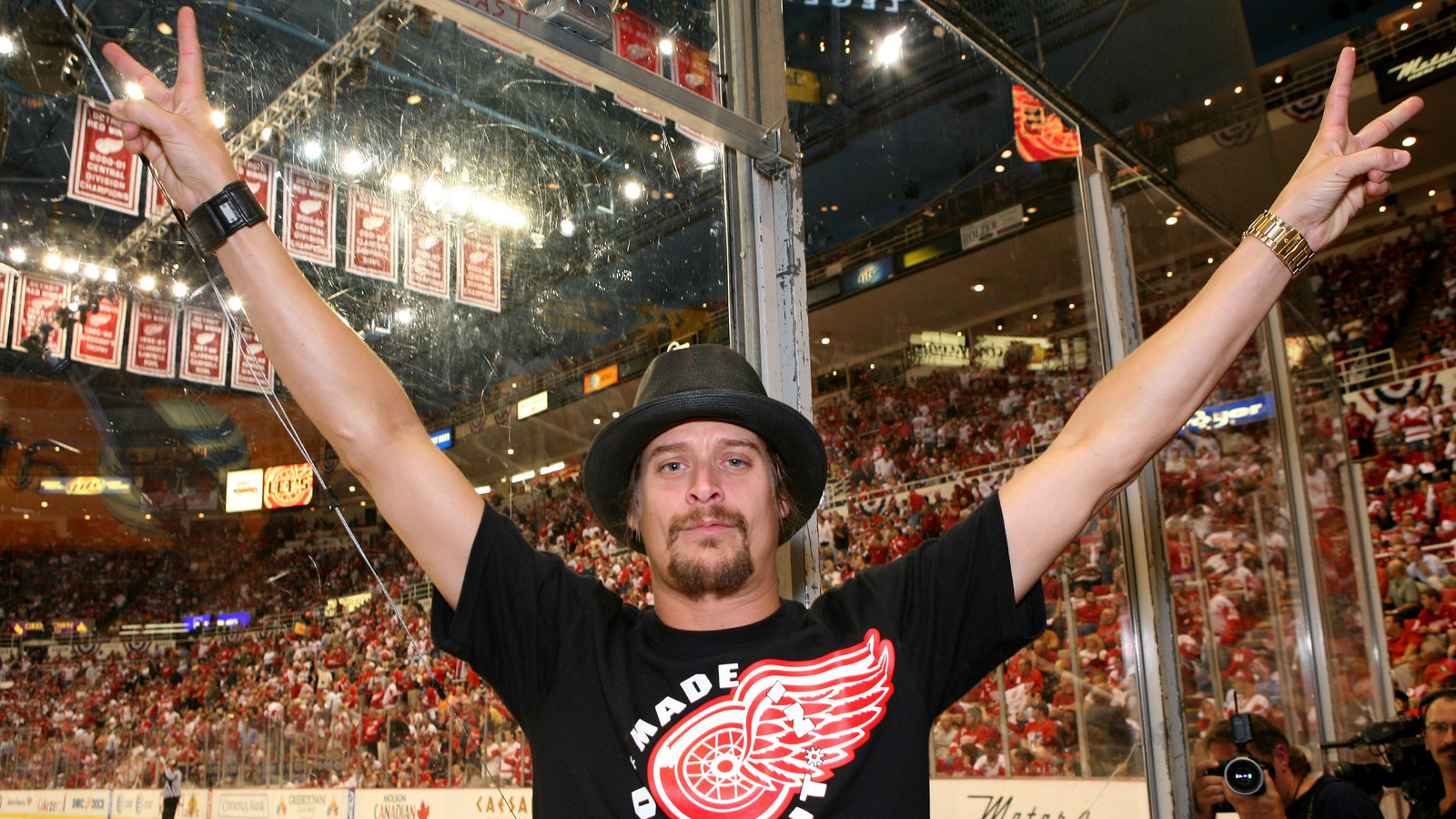 Monica Morgan/Getty Images
"And if you wanna take a knee and sit there during our Star Spangled Banner, call me a racist because I'm not PC and think you have to remind me that black lives matter." - Robert James "Kid Rock" Richie
On Tuesday, the National Hockey League announced via its Twitter account that Kid Rock would be the halftime performer during their upcoming All-Star Game. The internet was all but uniform in their response to the booking: keep it.
The majority of the backlash focused on Kid Rock's politics – not only is he an avid supporter of Donald Trump, but he also threatened to venture into politics himself, briefly flirting with the idea of running for Senator to represent his home state of Michigan. Still, others, including TSN's Blake Price and Jason Kay, editor in chief of The Hockey News, questioned why the NHL would book someone whose popularity largely peaked in the late 1990s/early 2000s (though to Kid Rock's credit, the last time he had a record be certified gold was in 2012, well outside of that period).
That the NHL would book Kid Rock, a very divisive figure in a time when America has been the most divided, seems counterintuitive to the league's seemingly earnest effort to bring in a more diverse audience. But despite the negative reaction, the NHL is sticking by their decision.
"Most of the time, our acts are passionate hockey fans," NHL's executive vice president Steve Mayer told ESPN. "It's all about the entertainment at the end of the day for us, and this selection was purely based on that, and the fact that Kid Rock is a hockey lover. That's simply the background here."
But perhaps the most egregious aspect of this whole Kid Rock debacle are the comments made by current commentator and former NHL player Jeremy Roenick, who while interviewing Kid Rock said the following:
"When I talk to people about you, I say, 'Kid Rock is the most talented musician, I think ever, on the planet, because you can put any instrument in your hand or on your mouth and you can play anything and rock a house and sing any kind of genre."
It's probably best you stuck to sports, J.R.
- Fidel Martinez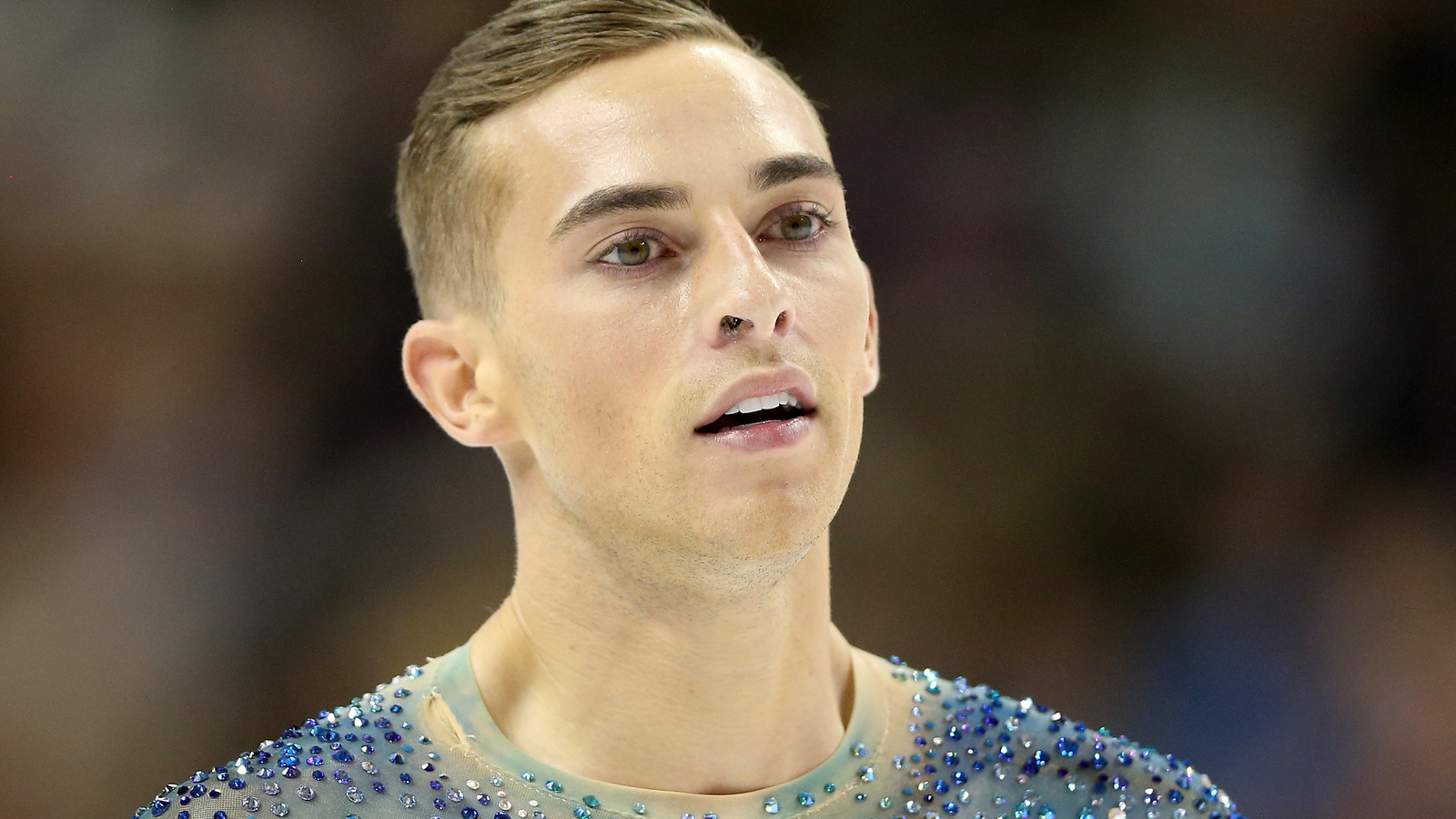 "You mean Mike Pence, the same Mike Pence that funded gay conversion therapy?" - Adam Rippon on the vice president leading the U.S. Delegation at the 2018 Winter Olympics
Adam Rippon, who is believed to be the first openly gay U.S. Winter Olympian, is not thrilled with the prospect of Vice President Mike Pence leading the U.S. delegation in South Korea because of the belief that Pence supported gay conversion therapy.
"If it were before my event, I would absolutely not go out of my way to meet somebody who I felt has gone out of their way to not only show that they aren't a friend of a gay person but that they think that they're sick," said Rippon about the traditional meet and greet between the US Delegation and Olympic athletes. "I wouldn't go out of my way to meet somebody like that."
Many in the LGBTQ community believe comments from Pence's 2000 congressional campaign website hinted at the idea of gay conversion therapy. "Resources should be directed toward those institutions which provide assistance to those seeking to change their sexual behavior," the statement read.
In November of 2016, Marc Lotter, a Pence spokesperson, said that Pence does not support the practice. More recently, the press secretary for the vice president, Alyssa Farah, also said that Pence is not a proponent of conversion therapy.
"The accusation is totally false with no basis in fact," said Farah. "But despite these misinformed claims, the vice president will be enthusiastically supporting all the U.S. athletes competing next month in Pyeongchang."
Rippon did say that he'd be willing to have an open conversation with Pence following his competition because the vice president seems more "mild-mannered" than President Trump, but would not accept an invitation to celebrate following the 2018 PyeongChang ames at the White House.
---
With North and South Korea agreeing to march together under a unified flag at the Winter Olympics, President Trump's strategy for handling North Korea could be complicated a bit. South Korea has been an ally to the United States, but if the two countries begin discussions on ending their communication freeze, Trump could be forced to reevaluate his strategy for pursuing military action. President Trump is open to talking with Kim Jong-un, but is not sure that it will clear up any of the issues between the two countries.
---
The NHL will not send any players to the 2018 Winter Olympics in South Korea, instead making the World Cup of Hockey tournament its top international commitment. However, spurning the 2018 PyeongChang Games could cause some issues for the NHL should they want to re-join the IOC for the 2022 Winter Olympics in China. China is a market every professional sports league wants a part of, and missing out on the 2022 Beijing Games could be a huge blow for the NHL if they're not able to come to an agreement with the NHLPA before a decision on the games can be made.
- Phillip Barnett 
Of Note: 
For the record books: This week in sports politics history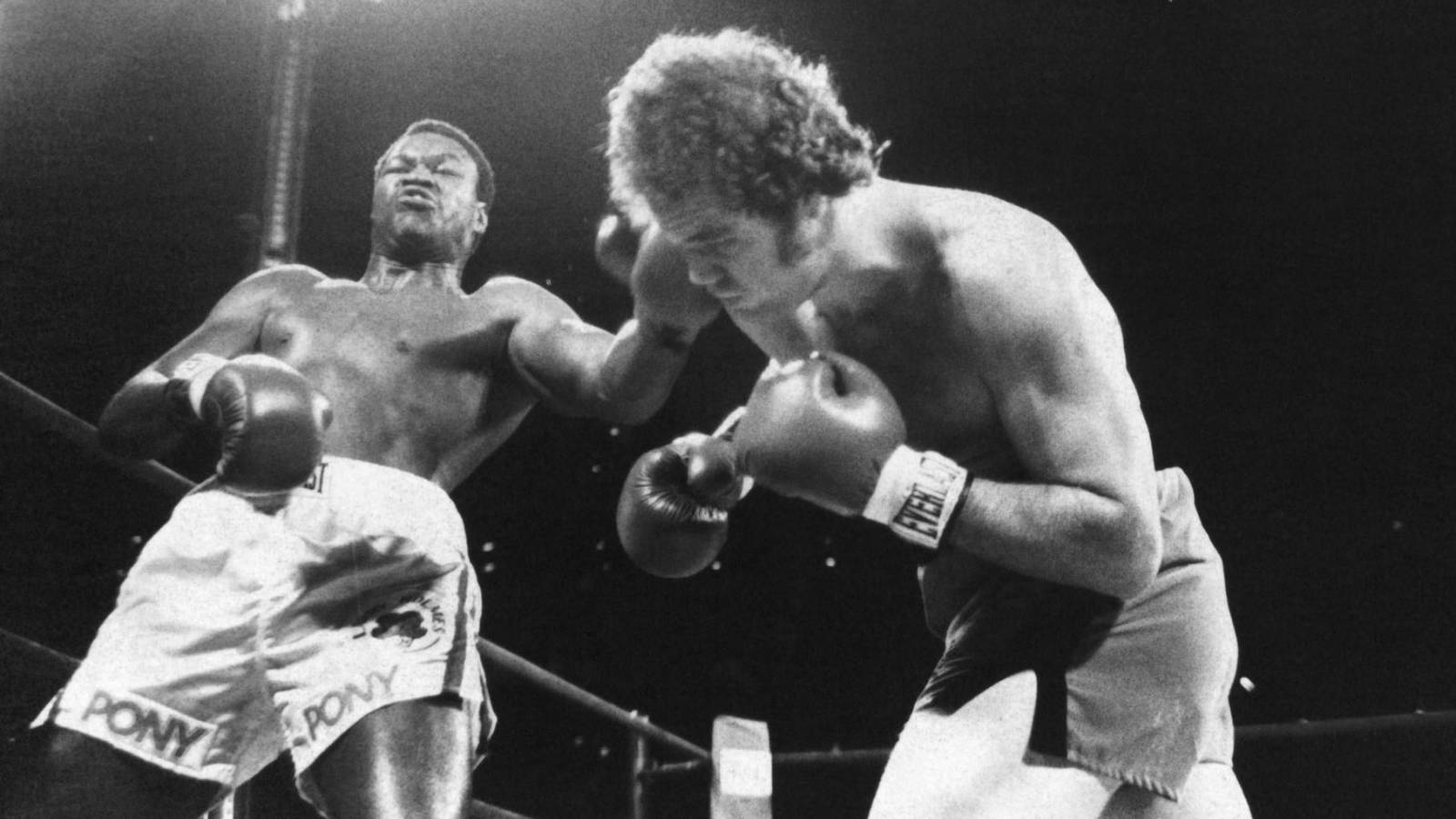 ''The only way to prevent brain injuries is to disqualify blows to the head.'' - The Journal of the American Medical Association on boxing
This week marks the 35th anniversary of the American Medical Association calling for a ban on boxing.
In an article published on Jan. 14, 1983, Dr. George D. Lundberg, editor of the Journal of the American Medical Association at the time, made the case against boxing, citing previous research that claimed that 335 people had died between 1945 and 1979 because of the sport, and that 17 percent of all seasoned pugilists had some form of brain damage.
Curiously, the AMA's fight against boxing was spurred by a singular match.
''No caring person could have observed the events in professional prizefighting in the past few months and not have been revolted," Dr. Lundberg wrote. "No prudent physician could have watched the most recent debacle/mismatch on Nov. 26, 1982, between Larry Holmes and Randall 'Tex' Cobb and believe that the current boxing control system is functioning.''
It wasn't just the AMA that was disgusted by the one-sided WBC World Heavyweight Championship fight between Holmes and Tex Cobb. The fight was so brutal – Holmes won a unanimous decision after 15 rounds – that it caused famed sports announcer Howard Cosell to quit the sport altogether.
''I've done all I can. We've seen the thumbless glove, we've seen Earnie Shavers and Ray Leonard hurt their eyes, I've seen Benny Paret and Willie Classen and Cleveland Denny and Duk Koo Kim die," Cosell said afterwards. 
"Yet we still have laissez-faire. You've got two championships. The networks must take some responsibility for that. You've got sleazy promoters. You've got reporters who are afraid to look at boxing. I've had it. No more.''
For his part, Tex Cobb, who's still alive and went into acting after retiring, made light of Cosell's comments.
"Hey, if it gets him to stop broadcasting NFL games, I'll go play football for a week," Cobb reportedly quipped.
- Fidel Martinez
All Sports News

Delivered to your inbox

You'll also receive Yardbarker's daily Top 10, featuring the best sports stories from around the web. Customize your newsletter to get articles on your favorite sports and teams. And the best part? It's free!
PLAYERS:
Aly Raisman
,
Jordyn Wieber
,
Gabby Douglas
,
Mckayla Maroney
,
Donald Trump
,
Gregg Popovich
,
LeBron James
,
Cliff Avril
,
Laura Robson
,
Martina Navratilova
,
Kid Rock
,
Jeremy Roenick
,
Larry Holmes
,
Howard Cosell
,
Earnie Shavers
,
Benny Paret
,
Billie Jean King
,
Duk Koo Kim
TEAMS:
San Antonio Spurs
,
Cleveland Cavaliers
,
Seattle Seahawks
MORE FROM YARDBARKER
All Sports News

Delivered to your inbox

You'll also receive Yardbarker's daily Top 10, featuring the best sports stories from around the web. Customize your newsletter to get articles on your favorite sports and teams. And the best part? It's free!