Found April 16, 2013 on Fox Sports Detroit:
ALLEN PARK, Mich. Human nature these days is to try to make as much money as possible. But theres a problem with that approach in the NFLs salary-cap era. If you want to win championships, you need talent around you. You cant be too selfish and make so much that theres not enough to go around. Thats the issue quarterback Matthew Stafford faces during negotiations for a contract extension with the Detroit Lions. I want talent around me, frankly, Stafford said Tuesday following one of the teams voluntary offseason workouts. Theres opportunities everywhere in the league, you see guys breaking records with how much theyre making. You want fair market value. I dont really care about breaking (contract) records too much. I want to break records on the field. I want to win games. I want to have as many good players around me as I possibly can. Im a football-first guy and the rest (financial rewards) happens because thats the way it goes in this league. Its a business and I understand that. Im not too worried about that. I just want as many good players around me and help out any way I can. Stafford, 25, benefited greatly by entering the league during the second-to-last year before a rookie wage scale was implemented. He has two seasons remaining on his original contract with cap hits of 20.8 million for 2013 and 19.3 million for 2014. The salary cap for each team this coming season will be around 123 million. The Lions not only want to extend Staffords contract to lock him in for the long term, but they need to make some adjustments to lower his cap hits in the process. Stafford indicated his desire is to sign a long-term deal sometime soon. I would love to, he said. I love being here. I love this team, would love to bring a winner here. Thats my No. 1 focus this whole off-season was trying to do everything I could to help us win. The contract stuff will take care of itself. Im really not too involved with it. Im not on the phone calls, but Im sure theres some sort of talks going on. Asked about trying to prevent the negotiations from becoming a distraction to the team if theres no agreement reached before the season, Stafford said, Thats a good question. I dont expect it to be a distraction. I personally dont want it to be. I like to focus on one thing and go after it. Right now thats football for me. Thats why Im letting the agents talk to the front office here and figure that stuff out. I would imagine there would become a point where were either getting it done or not. I would assume that they want to do something. I want to do something. Well figure something out hopefully. If not then well move on and table it for a year. EXTRA POINTS Stafford, stealing the company line set by general manager Martin Mayhew, on whether hed like to see the Lions draft a left tackle to protect his blindside: Id like to see us take the best player available. On looking forward to a new season after ending 2012 on an eight-game losing streak: Coming off a 4-12 season, you want to prove everybody wrong. Thats where my heads at right now.
Original Story:
http://www.foxsportsdetroit.com/nfl/d...
THE BACKYARD
BEST OF MAXIM
RELATED ARTICLES
According to Dave Birkett of the Detroit Free-Press, it's only a matter of time before the Lions and quarterback Mathew Stafford agree on a long-term extension. It's just a matter of time before the sides agree on a long-term deal that will keep Stafford in Detroit for years to come at a price that probably tops $100 million. Both sides want it to happen, both sides need it...
My thinking about Detroit Lions quarterback Matthew Stafford is which quarterback are you? Are you the same young quarterback who threw for over 5,000 yards and 41 TD's with a 97.2 quarterback rating in 2011? Or are you the quarterback that regressed in 2012, that threw for only 20 TD's with a 79.8 rating? I'm [...]
The might be the off-season of $100 million contracts.  Joe Flacco and Tony Romo are finished.  Aaron Rodgers is close to finishing his deal and we can add one name to that list. The Detroit Free Press is reporting that the Lions and star quarterback Matthew Stafford on working on a long term deal will probably put him up there with Romo and Flacco. The Lions, who have spent the...
Monday the Detroit Lions came to terms with free agent offensive tackle Jason Fox on a one-year deal. Injuries have limited him to just five appearances in three years. If he can remain healthy though, he would become a major boost to the offensive line, most likely at the right tackle position. The post Detroit Lions Re-Sign OT Jason Fox To One-Year Deal appeared first on Fantasy...
A proud franchise with a crazed fan base has had some bad, bad drafts and many of them involve Matt Millen. The team has also added some incredible individual talents. Lets look at the best picks in the history of the Detroit Lions since 1980!
Former Detroit Lions kicker Errol Mann died last week at the age of 71 at his home in Missoula, Mont., according to the Missoulian newspaper. Mann, who used a straight-on kicking style, played for the Lions from 1969-76. He ranks third in club history with 141 field goals.
The Detroit Lions came to terms with free agent wide receiver Brian Robiskie on a one-year deal Monday. He will be fighting for a roster spot in camp and is not guaranteed anything. The post Detroit Lions Re-Sign WR Brian Robiskie To One-Year Deal appeared first on Fantasy Sports Player Rankings - Baseball and Football - FFLockerRoom.com.
First Joe Montana, and now Jerry Rice. Barry Sanders, the Detroit Lions Hall of Fame running back, has eliminated both former San Francisco 49ers greats in a vote to determine who will appear on the cover to celebrate the 25th anniversary of the Madden video game. The final round comes down to Sanders, who retired in 1999, against current Minnesota running back Adrian Peterson...
The Detroit Lions have come to terms with RB Joique Bell on a one-year deal Monday. He will backup newcomer Reggie Bush as the receiving back. The post Detroit Lions Sign RB Joique Bell To One-Year Deal appeared first on Fantasy Sports Player Rankings - Baseball and Football - FFLockerRoom.com.
Former Detroit Lions wide receiver Titus Young tweeted an apology late Monday night directed towards Lions fans but deleted it afterwards.  Then he added a tweet that said "Thank Jesus Amen," but deleted that quickly too.  He currently doesn't have any tweets and is only following six people, one of which is Oakland Raiders quarterback Terrelle Pryor. Perhaps it's time...
Round One (5th overall pick) OT from Central Michigan – Eric Fisher Has this pick become obvious or is there still a debate about it? For me I don't think there's any debate on it. This pick has to be an offensive lineman whether it's the two best offensive tackles in the draft in Eric Fisher or Luke Joeckel… or possibly the two best guards in Jonathan Cooper or Chance...
Titus Young momentarily came to his senses late Monday night--he apologized to fans of his former team, the Detroit Lions. Sounds reasonable, right? Maybe there is hope for this kid. He is only 23 after all. Youngsters are going to make mistakes. The important thing is that they learn from them, apologize if possible, and then move on. Could it be that Titus has learned...
Lions News

Delivered to your inbox

You'll also receive Yardbarker's daily Top 10, featuring the best sports stories from around the web. Customize your newsletter to get articles on your favorite sports and teams. And the best part? It's free!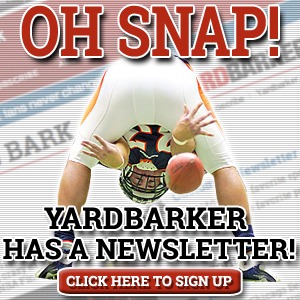 Latest Rumors
The Backyard

Today's Best Stuff

For Bloggers

Join the Yardbarker Network for more promotion, traffic, and money.

Company Info

Help

What is Yardbarker?

Yardbarker is the largest network of sports blogs and pro athlete blogs on the web. This site is the hub of the Yardbarker Network, where our editors and algorithms curate the best sports content from our network and beyond.