All the latest headlines surrounding the Los Angeles Rams for Friday, February 23.
Jared Goff and David Carr both endured very difficult rookie seasons in the NFL. Carr was sacked an NFL-high 76 times for 411 yards in 16 games, while Goff was brought down 26 times in just seven games. Neither had more touchdown passes than interceptions as their teams struggled mightily in their first seasons. Goff bounced back nicely to make the Pro Bowl in Year 2, but Carr wasn...
Jared Goff improved by leaps and bounds in 2017, going from one of the worst quarterbacks in the league as a rookie to a first-time Pro Bowler in Year 2. A lot of that had to do with the revamped supporting cast around him and the arrival of quarterback gurus Sean McVay, Greg Olson and Matt LaFleur, but Goff did plenty on his own, too. He showed great poise in the pocket this past...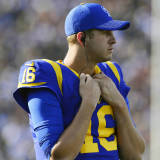 Quarterback Kirk Cousins will soon have his choice of teams to play for in 2018. Among the many prospects are the Arizona Cardinals, who would benefit immensely by bringing Cousins aboard.While Cardinals fans and players are hoping Cousins picks them, Los Angeles Rams quarterback Jared Goff would prefer this doesn't happen."I'm hoping he doesn't," Goff said, per Mike Florio of Pro...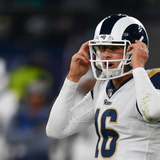 Rams quarterback Jared Goff was featured front and center on this week's edition of NFL Network's "Sound FX," and a hot mic revealed a few of his audibles to the public.They weren't the run-of-the-mill, normal type of audibles signal-callers utter, either."Tupac! Ric Flair! Obama! Hoosier!" were just a few of the audibles that Goff used, which you can hear for yourself in the video...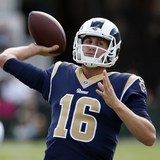 Los Angeles Rams quarterback Jared Goff knows first hand how natural disasters can impact your way of life. A native of Marin County in Northern California, his home region is currently ablaze with dozens of wildfires that have been burning out of control for over the past week.In keeping his home community in mind, Goff has set up a GoFundMe to help with the recovery efforts in...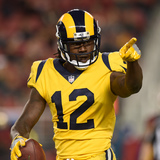 These aren't your parents Los Angeles Rams. Okay, we've been wanting to use that for a while now. Anyway, this pass from Jared Goff to Sammy Watkins Thursday night against the San Francisco 49ers was absolutely brilliant. Look at how Watkins tracked that ball in between two 49ers defensive backs. It was definitely a Willie Mays style play right there. And it resulted in 46 yards...
Jared Goff, the top pick in the 2016 NFL Draft, hasn't panned out as well as the Los Angeles Rams might've hoped.Going into his sophomore year, it sounds like Goff might not even win the battle for the starting spot thanks to his development and a push by Sean Mannion.The team's official website captured quite the interesting nugget from head coach Sean McVay:"I think what we've...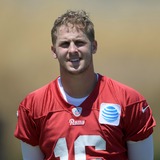 Sean McVay's reputation as a quarterback guru could be gaining steam.Second-year Rams quarterback Jared Goff says he's grasping McVay's offense quicker than the the one that was in place under former head coach Jeff Fisher."It's a way different offense. Personally, from my brief experience with it, I've had a quicker time learning it — easier time learning it," Goff told the team...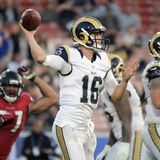 Los Angeles Rams quarterback Jared Goff has made just four NFL starts, but that body of work is significant enough for one Hall of Fame passer to conclude the former Cal star is not very good. On Monday, nine-time Pro Bowler Fran Tarkenton offered a fairly harsh assessment of Goff on Twitter. Watched Jared Goff play yesterday. I'm sure he's a great kid - but he isn't very good...
MORE STORIES >>
Rams News

Delivered to your inbox

You'll also receive Yardbarker's daily Top 10, featuring the best sports stories from around the web. Customize your newsletter to get articles on your favorite sports and teams. And the best part? It's free!