Found July 22, 2012 on Fox Sports:
PLAYERS:
Ron Santo
,
Mark Mcgwire
,
Rafael Palmeiro
,
Barry Bonds
,
Roger Clemens
,
Mike Piazza
,
Sammy Sosa
,
Bob Gibson
,
Pete Rose
,
Paul Molitor
,
Tim Raines
,
Whitey Ford
,
Jackie Robinson
,
Jeff Bagwell
On a gorgeous Sunday afternoon in upstate New York, Barry Larkin and the late Ron Santo became the latest inductees into the National Baseball Hall of Fame. Storm clouds, however, are moving closer. The great debate of suspicions and accusations is looming. The Steroid Era is about to hit the Hall of Fame in full force. Mark McGwire has been on the ballot considered by veteran members of the Baseball Writers Association of America the past six years, and Rafael Palmeiro has been a candidate the past two. Now comes the true test. Barry Bonds, Roger Clemens, Mike Piazza and Sammy Sosa will join McGwire and Palmeiro on the ballot this December for the players to be inducted July 28, 2013. No longer is greatness on the field enough to satisfy many of the voters. Suddenly, BBWAA members have decided to be judge and jury, willing to convict in the court of public opinion on the basis of assumptions, presuming guilt even when proved innocent. Think about it. Clemens was acquitted last month of lying to Congress during its investigation of drug use by athletes, but there are Hall of Fame voters who have already publicly announced they wouldn't vote for him. Sorry. That mentality doesn't wash. And Bob Gibson, as great a competitor and pitcher as the game has ever seen, says it well. "I don't care if they get in or not," Gibson said during the weekend ceremonies. "Players have always tried to cheat. This is a little different, but players have been cheating for years. But it's not up to me, anyway. It's up to the writers." It is humorous to hear Pete Rose and his legion of fans moan about steroids and the fact that players who might have used them could be voted into the Hall of Fame while Rose, who admitted to gambling on the game, is banned for life for his misstep. Funny, isn't it, how Rose and his backers so quickly skim over how much he allegedly relied on amphetamines throughout his career? In the '60s and '70s, "uppers" were readily available in big-league clubhouses, even though they were illegal. The cocaine problems of the late '70s and early '80s have not been held against the likes of a Paul Molitor or current candidate Tim Raines. The fact that Whitey Ford or Gaylord Perry or Don Drysdale doctored baseballs was not enough to keep them out of the Hall of Fame. And what about the pre-1950s Hall of Famers? They never had to play night games. They never had to travel west of St. Louis. That was pre-Jackie Robinson, which meant they never had to face the dominant athletes of the Negro Leagues who were denied big-league opportunity because of their skin color. The writers haven't been very forgiving, so far. McGwire has seen his support decline from 23.5 percent in his debut on the ballot for the Class of 2007 to 19.5 percent this year. Palmeiro managed only 11 percent support a year ago, and 12.6 percent this year. They have, however, been a little more forgiving to Jeff Bagwell, who saw his support increase from 41.7 percent in his debut a on the Class of 2011 ballot to 56 percent this year. But then Bagwell has never been accused of any wrongdoing. He has only been questioned for his on-field success by those who wonder how he could have emerged into such a dominant player. That, in itself, is an indictment of some, who despite having no proof are willing to deny someone such as Bagwell his proper recognition. There is no indication that the voting process is going to change. The Hall of Fame is not planning any change to its rules, despite the suggestion by some that the "morals clause" be removed so that baseball voters can focus solely on what a player accomplishes on the field, the parameter used by the Pro Football Hall, and diminish the annual grousing about the vote being conducted by the BBWAA instead of a broader base. "The writers hold the keys to the elections," said Hall of Fame president Jeff Idelson. "We're very comfortable with the rules we've put forth. Whoever the writers select, if anyone, we'll honor them, and they'll be represented just like anyone else in the Hall of Fame gallery. You're either a Hall of Famer, or you're not." Idelson said no "steroid era" label will be attached to any such inductee. "When you walk through the plaque gallery, you see that we don't discern anywhere between different eras of baseball, and I don't see any reason why we would start today," Idelson said. "Having the mantle of Hall of Famer supersedes any one point in time or any one event, and I feel that our guys take that role seriously and love coming back to Cooperstown.'' There has been speculation that some current Hall of Famers would boycott the induction ceremonies if a suspected steroid user is elected. The BBWAA, however, will have its say first.
Original Story:
http://msn.foxsports.com/mlb/story/ba...
THE BACKYARD
BEST OF MAXIM
RELATED ARTICLES
The late Ron Santo, star third baseman for the Chicago Cubs and later a broadcaster for the team, has been inducted into the National Baseball Hall of Fame and Museum. His widow, Vicki, gave a heartwarming speech and ended it with: ''This is not a sad day. This is a great day. I'm certain that Ronnie is celebrating right now.'' Santo died of bladder cancer in...
Barry Larkin lost it before he even started. Vicki Santo never wavered as she honored her late husband, Ron. Baseball's highest honor always seems to leave a special impression on those directly involved. Larkin, the former star shortstop for the Cincinnati Reds, and Ron Santo, a standout third baseman for the Chicago Cubs and later a beloved broadcaster for the team, were...
As Vicki Santo was standing in front of thousands in Cooperstown Sunday, her late husband Ron was being honored at the place he called home for close to five decades.Sure, I'm not a Chicago Cubs fan, but I've gotta say...I was quite impressed when I saw that the team paid tribute to the newly minted Hall of Famer as best they could.  By mimicking his famous 1969 heel click as...
Former Cincinnati Reds star Barry Larkin has been inducted into the National Baseball Hall of Fame and Museum. With his parents and family looking on from the front row, Larkin, one of the best shortstops in major league history, spent his entire speech thanking the people that molded him. His parents introduced him to the game at age 5. Larkin singled out former teammates Pete...
Ron Santo will be immortalized as one of baseball's all-time greats as he is enshrined in the Hall of Fame. While Santo joins baseball's gods, he will be remembered as human, with kindness and graciousness to the fans that adored him.
Ron Santo, HOF. Bittersweet, yet hasn't that been the Cub way in Ronnie's life? Vicki Santo, Ron's wife,  in her acceptance speech today for Ronnie at the Cooperstown Hall of Fame ceremonies: God, how he loved the Cubs and Cubs fans. He would be so grateful you came here today to share this with him. I don't know of anyone who had more friends than Ron...
The Chicago Cubs will host a Ron Santo Baseball Hall of Fame induction ceremony viewing party at the Captain Morgan Club adjacent to Wrigley Field Sunday, starting at 11 a.m. CDT. Attendees can watch the ceremony live on dozens of televisions from 12:30-2:30 p.m., just steps away from Ron Santo's statue at the corner of Addison Street and Sheffield Avenue. The Cubs are also hosting...
In front of 44 Hall of Famers and a virtual sea of Cincinnati Reds and Chicago Cubs fans, Barry Larkin headlined the 2012 Hall of Fame induction ceremony.But...it almost didn't happen.You see, when Larkin accepted a scholarship to the University of Michigan, it was football (not baseball) that he fancied."(Then-Michigan head coach Bo Schembechler) redshirted me my freshman...
The main event of the Hall of Fame Weekend at the Baseball Hall of Fame were the inductions of a pair of former stars from National League Central Division clubs – ex-Cincinnati Reds shortstop Barry Larkin and the late Chicago Cubs third baseman Ron Santo. More than 40 Hall of Fame members were present in Cooperstown, New York for the Induction Ceremony of the Class of 2012 that...
By: Frank Del Gaiso and Sean Clifford We here at BloodySox love baseball.  With the National Baseball Hall of Fame welcoming new inductees today, we'd like to take some time to recognize the great players being honored this year.  While none of this year's inductees are associated with the Red Sox, we feel that what these men have done for the game deserves our respect and...
Yesterday, Ron Santo and Barry Larkin were inducted into the Hall of Fame.  And despite a few lonely calls from around the Internet (and probably from Reggie Jackson) that they don't measure up to baseball's best, there should be no doubt that both Santo and Larkin raise the bar for inclusion.  Larkin is (depending on where you come down on Alex Rodriguez and Robin Yount...
Our first two-hour episode is jam-packed with reaction to the Penn State sanctions with Danny Breslauer of Rutgers University's RVision, NHL talk with Sean Leahy of Yahoo! Sports, and Ari Louis of IsraelSportsRadio.com discussing the push for a minute of silence in memory of the terrorist attack on the 1972 Munich Olympics. Plus, discussion of NBA rule changes, the news of Ichiro's...
All Sports News

Delivered to your inbox

You'll also receive Yardbarker's daily Top 10, featuring the best sports stories from around the web. Customize your newsletter to get articles on your favorite sports and teams. And the best part? It's free!
THE HOT 10: Who's Trending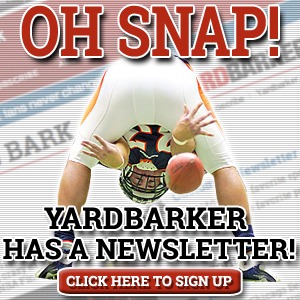 Latest Rumors
The Backyard

Today's Best Stuff

For Bloggers

Join the Yardbarker Network for more promotion, traffic, and money.

Company Info

Help

What is Yardbarker?

Yardbarker is the largest network of sports blogs and pro athlete blogs on the web. This site is the hub of the Yardbarker Network, where our editors and algorithms curate the best sports content from our network and beyond.