Found June 28, 2013 on Fox Sports Arizona:
PHOENIX -- The Phoenix Suns got some nice upgrades Thursday night for a roster that has been painfully light on young talent. "I feel great about how the night went," general manager Ryan McDonough said in regard to presiding over his first NBA draft. Picking fifth in the NBA Draft, McDonough and the rebuilding Suns managed to land the player they had ranked first on their board. With their next move -- and the shot clock on the first round winding down -- the Suns moved up to No. 29 from No. 30 to select one of the most athletic guards in the draft. Although Phoenix now has two reconstruction bricks with impressive potential, its 2013 draft yield still doesnt figure to be enough to kick-start a significant rise in the Western Conference standings. The most important addition was Maryland sophomore center Alex Len, who -- after some surprising selections in the top four picks -- ended up falling to the Suns at No. 5. At No. 29, they grabbed Kentucky freshman shooting guard Archie Goodwin. And with their only selection in the second round, the Suns took power forward Alex Oriakhi, who played his final collegiate season at Missouri after three years at Connecticut. As had been widely speculated, the Suns did attempt to put some assets together in pursuit of another first-round pick. Based on the twists and turns of this particular draft, making a deal was tricky. "Teams were hesitant to deal first-round picks," McDonough said, citing the drafts volatility as a stumbling block. But that pick at No. 5 -- preceded by some head-scratchers -- was just fine in Phoenix. "It was an easy decision," McDonough said of going with the 20-year-old Len, "because of how I feel about Alex." He added, "We think hes just scratching the surface of his potential as a player." And McDonough isn't alone in that thinking. "It was a no-brainer for us, Suns coach Jeff Hornacek said of selecting the Ukranian big man. "The guy we rated highest on our board may end up getting there (to No. 5). And thats what happened with Alex." Len, whose modest productivity (11.9 points, 7.8 rebounds) was abetted in part by shaky guard play at Maryland, was the choice despite the relatively unexpected availability of sweet-shooting Kansas two guard Ben McLemore and Kentucky shot-blocker Nerlens Noel. "Its not very often you can get those kinds of players," said Hornacek, who added that all-around skill separated Len from the defense-oriented Noel. In Len, the Suns have a skilled, agile center from Eastern Europe. Right, they already had one of those. Incumbent Marcin Gortat isnt as good facing the basket and knocking down shots as Len, but both players change ends of the court very well and are solid two-way players. Hornacek said having Gortat -- whose contract expires at the end of next season -- will help in Lens development. And even though neither player has great capacity to defend the power forward spot, the new Suns coach said its conceivable that both will be on the floor at times in a twin-towers alignment. Gortat was a favorite potential trading chip of Suns fans hoping the team would negotiate a deal to bring another first-round pick to Phoenix. But the Polish Machine may have more value at the trade deadline. With Gortats presence limiting how much Len can help the teams win-loss record in his first season, the pick earned by going 25-57 may not be converted into much of a rally right away. But regardless of how much Len plays as a rookie, both he and Hornacek seem convinced that his ceiling isnt even close to being reached. "My improvement is going to be better in the NBA, Len said Thursday night on a conference call from Brooklyn. "Theres better spacing ... Im going to have more room to operate in the post. I think (the) NBA game will fit me well." Hell also have more attention from the Phoenix guards than he had at Maryland. "Hes going to be used a lot more than he was in college," Hornacek said. But, thanks to an ankle injury that will continue to keep him from basketball activities until August, the learning curve must wait to be negotiated. "Weve been told hes going to be fine by training camp, Hornacek said. And once hes on the court, Len expects to succeed in his NBA transition. "I dont compare myself to anyone, said Len, whose athletic chops were boosted by competing in gymnastics as a kid, "but growing up, I watched at lot of Tim Duncan. "I have a very big upside and I know Im going to work hard." Although Len has a unique sizeskill combination, his assimilation to the NBA may be easier when the opposition has the ball. "Probably on defense, he said when asked how he might impact the Suns right away. "Im pretty agile and quick for my size, so I can hedge out on ball screens." If Len can produce competent work on ball screens, it would represent quite a change for the Suns' defense. Goodwin, who wont be 19 until August, demonstrated considerable potential as a defender in his only season at Kentucky. One of the nations top high school prospects in 2012, the former McDonalds All-American had been considered a potential high-lottery candidate until going through an uneven college season. Often playing out of position as UKs point guard, Goodwins decision-making was abysmal. In averaging 14 points per game, he made 44 percent of his shots from the field, including 27 percent from 3-point range. And in addition to inconsistent play, Goodwins body language talked him out of lottery range. At the NBA draft combine, Goodwins bounce was calculated with a 36-inch vertical, but -- even while shooting against air -- his jumper didnt exactly help rehabilitate his prior draft status. With great quickness and a decent handle, Goodwins attack mentality may benefit from wider driving lanes created by the NBAs defensive three-second rule. The same could be said of Len, who will be in town to meet the press Friday afternoon. "We feel fortunate when he was there at 5," McDonough said. "I think the guys going to be really good."
Original Story:
http://www.foxsportsarizona.com/nba/p...
THE BACKYARD
BEST OF MAXIM
RELATED ARTICLES
One guy who's moving up the board fast in this year's draft is Alex Len. Rumors are he might even go #1 overall (which is a miracle/debacle considering the guy never even made 3rd team all CONFERENCE in his college career – but hey, its the Cavs right?). The bigger news though is we've finally located his girlfriend, and she's a walking giant. Meet Essence Townsend, a player...
PHOENIX The highest draft choice the Phoenix Suns have made since 1987 rolled into the day-after press conference at U.S. Airways Center wearing a walking boot and a polo shirt accessorized by the new franchise logo. He handled questions regarding his transition from college basketball to the NBA. He provided a partial explanation for pedestrian productivity during this past season...
NEW YORK (AP) -- The Phoenix Suns used the first pick in the NBA Draft on 7-foot center Alex Len from Ukraine via Maryland. Len and Kentucky center Nerlens Noel -- popular choices in pre-draft speculation as candidates for the No. 1 pick by the Cleveland Cavaliers -- were both available with the fifth pick on an unpredictable draft night. Cleveland instead selected UNLV freshman...
Draft time! It's enough to get me off of Twitter to write more than 140 characters. It's an interesting draft for the Sixers. There is no big talent at the top, but the Sixers, and their new radio-silent analytics-loving GM, have 3 picks in the top 42. Sam Hinkie showed that he could find diamonds in the rough in Houston, and there are certainly some players that can be had from...
Taking stock of the ACC's prospects heading into Thursday night's NBA draft. THE HIGH PICKS Some mock drafts have Alex Len out of Maryland going No. 1 overall, which is -- to put it mildly -- head-scratching. There's a questionable (recent) injury history, not to mention inconsistency in his first two years in school. He's skilled, athletic and seven feet tall...
The 2013 NBA Draft lacks one thing: star power. Incoming freshmen Jabari Parker and Andrew Wiggins would both be no-brainer picks if they were eligible for the draft. Instead, they are headed to class for a year (at least) and we are left with a draft that lacks Hall of Fame talent -- on the surface. That said, finding talent within this year's field will be difficult. It is...
There are two types of people who talk about the NBA draft — those who say they know what will happen, and those who aren't lying. The 2013 draft is even more of a crapshoot than most, with only some consensus on who the Cleveland Cavaliers will take first overall and virtually no consensus after that. Everybody wants to trade away their picks in what is widely considered a relatively...
Nerlens Noel or Alex Len?  Who will the Cleveland Cavaliers draft with the #1 overall selection in tonight's NBA Draft?  Will they get their wish and trade it for an established player or will teams realize just how "weak" this draft class is and hold off on making those types of deals?  This is what makes today one of the most entertaining days of the year.  This...
The 2013 NBA draft is starting and we're breaking down each pick. Get analysis of each first-round selection here and check our Draft Tracker for every selection and second-round analysis. 1. Cleveland: Anthony Bennett , 6-8, SF/PF, UNLV 2. Orlando: Victor Oladipo , 6-4, SG/SF, Indiana 3. Washington: Otto Porter , 6-9, SF, Georgetown 4. Charlotte: Cody Zeller , 7-0, PF...
INDEPENDENCE, Ohio -- When the Cleveland Cavaliers decided to select UNLV forward Anthony Bennett with the No. 1 overall pick in the 2013 NBA Draft, its safe to say there were no high fives in the room. They had to decide on someone, and they had to do it by Thursday night. Had general manager Chris Grant and his staff been afforded another week, chances are, they wouldve used it...
CLEVELAND A few news and notes heading into Thursday night's NBA Draft. As of Thursday morning, it was still unclear who the Cleveland Cavaliers will select with the No. 1 overall pick. It may be the first time in league history that's happened. But according to sources, three important people in the organization had three different opinions on which prospect fits best...
 Nothing settled entering Draft Day ----- The day is finally here. The NBA Draft is set to take place tonight in Brooklyn at the Barclays Center and for 60 players, it is the realization of a dream. Where those players are going though is anybody's guess from top to bottom. This is not the Draft to be in the business of predicting where players will go. Mock drafts...
All Sports News

Delivered to your inbox

You'll also receive Yardbarker's daily Top 10, featuring the best sports stories from around the web. Customize your newsletter to get articles on your favorite sports and teams. And the best part? It's free!
THE HOT 10: Who's Trending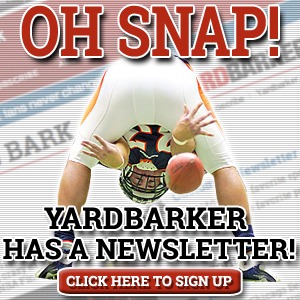 Latest Rumors
The Backyard

Today's Best Stuff

For Bloggers

Join the Yardbarker Network for more promotion, traffic, and money.

Company Info

Help

What is Yardbarker?

Yardbarker is the largest network of sports blogs and pro athlete blogs on the web. This site is the hub of the Yardbarker Network, where our editors and algorithms curate the best sports content from our network and beyond.