Found January 09, 2013 on Days of Y'Orr:
  Now that the lockout is over and the Bruins are returning to stateside, a lot of fun or otherwise interesting tales of their European adventures are coming to light. Such as the fact that Johnny Boychuk's team, EC Red Bull Salzburg, only gave its players Red Bull to drink. No water. No Gatorade. Just ******* gross Red Bull. It may be a while before Johnny Boychuk drinks a Red Bull. There wasnt water or Gatorade - only Red Bull - in Salzburg Red Bulls locker room — Joe Haggerty (@HackswithHaggs) January 8, 2013 Makes sense that there'd be Red Bull in the locker room since it's the main sponsor, but no water or Gatorade? Seriously? How do you not drop dead on the ice? Also, is there anything scarier than Johnny Boychuk coked up on Red Bull? Does his slapshots turn the puck into pure energy upon release? Meanwhile, Chara is jealous his team wasn't sponsored by Coca-Cola. Also, we learned -- thanks to Deadspin and some...
Original Story:
http://www.daysofyorr.com/2013-articl...
THE BACKYARD
BEST OF MAXIM
RELATED ARTICLES
Bruins defenseman Johnny Boychuk spent a majority of the NHL lockout playing for EC Red Bull Salzburg in the Austrian league. If you were to guess that Salzberg, a team sponsored by the Austrian energy drink company Red Bull, were to make the beverage a large option in their team hydration strategy, you would be wrong. It was the ONLY option. It may be a while before Johnny Boychuk...
With all the success Tyler Seguin has had in his young career, sometimes it's easy to forget that the Bruins' forward will only turn 21 at the end of this month. In that same vein, when Seguin went overseas to join Swiss squad EHC Biel, it was the first time he had ever lived on his own outside of some sort of structured environment. So, how did the young Bruin take to his first...
Whether it was averaging nearly a goal a game on the ice or grappling with famous European wrestlers off the ice, Tyler Seguin's tenure with EHC Biel in Switzerland sounded like it couldn't have gone any better. But then he left, and that's where things went south. Earlier this week, while Seguin was Stateside preparing for the NHL season with his fellow B's, a foreign tabloid...
Boston Bruins star Tyler Seguin is young, rich, and a Stanley Cup champion. He's very successful and talented on the ice, but when it comes to cleaning your house, he's pretty awful at it. Swiss tabloid, Blick, reported that Tyler Seguin pretty much lived in a dirty frat house during his time in Switzerland. The tabloid reported that Seguin tried to wash his clothes in the...
Tyler Seguin was always planning on his return to Boston around this time. He only hoped that he would be playing hockey with the Bruins then. Luckily, the forward's timing was spot-on, with the B's holding an informal practice on Monday after a tentative agreement between the players and owners to end the lockout. While speaking with reporters after the practice, Seguin stressed...
Tyler Seguin netted 29 goals in 81 games last season, but Bruins fans are hoping the young sniper can get close to — if not past — that number again this season, despite just 48 games expected to be on the B's  busy schedule. Seguin posted four multiple-goal games a season ago, including a two-goal game in the regular-season finale and a hat trick against the Maple Leafs in...
Photoshopped picture from the Swiss magazine BlickNBC SportsBoston Bruins forward Tyler Seguin has angrily denied a report claiming he left his apartment in "shambles" upon leaving Swiss club HC Biel."I was blown away with everything. I thought it was very unprofessional," Seguin said, courtesy CSNNE. "I don't want to talk about it too much, but everything [in the report...
The NHL is moving closer to getting back on the ice, and that's good news — especially for some players who might be running low on laundry. Chris Kelly wore Tyler Seguin's EHC Biel jersey during the Bruins' informal practice session on Wednesday morning, complete with all the bright colors and shiny advertisements that come with it. "Seggy's stock just went down,"...
Some fans may call Andrew Ference hockey's biggest tree-hugger. After all, he's one of the most environmentally conscious people — let alone athletes — in New England and has the electric car to prove it. Now, Ference may be known as hockey's biggest tree-planter, after a green deal he's made (via Twitter, at least) with a local blogger. Check it out below. @cupofchowdah...
It felt like forever since I last wrote this article. We've been through a lot since I wrote this last year, but let's first take a look at last year's predictions.  Tuukka Rask will finish the year as the starting goal tender Zdeno Chara wins the Norris Tyler Seguin scores 25+ goals this year Milan Lucic DOES NOT score 20+ goals this year ...
Bruins News

Delivered to your inbox

You'll also receive Yardbarker's daily Top 10, featuring the best sports stories from around the web. Customize your newsletter to get articles on your favorite sports and teams. And the best part? It's free!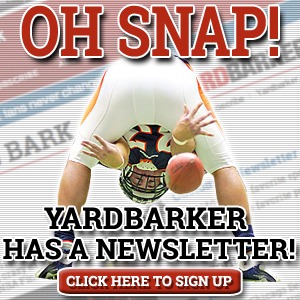 Latest Rumors
Best of Yardbarker

Today's Best Stuff

For Bloggers

Join the Yardbarker Network for more promotion, traffic, and money.

Company Info

Help

What is Yardbarker?

Yardbarker is the largest network of sports blogs and pro athlete blogs on the web. This site is the hub of the Yardbarker Network, where our editors and algorithms curate the best sports content from our network and beyond.