Found August 27, 2012 on Start 'N' Park Blog:
BRISTOL, TN –Team Chevy driver Jimmie Johnson had a long way to go, but methodically raced his way through the field to score a second place finish in the Irwin Tools Night Race in his No. 48 Lowe's Dover White Chevrolet.  Johnson started way back in 37th after qualifying was rained out on Friday, but locked up a spot in the 2012 Chase for the Championship with his runner-up finish.  Johnson's Hendrick Motorsports teammate Jeff Gordon, No. 24 Farm Ville/Drive to End Hunger Chevrolet, was looking for his sixth win at the "World's Fastest Half Mile", but came up just short with a solid third-place finish.  Gordon resides in 14th-place in the point standings as he pursues a much-needed victory to move into Chase contention.
Kasey Kahne led 42 laps early in the race, but made contact with the outside wall on lap 147 after running through oil when another competitor's engine expired.   The team was able to repair the damage to his No. 5 Hendrickcars.com Chevrolet that saw him fall a lap behind.  The pilot of the No. 5 Chevrolet and his team preserved to come home with a ninth-place finish.    Kahne is 11th in the standings with two races to go until the Chase, but currently holds the top "Wild Card" Chase spot.
Paul Menard, No. 27 Menards/Schrock Chevrolet, rounded out the top-ten with a tenth place finish while Dale Earnhardt Jr., No. 88 Diet Mountain Dew/National Guard Chevrolet rebounded from two pit road penalties to finish 12th.  Earnhardt Jr. also locks up a spot in the Chase with two races to go before the regular season cutoff.
It was a disappointing day in particular for four Team Chevy drivers who were involved in incidents during the race.  Tony Stewart, No. 14 Mobil 1/Office Depot Chevrolet was involved in an accident late in the race battling for the lead on lap 333 and finished 27th, Ryan Newman, No. 39 Outback Chevrolet spun into the inside wall after contact with another car on lap 191 and finished 39th and unfortunately Jeff Burton, No. 31 Caterpillar Chevrolet had nowhere to go and was collected in the same accident and finished 33rd.  Danica Patrick was having a respectable run until lap 434 when contact from another car forced a spin and contact with the wall and she finished 29th in her first career NASCAR Sprint Cup Series start at Bristol.
The next race on the tour will be held at Atlanta Motor Speedway on Sunday, September 2nd, 2012.
JIMMIE JOHNSON, NO 48 LOWE'S DOVER WHITE CHEVROLET – FINISHED SECOND
YOU FINISHED SECOND AND ARE LOCKED INTO-THE CHASE. 'It was a great night. I wish we could have finished one spot better but it was a very solid effort for this Chevrolet Lowe's team. We messed up in practice and had to start in the back. We had a bad pit stall and no track position. But, we really had a great strategy and fast car and made the most of it today. I'm really proud of this whole race team and am so very proud that we clinched today and am glad that we locked-down the Chase. That's something that I'm very proud of. We've made it each year. And now it's time to get to work."
JEFF GORDON, NO. 24 FARM VILLE/DRIVE TO END HUNGER CHEVROLET – FINISHED THIRD
Y
OU GUYS LOOKED LIKE YOU WERE HAVING SOME FUN RACING JUST SO CLOSE TONIGHT: "Well I don't know how many people were here that remember like 1991, 1992, I remember standing up on top of the suites in the spotter stand watching DW (Darrell Waltrip) run a line like we were running tonight.  It was a heck of a battle then and I thought it was a heck of a race tonight.  Who would have thought grinding that race track would have turned into what it did."
WHAT DID IT TURN INTO? "Well it was slick up there, but it laid rubber.  So guys kept creeping up there and laying rubber.  The rest of the track is so abrasive it doesn't lay rubber.  It's smooth enough up there where these Goodyear tires just start laying rubber and all of a sudden we were all way up against the wall, it had more grip up there than it did on the bottom.  I think that tells you something.  Back several years ago they ground the bottom at Martinsville and it made the outer groove better.  So maybe they need to grind and make it really abrasive up there if they don't want us to go up there."
GOOD RUN FOR YOU:  "Yeah it was a great run for our Drive To End Hunger Chevrolet.  I want to thank Farmville for coming on board.  Make sure that you go and check it out and help support Drive To End Hunger because it's a great game and great way to give back to a great cause."
KASEY KAHNE, NO. 5 HENDRICKCARS.COM CHEVROLET – FINISHED NINTH
ON HIS RACE: "We had a really good car as good as I've ever had here.  I don't know who someone broke an engine, I hit oil leading, I was the first car to it.  I had no clue it was on the track and hit the wall.  It really messed up the right-front and the car just didn't do the things it's supposed to after that.  The guys worked really hard and made tons of adjustments and things trying to fix it.  We got back to ninth so it was a solid of a day as a team can have after hitting the wall that hard."
WITH TONY (STEWART'S) TROUBLES IT LOOKS LIKE YOU MAY HAVE GAINED SOME POINTS HOW IMPORTANT IS THAT AT THIS JUNCTURE? "I don't know how the points ended up there if we lost or gained or where we are at, but I feel like we put together another great race.  We ran in the top 10 with a car that was beat up.  You can't do much better than that.  This team is doing a really good job."
PAUL MENARD, NO. 27 SCHROCK/MENARDS CHEVROLET – FINISHED 10TH
ON HIS RACE:  "This entire No. 27 Schrock/Menards Chevrolet team overcame a lot for this top-10 finish. The pit crew was amazing tonight, too. Once we were able to move into the high groove, the car was pretty good. We were just too tight on the bottom."
DALE EARNHARDT JR., NO. 88 DIET MOUNTAIN DEW/NATIONAL GUARD CHEVROLET – FINISHED 12TH
YOU'VE CLINCHED A PLACE IN THE 2012 CHASE. HOW DO YOU FEEL ABOUT THAT? "I feel good about it. We worked real hard all season and I want to thank my guys. They do a good job every week and give me good strategy. I made a little mistake and came down a closed pit tonight (laughs). I don't know what we were thinking. But we had a fast car. The car was so fast at the start of the race. We just lost that track position and couldn't get by some guys. I had fun, though. I don't know what the fans thought about the race. But I really enjoyed it."
I THINK THEY'LL TELL US THIS WEEK, RIGHT? "That's true. I hope they enjoyed it."
DANICA PATRICK, NO. 10 GODADDY.COM CHEVROLET – Sidelined in accident with Regan Smith on lap 434:
WHAT HAPPENED? DID YOU SEE THE REPLAY? "No, I haven't seen the replay. We're all racing hard. This is Bristol and this is why people love this track is because you see a lot of that and you see tempers flare. It's usually part of the broadcast and when they describe what's going to happen. It was just a bummer because I really felt like the GoDaddy car was going to get a solid, maybe a top 20 finish and on the lead lap. And that wouldn't have been something that I thought would happen tonight. The team did a great job and everything was running really smoothly. So it's a shame that we lost that. But you know, Bristol is a place where you find out who's playing fair and who's not."
Original Story:
http://startnparkblog.com/?p=10511&ut...
THE BACKYARD
BEST OF MAXIM
RELATED ARTICLES
About five years ago, if you told me that a social networking game would be sponsoring a NASCAR, I would have called you crazy. However, that has become a reality when NASCAR star Jeff Gordon got a special Farmville paint job for one of his cars. Zynga (the creator of Farmville) teamed up with the AARP's Drive To End Hunger foundation and Gordon got a special paint job...
Jeff Gordon, driver of the #24 Farm Ville/AARP Drive To End Hunger Chevrolet, met with media and discussed racing at Bristol with the new surface changes, racing with teammates, the importance of sponsors in the sport, taking risks, and more. WHAT DO Y0U THINK OF THE RACE TRACK? "Right now, it's just normal. I think actually the left-side tire that Goodyear has brought here is...
JEFF GORDON:  Yeah, they were saying that we are hearing something about rubber up there, some more grip, and from that point on, it was all four tires up there on that new pavement, or the concrete that they ground.  So I say they grind the whole place.  Sounds awesome.  I hope they do that next time. But it was you know what I loved about the racing tonight, even though it...
All Sports News

Delivered to your inbox

You'll also receive Yardbarker's daily Top 10, featuring the best sports stories from around the web. Customize your newsletter to get articles on your favorite sports and teams. And the best part? It's free!
THE HOT 10: Who's Trending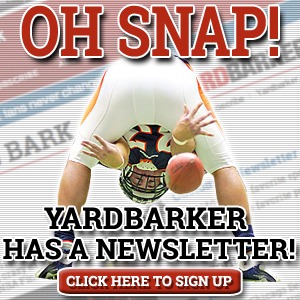 Latest Rumors
The Backyard

Today's Best Stuff

For Bloggers

Join the Yardbarker Network for more promotion, traffic, and money.

Company Info

Help

What is Yardbarker?

Yardbarker is the largest network of sports blogs and pro athlete blogs on the web. This site is the hub of the Yardbarker Network, where our editors and algorithms curate the best sports content from our network and beyond.