Found June 19, 2012 on Start 'N' Park Blog:
PLAYERS:
Kevin Harvick
,
Ryan Newman
,
Paul Menard
,
Kasey Kahne
,
Jamie McMurray
,
Jeff Gordon
,
Jeff Burton
,
Regan Smith
,
Dave Blaney
,
Danica Patrick
,
Dale Earnhardt Jr.
"Congratulations to Dale Earnhardt, Jr., Steve Letarte and the whole No. 88 team and Hendrick Motorsports organization for the win Sunday in our backyard at Michigan International Speedway.  It was great to see them get the ultimate payoff for all the hard work that they've done over the last year or so.  That win marked Chevy's seventh in the Cup series this year and added additional cushion to the lead we're enjoying in the manufacturers points standings at the moment.
"As the NASCAR Sprint Cup Series heads to Sonoma for the only stop there this season, the teams will have to "shift gears" literally and figuratively and think about getting the cars to turn right as well (or better) that they turn left.  Dedicated oval track race cars are amazingly asymmetric, meaning that the left and right sides are not mirror images of each other like a production car is.  The body is different left-to-right to generate side force that helps the cars turn left; and the suspension is similarly not symmetric in order to maximize grip in left-handed corners.
"While that works well on left-handed ovals, the cars need to be significantly modified to race on a road course.  NASCAR rules don't allow the teams to make the body symmetric, so they focus on the chassis and suspension.  Since the cars go around road courses in a clockwise direction, they may actually bias their setups to turn a little bit better in right hand turns than lefts, since there are more right turns.  Another factor they need to consider is demand on mechanical systems.  Road courses put brakes and gearboxes to the ultimate test in a Sprint Cup car, and the teams engineers spend a lot of time making sure that their parts can take the abuse of this type of racing.
"It's a blast to see the drivers hustle these big, relatively heavy, machines around a road course in Sonoma; and I hope we all get to enjoy a good race with Team Chevy coming out on top." – Pay Suhy, Manager, Chevrolet Racing – Oval Track Group.
STEVE LETARTE, CREW CHIEF, NO. 88 DIET MOUNTAIN DEW/NATIONAL GUARD CHEVROLET DRIVEN BY DALE EARNHARDT JR.– 2nd IN STANDINGS
"I think it shows where the sport is.  There's so many successful race teams.  There's so many race car drivers, fast teams out there.  Week in, week out with the points system, the Chase, every week has become more and more important.
"I think years ago when race teams went out to Sonoma on the road courses, everyone looked at it to go out there, not make mistakes, get the best run you can.  I think that mindset has gone away.  Every race team feels that it can be like a oval track, they can go out and run well.
"The double-file restarts increases tempers.  You hear all the time about wanting to race for wins.  Sonoma is a perfect example of how hard everyone races every lap to get the best finish possible."
JIMMIE JOHNSON, NO. 48 LOWE'S CHEVROLET – 4th IN STANDINGS:
"A good qualifying effort is very important because it presents an opportunity for you to play the fuel strategy game.  The race has really been decided by how many times you pit.  If you can limit yourself to two stops I think that is the race winning strategy.  It's really tough to win with three stops.  I think it all starts in qualifying."
KEVIN HARVICK, NO. 29 RHEEM CHEVROLET – 6th IN STANDINGS:
"I love road racing. Sonoma is obviously very close to my hometown in Bakersfield, Calif., so you get a lot of family and friends that come out, but just the change of pace is something that I enjoy. I grew up racing go-karts on road courses so going to Sonoma and getting to race one of the two road courses we have on the schedule during the year should be fun.  I think we can win there. We've just got to put it all together. We've run well enough to win there a few times, but we just haven't been able to break through and make it happen. We were able to get a win at Auto Club Speedway a couple of years ago, so I know that it's fun to win in your home state. It would be good if we could get a Sonoma win behind us."
TONY STEWART, NO. 14 OFFICE DEPOT/MOBIL 1 CHEVROLET – 8th IN STANDINGS:
"I just like the road courses. I've always liked Sonoma. It's really a driver's track. It's tough to make your car drive perfect all day. You can have a really good car, but it's going to slide around and you're going to struggle for grip, and that's what makes it so fun. You have to do the work behind the steering wheel."
RYAN NEWMAN, NO. 39 QUICKEN LOANS/CHILDREN'S TUMOR FOUNDATION CHEVROLET – 13th IN STANDINGS:
"I like road courses. They are difficult to pass on. It seems like there are only a couple of passing zones. I've always said the more corners there are without passing zones, the more opportunities there are to fall behind the guy who's in front of the guy who's in front of you. Road courses are unique in their own right. I wish we had a third one because I think they are fun. I enjoy hustling the race car around the track, and Sonoma's a good road course. Personally, I enjoy Watkins Glen a bit more, but I enjoy them both and I look forward to racing out there. It's a big track-position race, and fuel mileage has become a big part of the racing there. But it's the same for everybody. In road-course racing, the driver, in my mind, can make up more than he can at an oval just being able to hustle a car. You have the added mannerism; I guess you could say, of braking. When you brake at short tracks, it's not the same as when you brake and downshift. So, you have to be a smooth downshifter, you have to be a good braker. Obviously, you have to turn right. There are extra characteristics, I guess, that you have to include at road courses that you don't have to include at ovals. That separates the men from the boys, typically."
PAUL MENARD, NO. 27 MENARDS/MOEN CHEVROLET – 14th IN STANDINGS:
"I enjoy road-course racing a lot. I wish we had a couple more, honestly, to break up the oval-racing a little bit. Road courses are a lot of fun. It's a lot different from what we do week to week. You turn left, turn right, downshift, up shift and strategy is a huge deal. It's a lot of fun to drive.  We tested at Virginia International Raceway a couple of weeks ago. Because every track is different, you have to test theories instead of focusing on the car set-up with spring and shock changes. It's probably more beneficial for the driver to get back into the groove of things."
KASEY KAHNE, NO. 5 FARMERS INSURANCE CHEVROLET – 16th IN STANDINGS:
"Hendrick Motorsports has done a lot of road course testing this year, so I think we're prepared for Sonoma. I've qualified really well here in the past. These tracks are always a challenge, but I think our Hendrick Chevrolet will be very competitive."
JAMIE MCMURRAY, NO. 1 MCDONALD'S CHEVROLET – 18th IN STANDINGS:
"I always enjoy going there, and we are usually pretty good at qualifying at Sonoma.  These races usually come down to fuel mileage, the fastest guy doesn't always win there, It's a fun race and a super-slick track.  I don't think the guys with a lot of road racing experience like it because of that, but I enjoy racing there.  Not only is the track fun, but it's a beautiful part of the country, other than the long flight it is great!"
JUAN PABLO MONTOYA, NO. 42 TARGET CHEVROLET – 19th IN STANDINGS:
"A lot of memories from Sonoma. Good and bad. Obviously I got my first Cup win there five years ago but ever since then we've struggled. Which is surprising considering how well we run at Watkins Glen. We tested at VIR a couple of months back and I was really happy with the car so hopefully we figured something out coming into the race this weekend. You're at that point in the season where you need to step things up. It's really important for us to run well at Sonoma and have a strong finish for the Target team."
JEFF GORDON, NO. 24 DRIVE TO END HUNGER CHEVROLET – 20th IN STANDINGS:
"It will be a busy but fun week. We'll have some fun with Ella's party before heading out to an area I love for so many reasons. It's 'home' for me and where I was born, so a lot of family and friends will come out to the track. I love the wine country, too, which is one of the reasons why I have (the Jeff Gordon Collection Wine) and that track has been great to us.
"(Sonoma) is very challenging, to me, it's a track where you have to be really precise and patient. At Watkins Glen, you have to attack really hard and be aggressive. I feel like Sonoma is the exact opposite of that, and I think that suits me a little bit better. While we haven't had the same success we once had on road courses, I look forward to those events. The road courses bring a different set of challenges, and those challenges are fun. Challenges that I always look forward to as a driver."
JEFF BURTON, NO. 31 WHEATIES CHEVROLET – 21st IN STANDINGS:
"I enjoy road-course racing, yet hate the finishes. I feel like I am a pretty good road-course racer, but my whole career at Sonoma has been filled with races where we ran well and got wrecked in the end. Sprint Cup Series restarts at Sonoma make some of the best drivers in the world look like idiots. That, to me, is really frustrating. It's almost to the point where you might as well wreck someone before they wreck you (laughter). It seems you become a victim at road courses more than you do at restrictor-plate tracks. The racing part of it is great. I love road courses, but when you go there racing for points and there are some guys on the track who just don't care, it becomes very frustrating. When I run a race in the Nationwide Series, I respect those drivers who are racing for points and a championship, but some of these guys just don't care when it comes to road-course racing. Those are the difficult parts when you go to a road course, but overall I love it and that style of racing."
REGAN SMITH, NO. 78 FURNITURE ROW/FARM AMERICAN CHEVROLET – 25th IN STANDINGS:
"I enjoy the road course races, it's a nice change of pace. It's great racing to watch and as exciting as anything we do during the course of the season. Seeing the beating and banging that goes on, and the guys roughing up each other, make for some really good entertainment. Unlike years past, most of the drivers now look forward to the challenges of road course racing in Sonoma and Watkins Glen. We're all focused on road-course racing and take the time to learn the nuances of the competition. That's the reason you will only see a few road-race specialists entered for the Sonoma race. Our Furniture Row Racing team tested this week at a road course east of Denver.
"Sonoma is a technical track and you can't let your guard down. As a rule, strategy is key to having success in road racing — we almost run these road course races like a Formula 1 race. There are so many reasons I am looking forward to this weekend and one of them is that we continue to find more speed in our Furniture Row/Farm American Chevrolet."  
DAVE BLANEY, NO. 36 TOMMY BALDWIN RACING CHEVROLET – 33rd IN STANDINGS:
"I really like road course racing. It is a nice change of pace. There isn't a lot of room to race on road courses, but I like the challenge of all of the things you have to do like braking, shifting, etc. I went to a road race school when I first starting racing road courses in NASCAR and it helped teach you the basics. Road racing is a different way of driving the car, and you need to get in that mind-set. Sonoma is more of a slow corner, finesse track, which I really enjoy. There are more chances to make up or lose ground, more chances to make something happen."
TOMY DRISSI, NO. 10 ICE AGE: CONTINENTAL DRIFT CHEVROLET – MAKING FIRST START OF 2012 FOR TOMMY BALDWIN RACING:
"I am humbled to be able to drive with TBR in the NASCAR Sprint Cup Series and represent Ice Age: Continental Drift. It is an honor to mix both of my worlds on America's biggest racing stage and to be racing the same number as Danica Patrick did in the Daytona 500 and other races this year. Our goal this weekend is to get a solid finish for TBR and some good exposure for Ice Age. Thanks to TBR for working hard this year on the points. A special thanks to Mike Cesario from Racers Drive for helping TBR and myself get together for this opportunity."
Original Story:
http://startnparkblog.com/?p=7754&utm...
THE BACKYARD
BEST OF MAXIM
RELATED ARTICLES
So the drought is over for Dale Earnhardt Jr. and the No. 88 team. That really is awesome for them, Hendrick Motorsports and, quite honestly, our sport in general. What we can't lose sight of is that he is an experienced driver, one who has been in championship battles before and won two Nationwide championships. Dale Jr. has been around long enough that he understands what...
Something we haven't seen from Dale Jr. much over the last four years - a smile. He's officially back, will that lead to success in Sonoma? (Photo Credit: Jeff Zelevansky/Getty Images). By: Toby Christie – Follow on Twitter @Tobalical Last Sunday was a moment of jubilation for Dale Earnhardt Jr.'s fanbase, redemption for the driver himself, and a final statement to his...
Well folks, the 143 race winless streak is over. There is joy in Junior Nation and trust me, there is joy in NASCAR. With Dale Earnhardt Jr. finally getting back to Victory Lane after a long four-year drought, all is right with the world. That win last Sunday honestly has moved the needle on NASCAR exposure and interest like nothing we've seen since Trevor Bayne upset the racing...
Turns out the victory party for Dale Earnhardt Jr. wasn't much of a party at all. Earnhardt snapped a 143-race winless streak at Michigan International Speedway, then celebrated at home in North Carolina with friends and family. He says they played music and stood around talking about the Sunday race late into the night. It wasn't the wild party people expected for NASCAR...
Tony Stewart, sarcastic after someione else wins a NASCAR race? Say it ain't so? Riling up Junior Nation? Doubt it.After Dale Earnhardt Jr. broke his four year winless streak, Tony Stewart was a little miffed to be anwering questions about the #88's win. "No different to anybody else that does it. It's not a national holiday, guys. This morning, they were celebrating...
The winless streak over, Dale Earnhardt Jr. looks for more…
Dale Earnhardt Jr.'s victory celebration is long over and now it's time to look ahead. Members of the Backseat Drivers Fan Council were asked to...
  It's finally happened, folks. Junior Nation is in a state of ecstasy and NASCAR officials are thrilled to see their most popular driver back in Victory Lane for the first time in four years. Of course, plenty of things happened over the weekend, which saw dozens of drivers post record-shattering qualifying runs. But seriously, all you really need to know is this: Dale Earnhardt...
(Eds: With AP Photos.) By JENNA FRYER AP Auto Racing Writer Rick Hendrick gave little warning to his crew chiefs when he decided to make widespread organizational changes after the 2010 season. Among the swaps? Moving Steve Letarte away from four-time NASCAR champion Jeff Gordon after five full seasons for a daunting job - guiding Dale Earnhardt Jr. out of his lengthy slump. &...
All Sports News

Delivered to your inbox

You'll also receive Yardbarker's daily Top 10, featuring the best sports stories from around the web. Customize your newsletter to get articles on your favorite sports and teams. And the best part? It's free!
THE HOT 10: Who's Trending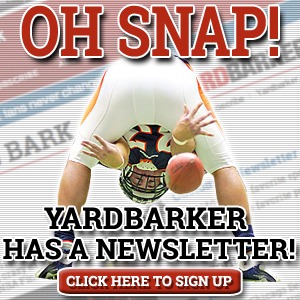 Latest Rumors
Best of Yardbarker

Today's Best Stuff

For Bloggers

Join the Yardbarker Network for more promotion, traffic, and money.

Company Info

Help

What is Yardbarker?

Yardbarker is the largest network of sports blogs and pro athlete blogs on the web. This site is the hub of the Yardbarker Network, where our editors and algorithms curate the best sports content from our network and beyond.