Found April 29, 2013 on The Sports Headquarters:
"WINNING!"- Cole Zwicker, Summer 2012 Mr. NBA nailed it when he proclaimed the Lakers the champs after this past summer's moves netted the Lakers Steve Nash and Dwight Howard. After all, given their impressive showing in the second round last year it was natural to think that adding a ball controlling PG next to Kobe Bryant and a big man who had always been the first option on his team to this group, making four All-Star caliber players, was a recipe for success. Someone like myself who didn't even have them making the conference finals was clearly out of their mind. Fast forward to the end of the season and these sad sacks of crap couldn't do better than the seven seed. The NBA spent the final week of the regular season doing everything possible to hand the Lakers a playoff spot including a free throw practice session against the Warriors. But why fast forward to the movie credits without taking a stroll through the regular season? It started out slow with Mike Brown being fired basically before halftime of the first game. After all, it's clear now that Brown was simply holding back the juggernaut the Lakers would become and he absolutely didn't do his job well enough. So my boy Mike D'Antoni came in and was going to fix all the Lakers problems. Then this clown show squad spent the entire regular season losing road games, fighting the vaunted Utah Jazz for a playoff spot all the way up until the final night of the season. In the middle they restarted their season endless times. They told us how getting Nash back would fix things. They told us how getting Gasol back would fix things. They told us Kobe wouldn't let this team fail. And fail they did. Over and over and over and over. Mediocre doesn't begin to spell out what this team was because that would insult all other mediocre teams. The Lakers flat out sucked. They were frauds who showed us their true colors for months and only the delusional fanbase that is the Los Angeles Lakers thought that would ever change. They even had the audacity to say San Antonio should be weary of them in the playoffs, a startling statement considering Los Angeles beat basically nobody legit on the road all season and yet were going to do it without home court somehow. Even Cole, who penned a brilliant article which mysteriously disappeared from the site sometime this year explainedwhy the Lakers were going to match the Celtics in titles and how OKC trading Harden only made that easier. *Standing Ovation*. I've missed plenty of NBA predictions in my life. Not sure I've ever pulled off the "Predict an NBA champ that doesn't win a game" one though. Bravo Mr. Zwicker. As the season winded down and the Lakers ducked loss after loss with the aid of the refs often, Lakers fans started to get their hopes up. After all, squeezing past the Hornets at home late in the year does a lot for a fanbases' confidence and Lakers fans would be damned if they weren't going to rave in the supremacy the Lakers were beginning to show. And then with one quick resounding POP the gift that kept on giving to Lakers haters reached levels even I couldn't have dreamed up as Kobe Bryant tore his Achilles and was done for the year. Nevermind that guys like Rajon Rondo and Russell Westbrook played on tears in their knees, the Black Mamba was down for the count limping off in glorious fashion like a horse that broke its leg. It was mythical really, a wonderful sight these eyes have longed desired to see. Lakers Nation wept with despair as their vaunted leader was done for the year. And honestly? It's probably in their best interest that happened. We all saw Kobe Bryant quit in Game 7 of the first round against Phoenix a few years back and that was with a team that didn't have other stars. Can you imagine the level of quit he would have shown in this series vs San Antonio when things got tough? However, saying the Lakers didn't win any titles this year would be a bold faced lie. The Lakers rose the ladder all year on a special list and finished on top: The biggest flop in professional sports history. Losing a playoff series is one thing, getting upset in a one football game happens all the time, but has any team with the talent and expectations the Lakers had flat out sucked more than this group? In fact, I'm so impressed by the depths of failure the Lakers reached I think it is ONLY FAIR to award Kobe a sixth ring. I legitimately think the NBA should consider giving Kobe credit for six rings. It takes CONSISTENT garbage play to rise to the level of flop the Lakers pulled off and I'd argue is as tough as winning the actual finals. Honestly look at teams around the league and consider a team with Dwight Howard, Pau Gasol, Kobe Bryant and Steve Nash finished with less wins than 1/3rd of the league. Admirable. That's really the one word that comes to mind when trying to describe the Lakers ********* season. This team wasn't just bad it was greatest of all-time bad. And that deserves to be recognized. But the honors don't end there. This team did something few teams can say they've done. They killed their owner. When Jerry Buss passed away earlier this year it was more than likely a direct result of watching this team over and over on TV. Water boarding has nothing on the torture it must have been watching these games every night, watching a player you're paying 30 million a year fail to get you a top six seed in your own conference. It must have been agonizing watching a big man who was the best center in basketball come over and be a fraction of himself. It must have been sickening watching a Hall of Fame point guard be regulated to a jump shooter because Kobe Bryant demanded ball control. That takes a toll on the body as much as any disease he had to have been fighting. But I'd be remiss if I didn't give Jerry Buss his due. He owns a legitimate distinction of his own. He was so disgusted by this sackless piece of trash team he wouldn't even go to games. Born in 1933 Jerry Buss was actually old enough to know what it was like to see the Lakers own more titles than the Celtics. In fact for 12 years he lived in that world. However for the last 50 years of his life that reality was gone. Jerry Buss bought the team in 1979 and helped bring LA some championships. And yet in his 34 years of owning the Lakers he NEVER owned a team with the most championships. They tried their damn hardest and I'll say it's as much the brilliance of Bill Russell as the Lakers failures that kept the Celtics on top. Yet ultimately Jerry and the Lakers couldn't get to 17. Cole wrote them in for 17, but it never happened. Realizing this was probably his best shot at tying Boston and seeing the failure the Lakers became he threw the towel in and checked out. Dead at the age of 80 and yet all the while equally as alive as the Lakers title chances most of this season. He was the owner of some of the biggest blowout losses in franchise history. The blowout to the Celtics in Game 6 of the 2008 Finals was perhaps the most humiliating of them all. Or was it blowing the 3-1 lead to Phoenix when Kobe quit in Game 7. It's hard to feel for Jerry Buss though. After all this is a guy who stuck by a rapist. In the end, it was his own team that raped him the last few years putting out embarrassing performance after embarrassing performance and failing time and time again on the big stage. This season was a firm reminder that barring elite level play from a teammate Kobe Bryant can't do much. His career has been made up of piggy-backing Shaq and then needing to acquire another All-Star teammate to make it out of the first round. His Achilles tear was a gift to see but make no mistake Kobe Bryant will be back. With Michael Jordan so close on the scoring list you really think Kobe would pass up an opportunity to achieve another individual accolade? Wins and losses be damned, the Black Hole will come back again to set that scoring mark. That 30 million dollar contract hanging over the team's head will be a major decision for the Lakers but given the decisions they've made in the last 12 months, can we really expect them to make a good one? These idiots will probably pay Dwight Howard a max contract to return, not realizing that he's the same guy who pulled a Kobe/Bynum and quit on his team in their blowout loss, the final nail in a sweep that looked like a glorified team scrimmage. I'm personally devastated that this season had to come to an end. It was an absolute joy every night watching this team crash and burn as the legion of purple and gold fans across the country covered their face in horror wondering what went wrong. I said it last night that this comedy show was better than anything anyone could have scripted. Better than any movie, better than any comedian on the market right now. This team found new ways to keep me roaring all season long and like a great movie that leaves you wanting more the story of the 2012-2013 Lakers ended prematurely and will live on as a classic that you'll constantly want to revisit. But fear not Lakers fan, I'm sure this comedy will be a reoccurring theme the rest of the Kobe Bryant era. So as we sign off let me take this time once again to remind Lakers fans and really the rest of the basketball world of the undeniable truth. The Lakers will spend the rest of the offseason and at the very least another year looking up at the greatest franchise in NBA history: The Boston Celtics. While 16 is nice, 17 is simply that much better. The view down there should be familiar. You've seen it for 50 years now. I hope you enjoy it. In the words of an all-time great (with a slight twist): "How's our ass taste?"  
Original Story:
http://feedproxy.google.com/~r/TheSpo...
THE BACKYARD
BEST OF MAXIM
RELATED ARTICLES
I can not think of a better .GIF in the history of .GIF's. This is exactly why I love the Internet. Big thanks to @CJZero and @calebjsaenz for making this happen. Article found on: Next Impulse Sports
With the recent injury of Kobe Bryant's ACL forcing him to miss the rest of the NBA Playoffs, a lot of chatter around the league has been how he will return. The return isn't the question, Kobe will return and play more basketball. He's not ready to pull out the rocking chair just yet. The longer Bryant plays, the more he climbs up the rankings as one of the best to ever play...
I am a part of this world, I know how things work, so I am going to be honest with you. It is in the interest of the media and online sports media in general, to blow this up. More clicks, more views, more Tweets, more likes and etc. But, you the fan, need to use some common sense, don't be Skiptized, use your brain. People might not like Dwight Howard personally, for various reasons...
The Los Angeles Lakers have already been eliminated from the post-season at the hands of the San Antonio Spurs but we all know that with this team the news goes beyond just on the court activities. Forward Metta World Peace decided to share his thoughts regarding Dwight Howard's season and Blacksportsonline captured the rather surprising quotes. [...]
Dwight Howard was ejected during the fourth quarter of the Los Angeles Lakers' Game 4 loss to the San Antonio Spurs on Sunday night. The loss resulted in a sweep of LA, and in many ways it was the perfect ending to an embarrassing season filled with unmet expectations. With Kobe Bryant watching the game from the sidelines and nursing a torn Achilles tendon, many have accused Howard...
The Los Angeles Lakers were eliminated from the 2013 NBA Playoffs in four games by the San Antonio Spurs on Sunday, finishing a season in which beloved owner Jerry Buss passed away, Mike Brown was fired and controversially replaced by Mike D'Antoni, Kobe Bryant tore his Achilles tendon amid countless other injuries and the team was unable to fully incorporate Dwight Howard. "Like...
Kobe Bryant appeared on the Lakers bench Sunday night in the third quarter. The goal of course was to provide moral support to a team that was clearly being swept out of the first round of the playoffs and not to make a sartorial statement in Givenchy and crutches but somehow, he managed to do both. Givenchy is the jock's go to look of the moment. Last summer you saw LeBron James...
When the San Antonio Spurs swept the Los Angeles Lakers, it was a result that was expected after Game 1 of the series. When the injuries kept piling up for Los Angeles, their fans were hoping the ending was coming sooner than having it drag out. They weren't blow out losses in the series, but they knew a championship wasn't coming. With Kobe Bryant, Steve Nash, Steve...
While I don't think this is what it appears, many have questioned whether or not Lakers center Dwight Howard yelled at GM Mitch Kupchak on his way into the tunnel after being ejected. Watch for yourself below and you decide. Thanks to Blacksportsonline for the footage.
The Los Angeles Lakers are wrapping up for the summer, their largely disastrous season ended with a first-round playoff sweep. But the drama is merely paused for a few weeks. The Lakers' offseason could be just as tumultuous as their highly anticipated season, which ended with a whimper. Dwight Howard's unrestricted free agency, coach Mike D'Antoni's job status...
Video: Watches the Lakers go down in flames
We normally steer clear of reporting on 1st Round NBA Playoff series because,well, the NBA Playoffs last for 3 months. But we couldn't resist this story. The San Antonio Spurs did exactly what they were supposed to do and swept the over-hyped Los Angeles Lakers 4-0 in their best of 7 series. The series ended after the Spurs annihilated the Lakers 103-82 on the Lakers...
All Sports News

Delivered to your inbox

You'll also receive Yardbarker's daily Top 10, featuring the best sports stories from around the web. Customize your newsletter to get articles on your favorite sports and teams. And the best part? It's free!
THE HOT 10: Who's Trending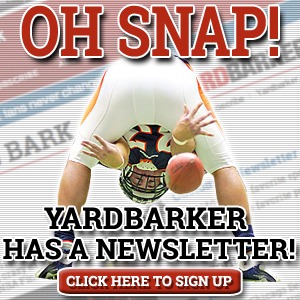 Latest Rumors
Best of Yardbarker

Today's Best Stuff

For Bloggers

Join the Yardbarker Network for more promotion, traffic, and money.

Company Info

Help

What is Yardbarker?

Yardbarker is the largest network of sports blogs and pro athlete blogs on the web. This site is the hub of the Yardbarker Network, where our editors and algorithms curate the best sports content from our network and beyond.