There is some improvement with the young point guard in a few areas. Welcome to the sixth volume of the Dennis Schroder report. You can find volume five here. As a reminder, the objective of this series is to track the potential progress of the Atlant Hawks starting point guard toward performing at the level of an average player or better at the position. We are using four key...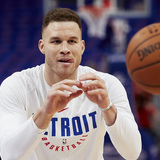 Blake Griffin either has poor aim or a latent sense of underlying comedic genius, because his alleged attempt to pass the ball to a ref Sunday resulted in Dennis Schroeder taking one in the back of the noggin. It was a pretty funny scene, especially when Schroeder turned around wondering why. Granted, the ref was in front of Schroeder, but can we really believe Blake wasn't at least...
The trade deadline is less than 24 hours away, and many teams will be looking to strike a deal or two to improve their chances of competing in the playoffs or landing a top lottery pick this summer. Based on their current record and roster construction, the Atlanta Hawks are clearly sellers at the deadline. The Hawks have some young talent in Dennis Schroder, Taurean Prince, and...
Would Atlanta Hawks players Dennis Schroder and Kent Bazemore want any part of Hot Sauce?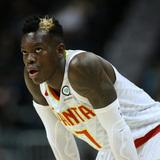 With the NBA trade deadline approaching next week, we're starting to hear rumors surface about who might actually be moved.Most recently, the talk has surrounded the likes of Tyreke Evans, DeAndre Jordan and Kemba Walker.We can now throw another somewhat high-profile veteran into the mix. According to The Ringer's Kevin O'Connor, the Atlanta Hawks have placed enigmatic point guard...
The 2015 Atlanta Hawks were a darling of a team. It's hard to think of a better way to describe them. They won 60 games without a superstar. No one in their starting lineup scored more than 16.7 points per game. No one scored less than 12.1. They all played over 30 minutes per game.They all played defense. They all moved the ball and were threats from behind the arc. They all had...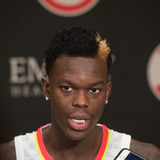 Atlanta Hawks point guard Dennis Schroder was arrested early Friday morning and charged with battery, according to a report.Adrian Wojnarowski of ESPN was told by sources that Schroder was charged with misdemeanor battery for his alleged involvement in an incident that took place in an Atlanta suburb. Wojnarowski's report stated that Schroder was arrested on Thursday, but the Hawks...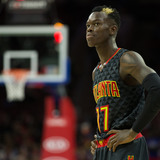 Atlanta Hawks guard Dennis Schroder was reportedly arrested early Thursday morning on a misdemeanor battery charge in an Atlanta suburb. Per ESPN's Adrian Wojnarowski, Schroder was released on bail, and the Hawks are expected to issue a statement soon on the matter.The 24-year-old guard is a former first-round pick by Atlanta. He appeared in 79 games last year for the Hawks, averaging...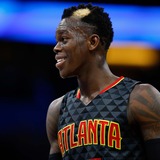 Dennis Schroder was benched for almost the entire second half of Monday night's loss to the Golden State Warriors, and the Atlanta Hawks point guard would like a word with his coach about it.Schroder was pulled from the game immediately following a verbal exchange with teammate Dwight Howard. The argument came after Howard turned the ball over on a bad pass with the Hawks leading...
In a surprising move on Friday, the Atlanta Hawks have suspended starting point guard Dennis Schroder for their upcoming game against the Miami Heat on Friday night."Atlanta Hawks guard Dennis Schroder has been suspended by the organization for one game without pay for failure to report to the team on time after the All-Star break," the team announced on Friday, via Bleacher Report...
MORE STORIES >>
Hawks News

Delivered to your inbox

You'll also receive Yardbarker's daily Top 10, featuring the best sports stories from around the web. Customize your newsletter to get articles on your favorite sports and teams. And the best part? It's free!