Found June 17, 2013 on StraitPinkie.com:
PLAYERS:
Dusty Baker
,
Johnny Cueto
,
Aaron Harang
,
Josh Fogg
,
Tony Cingrani
,
Joey Votto
,
Brandon Phillips
,
Shin-Soo Choo
,
Mat Latos
,
Homer Bailey
,
Mike Leake
,
BJ Upton
,
Bronson Arroyo
,
Jonathan Broxton
,
Logan Ondrusek
,
Sean Marshall
,
Sam Lecure
,
J.J. Hoover
,
Aroldis Chapman
TEAMS:
Cincinnati Reds
,
Seattle Mariners
,
Atlanta Braves
,
Colorado Rockies
,
Los Angeles Angels
,
St. Louis Cardinals
Dusty Baker faces a problem, a manager's dream and fear, all at once. As the Reds chase the St. Louis Cardinals in the NL Central and fend off division-foe Pittsburgh in the Wild Card race, an embarrassment of riches has collected in the starting pitcher slot of the roster. It's a problem Dusty Baker would have scarcely imagined five years ago, his first as Reds skipper. Then, a kid named Johnny Cueto was still a young project, Aaron Harang was on his way to 17 losses, and a guy named Josh Fogg started 22 games with an ERA over seven. The Reds were continuing their perennial tradition of missing the postseason. Meanwhile, Tony Cingrani was turning 19. Fast forward to 2013. The Reds sit at 42-28, the second-best record in the majors. And while Cincinnati stars Joey Votto, Brandon Phillips, and newcomer Shin-Soo Choo have played their part, this early-season surge is largely thanks to the stalwarts starting each game. Johnny Cueto grew up into a bona fide ace. Mat Latos continues to live up to the trade that snatched him from San Diego. And Homer Bailey has overcome years of the "bust" label and arisen a stronger, dependable pitcher. Even Mike Leake continues to make strides much greater than his 5'10 frame, with a 2.76 ERA and a batting average better than BJ Upton (and a salary far smaller). So, Bronson Arroyo falls as the natural fifth –ol' reliable, he with the high-leg kick and the low-flowing locks. Dusty Baker's pencil never had it so easy. Meanwhile, Tony Cingrani was tearing through AAA. After Johnny Cueto suffered an injury, and Cingrani filled in admirably, the situation suddenly seemed less easy. With Cueto healthy, Cincinnati faces a pitching staff where six starters are vying for five slots. So who starts? Who gets the ball at the top of the first, and who gets bullpen duty or a one-way ticket to AAA Louisville? On the surface, the choice seems simple. Cingrani is younger. Excitement surrounds him. And Arroyo's propensity to give up a record number of home runs as he did in 2011 still lingers in the mind's eye of Cincinnati fans. The first time Baker sent Cingrani back to the Bats in favor of Arroyo, fans were (perhaps justifiably) upset. Admittedly, I questioned the choice, as well. A deeper look, however, reveals that Baker may be right to stick with Arroyo. First, Cingrani's success in the majors thus far may be misleading. The raw stats are impressive: in seven starts, he's 3-0 with a 3.15 ERA, over 10 strikeouts per nine innings, and only 10 walks in 40 innings pitched. But that last number raises one red-flag. Defying his reputation for wearing young pitchers down, Baker has kept a short leash on Cingrani. He averages less than six innings pitched per start, and has never thrown more than 110 pitches. He's valuable in bursts, but he also forces the bullpen to work. Further, Cingrani has obtained these numbers against some lousy competition –to put it more bluntly, against some of the absolute worst offenses in the National League. Out of 15 NL teams, he's faced Miami's Marlins twice, who rank 15th in runs/game, 14th in batting average, and 15th in on-base percentage. The other teams he's pitched against don't fare much better: the Cubs (9th/11th/12th), Nationals (14th, 13th, 13th), and Phillies (12th, 8th, 10th) all fall well below league average. Only the Brewers play above that line, and Cingrani only lasted four innings against them, giving up two home-runs in the process. These teams that have faced the young fastballer have a combined record of 144-197, a winning percentage of .422. In short, Cingrani is setting the league on fire, but he's starting with the basement.   This is especially interesting when you consider that Bronson Arroyo actually has comparable numbers to the flavor-of-the-month Tony Cingrani. In twice as many starts, Arroyo has a worse record (6-5) but his performance has been on par with his young protégée. His ERA (3.27) is near identical, and he's actually allowing less home-runs and walks per nine innings. He's doing all of this against better teams, as well. Arroyo has faced numerous teams above league average in the offensive categories. The St. Louis Cardinals rank first in the NL in runs, batting average, and on-base percentage. The Rockies rank second in all three categories. The Angels, Braves, Brewers, and Indians also boast above-average offenses. The teams Arroyo has pitched against have a combined record of 330-356 (.481). It's not the cream of the crop, but considering the offenses of even losing teams, such as the Angels, it's a much stronger lineup than Cingrani has seen thus far. So if Arroyo's numbers aren't much different, and his competition more fierce, would it be fair to send him to the bullpen in favor of new blood? Remembering the abysmal season that was 2011 for Arroyo, one wonders if his performance this year can be attributed to luck. Are the balls simply bouncing in his favor? Sometimes, we lose sight of how much good fortune plays a part –after all, the difference between a grounder to the shortstop and a single that wins the game is sometimes a matter of inches. But Arroyo has earned this late-career Renaissance. Opponents are batting .272 on balls in play against Arroyo, which is close to his career average of .285. His home-run rate is about the same as last year, so don't expect it to regress. 7.8% of fly balls he surrenders turn into homers –that's only 0.5% lower than his career average. In simple terms, the usual indicators of luck point to a man pitching within his expected values. So what did change? Arroyo, as his velocity continues to decrease, increased his control. His walk rate currently sits at 3.9% of batters he faces. That'd be a career low if he keeps it up. And if he keeps it up, he deserves his spot in the rotation. All of that being said, I do not think that Cingrani should be destined for a return to Louisville. There's little left for him to learn in AAA. He dominated that level this season, going 3-0 with a 1.15 ERA, and 14.1 strikeouts per nine innings. If that isn't ridiculous enough, he only gave up four hits every nine innings, and over that 31 inning stretch, allowed one home-run. One. These are the facts, which sadly, Dusty Baker often ignores. But the right decision seems to reside somewhere in between choosing Arroyo and sending Cingrani down river. Instead, with this abundance of riches, Baker should empty his pockets. He should spend both assets while he's got them. Chances are, an injury will strike, and Cingrani will be ready to fill the empty slot. Time will tell if he continues to thrive as he faces stiffer competition. But until then, Cincinnati's middle-relief suffers. Jonathan Broxton, Logan Ondrusek, and Sean Marshall are hurt. Sam LeCure can't be asked to pitch every day. And forgive me, but JJ Hoover continues to live up to his last name and, well, suck. Cingrani could fill that need. Another long reliever who, alongside LeCure, can bridge the gap between the stalwarts of the starting rotation and Aroldis Chapman is a weapon the Reds need at their disposal as they chase a Red October. He's also a much-needed left-hander who, in a bullpen role, can throw his fastball as hard as he likes in shorter bursts. The time will come, perhaps very soon, when Arroyo will, and should, be asked to step aside and let the next generation of Cincinnati Reds rise to the ranks of starters. That's the answer for the Cincinnati future. But the Cincinnati present is focused on one thing: the World Series. On avoiding the first-round postseason tradition that plagues them: folding under pressure. This time, Dusty Baker needs to put all of his cards on the table.   And Arroyo's the fifth of the flush.
Original Story:
http://www.straitpinkie.com/sports/pr...
THE BACKYARD
BEST OF MAXIM
RELATED ARTICLES
Businessweek published its list of America's 50 best cities based on leisure, colleges, economics, and air quality, and Cincinnati made it into the top half. Interestingly, the primary reason for its high ranking seems to be Great American Ball Park. The view from the cheap seats in left field. I'd recommend the cheap seats in right field, since the scoreboard is visible there...
(source feed provided no summary content for this entry)
The Cincinnati Reds have activated right-handed starter Johnny Cueto from the 15-day disabled list as he had been recovering from a strained lat injury. The young Cueto has a low 2.17 ERA this season, but has been suffering from health issues all season long. To make room for Cueto, Pedro Villarreal was optioned to Triple-A Louisville and returns to their rotation. Villarreal remains...
CINCINNATI The Reds led the Pirates 2-1 in the seventh inning Monday night, but Pittsburgh was threatening to even the score with a runner on second and one out. Mike Leake took care of pinch-hitter Travis Snider with a swinging strikeout for the second out. He thought he had finished off the inning with a pitch at the knees against Starling Marte. Home plate umpire Chris Conroy...
Cincinnati Reds' starting pitcher Johnny Cueto was activated from the 15-day disabled list in order to make a start against the Milwaukee Brewers Sunday. Pedro Villareal was optioned down to make room for Cueto on the 25-man roster. According to ESPN, Cueto will face Milwaukee after being on the DL since June 5th, with his last start on May 31st. Cueto has been dealing with...
Reds pitcher Mat Latos revealed after Tuesday night's 4-0 loss against Pittsburgh that he had been fined by Major League Baseball for hitting Pirates second baseman Neil Walker on June 2. It is part of the on-going beaning war that has been going on between the two teams since last season. Pirates starter Charlie Morton hit Reds centerfielder Shin-Soo Choo with the first...
When people talk about young, hard-throwing closers, the first names in their heads are Aroldis Chapman of the Cincinnati Reds, and Craig Kimbrel of the Atlanta Braves. These two have come in over the last couple of years and taken over as two of baseball's most dominant closers, with Kimbrel taking away the rookie saves record in 2011 away from Texas Rangers closer-turned...
FOXSports Ohio and the Cincinnati Reds are producing a special game telecast dedicatedto the Reds Community Fund on Thursday, June 20th when theReds play the Pittsburgh Pirates. An addition to FOX Sports Ohios original145-game schedule, this game will air with limited commercial breaks. Firstpitch is at 12:30pm preceded by Reds Live Pre-game Show at 12 Noon. Afull replay of the game...
Mat Latos didn't so much mind his long streak ending. A pitch that plunked his teammate left a mark he won't quickly forget.
After Monday's game — which saw Cincinnati Reds closer Aroldis Chapman throw near Neil Walker's head in the ninth inning — many Pirates fans were looking for retaliation. They got just that in the first inning when Charlie Morton hit Shin-Soo Choo right below the knee with his first pitch of the game. That led to a warning from the home plate umpire, and drew the ire of Mat...
The Cincinnati Reds and Pittsburgh Pirates aren't separated by much in an NL Central division that is one of the strongest in baseball. Given how well Mike Leake has pitched of late, he may be able to help the Reds provide more distance between the clubs in the opener of a four-game series with the visiting Pirates on Monday night. Cincinnati (42-28) and Pittsburgh (41-28) trail...
I'm not particuarly interested in the Pirates-Reds HBP shenanigans that have gone on over the last two seasons. It seems pretty obvious to me that the Reds are the schoolyard bully of the NL Central, particularly when it comes to Aroldis Chapman and Dusty Baker. I don't know that they're particularly far into the Pirates' heads in the way that the Brewers seemed to...
All Sports News

Delivered to your inbox

You'll also receive Yardbarker's daily Top 10, featuring the best sports stories from around the web. Customize your newsletter to get articles on your favorite sports and teams. And the best part? It's free!
THE HOT 10: Who's Trending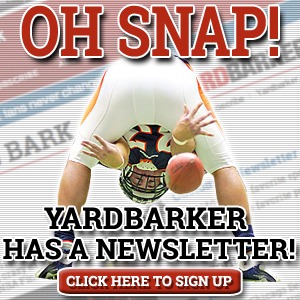 Latest Rumors
Best of Yardbarker

Today's Best Stuff

For Bloggers

Join the Yardbarker Network for more promotion, traffic, and money.

Company Info

Help

What is Yardbarker?

Yardbarker is the largest network of sports blogs and pro athlete blogs on the web. This site is the hub of the Yardbarker Network, where our editors and algorithms curate the best sports content from our network and beyond.