MLB.com's Richard Justice put out his list of the top 10 most interesting players and storylines to begin spring training. The Angels' Shohei Ohtani and the Orioles' Manny Machado headed this list. I was asked last week during "The Mid-Atlantic Sports Report" on MASN who I would pick as the ... Read More
On the eve of the team's first full-squad workout and with phenom Shohei Ohtani going through a light workload, Sunday was relatively quiet around Angels camp at Tempe Diablo Stadium. And it was all by design.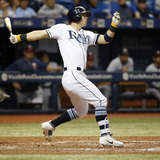 The Los Angeles Angels and Tampa Bay Rays made a trade on Saturday that led to a head-scratching move.The Angels traded first baseman/DH C.J. Cron to the Rays for a player to be named. To make room for Cron, Tampa Bay designated outfielder/DH Corey Dickerson for assignment. In case you don't actually believe the news — and we didn't at first — here's the Rays' official Twitter account...
All eyes were again on Shohei Ohtani on Saturday afternoon, as the Japanese two-way phenom took the mound for his first live batting-practice session, throwing 30 pitches over two simulated innings.
The Chicago Cubs aren't interested in getting into a ticket war with the Milwaukee Brewers. And what would have changed if the Cubs had gotten Shohei Ohtani? The Chicago Cubs don't want to get into a ticket war with the Milwaukee Brewers. But the Brewers seem to be doing their best...
Weather is still overcast but the crowds are sho-ing up Here is a link to Friday's photos of Shohei Ohtani, Ohtani Nation, and the Los Angeles Angels. The crowds are starting to build right in front of President's Day weekend. I brought my youngest teenage daughter up there today, but she's not admitting to be impressed (yet) so we didn't stick around for batting practice. The Japanese...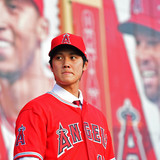 The Angels will change the dynamic of their starting rotation to accommodate their new two-way star.While in Japan, Shohei Ohtani pitched once per week. With five-man rotations the norm in Major League Baseball, there are occasions where a starter may pitch twice during a seven-day span. For the Angels, that doesn't appear to be an occurrence we should expect.On Tuesday, manager...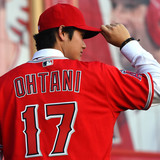 The Los Angeles Angels are getting some positive injury news on the Shohei Ohtani front.Nikkan Sports reported on Wednesday that Ohtani practiced for the first time in four days and did some hitting off a machine, running, and played catch. The bigger news is that Ohtani was quoted as saying he was told his ankle is healing quickly.Ohtani underwent ankle surgery in October to treat...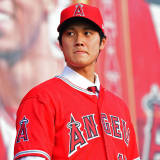 Major League Baseball is conducting an investigation into whether a team official leaked medical information pertaining to Shohei Ohtani, sources have told ESPN.Multiple reports surfaced this week regarding Ohtani's medical history, including a report from Sports Illustrated that indicated the two-way player received platelet-rich plasma injection in his elbow. Yahoo Sports later...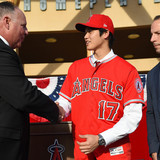 The Los Angeles Angels don't seem to be too concerned about the medical status of Shohei Ohtani.News came out on Monday that Ohtani had a platelet-rich plasma injection in October. Then on Tuesday, it was revealed that the injection was for a UCL issue in Ohtani's pitching elbow.What's important to note is that all MLB teams were made aware of these medical issues PRIOR to bidding...
MORE STORIES >>
Angels News

Delivered to your inbox

You'll also receive Yardbarker's daily Top 10, featuring the best sports stories from around the web. Customize your newsletter to get articles on your favorite sports and teams. And the best part? It's free!