Found September 20, 2012 on MaizeAndGoBlue:

Welcome to our new historical series, Tales from Yesteryear. A program such as Michigan, with such a rich history and copious tradition, has countless tales to be told. The newest member of our team, Katie, will be providing periodic historical accounts from Michigan lore, taking a look at past rivalries, players, coaches, and moments that have made Michigan football what it is today.
The Notre Dame game is one of Michigan's most historic rivalries, and while it may not evince the particular fervor that now occurs on the third Saturday in November it is the older of the two rivalries and dates back to a cold day in late November 1887. How appropriate.The Fighting Irish and Wolverines fight not only on the gridiron, but in its tangents, its legacy, appearance, and voice.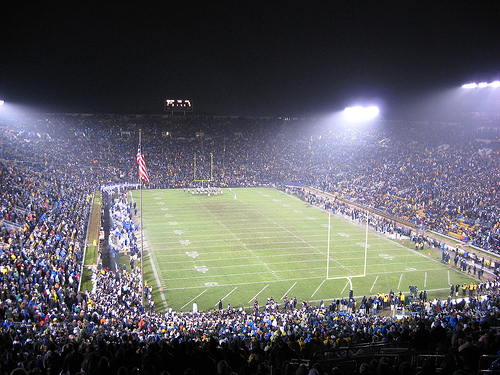 Notre Dame is 5-1 all-time in home night games and 2-0 against Michigan
Michigan holds the best winning percentage in all of college football, with ND filing in in second place. The Irish play in their famous 'golden dome' helmets, and Michigan in their unmistakable and signature 'winged' caps. We also have two of college football's most heralded fight songs in the "Notre Dame Victory March," and "The Victors."  Both schools even hold the same number of national championships with 11. With such stark similarities it shouldn't be difficult to see how the spirited rivalry formed between the Blue and Gold and the Maize and Blue. But as if that wasn't enough to cement a formidable clash each time Michigan lines up against Notre Dame, last year's epic battle was waged under the lights, and lasted all twelve rounds.  The atmosphere was absolutely electric, but for Notre Dame in the end it was a devastating short circuit that ended the night.  The memories of Irish fans suddenly had an ugly shadow cast over them. Final score: Notre Dame 31 – Michigan 35.
But this year Notre Dame plays host in its second home night game since the early eighties, the other having been played last year against yet another bitter rival, USC, and ended in another disappointing loss. Needless to say the Irish faithful are hoping for better results this year. Perhaps results like they had in their previous six night games, presenting an impressive overall record of 5-1.
Results like the season opener and first ever night game at Notre Dame Stadium in 1982 against No. 9 Michigan. The Wolverines fumbled on their opening drive, allowing the 19th-ranked Irish to march down the shortened field to score three points off of what was perhaps a crucial error for the Maize and Blue. But ND would later return the favor with a fumble of their own while knocking on Michigan's door. However, the Irish would go on to defend their 13-0 lead at the half, taking full advantage of Michigan's inability to shine offensively until the second half. Even then, with Michigan scoring 17 points in the third and fourth quarter, one score coming off a punt returned for a touchdown, the Irish prevailed. Notre Dame had dominated defensively with nine sacks, and won the game 23-17. Michigan couldn't make up for its lackluster performance in the early going.
The 1988 night game was also a memorable one for the Irish. It was also a game with one of the oddest calls ever made.  A flag was thrown not for the actions of anyone on the field, but because the frenzied crowd had grown so loud that a penalty was assessed for distracting the Michigan team. Yes, that's right; they were making too much noise… in a stadium. Luckily for the ND faithful they had reason to cheer even after Michigan kicked a 49-yard field goal to take the lead with a little over five minutes remaining. The Irish would be able to march down the field and put up three points of their own with a minute left. But the field goal war would continue for one more attempt as Michigan kicker Mike Gillette lined up for another try at just under 50 yards. It was not to be for the Wolverines as the kick did nothing more than make the home crowd hold its breathe for a tentative few seconds. The field goal went wide and the waning seconds counted down. The four total field goals helped lift the Irish past the utterly disappointed Wolverines 19-17. It didn't help that those 12 points were made on the first four attempts in young Reggie Ho's college career. Talk about rising to the occasion.
As if Michigan hadn't had enough with a fresh faced player the previous meeting in South Bend, the 1990 night game happened.  With just under two minutes left the ND offense, led by Rick Mirer, drove down the field to upset the top ranked Wolverines. It didn't seem to matter that quarterback Mirer was making his very first college start against a team that would go on to share in the Big Ten title, and had among its ranks the would be winner of the Heisman trophy, Desmond Howard, as well as quarterback Elvis Grbac. Michigan running back Jon Vaughn had over two-hundred yards on the night, but his effort could not keep the triumphant Irish at bay. The home win streak had passed yet another test. It stood at 18 games.
However, since 1991 there had been a sort of lockout with night games in South Bend, due in part to Notre Dame and its bond with NBC. Which makes this upcoming game sort of a novelty, and with Notre Dame's recent win over the Spartans perhaps one that will be remembered not only for its crowd but also perhaps for a revenge win after the epic fourth quarter of last year's night game. I doubt very much that the faithful fans of the Blue and Gold have forgotten the last second strike that elevated Michigan over them. It certainly wasn't the kind of atmosphere to be easily erased from one's memory, but for Michigan's sake I hope some of the colors have dulled. The jubilant, maize sea must haunt most of the players. This Saturday we'll see how they deal with the ghosts.
Original Story:
http://maizeandgoblue.com/2012/09/20/...
THE BACKYARD
BEST OF MAXIM
AROUND THE WEB
RELATED ARTICLES
Michigan Banner Displayed at Notre Dame StadiumThe Michigan-Notre Dame rivalry is one of the bigger rivalries in college football. This rivalry has spanned decades.  It has featured legendary players and legendary teams.  Through the years, the enmity these two fan bases feel towards one another has not changed. Stephen Nesbitt, a writer for the Michigan Daily, posted a photo to...
A group of students from the University of Michigan "fired the first shot of Wolverine- Fighting Irish week"- MLive.com.  According to Notre Dame, students from Michigan traveled to South Bend for the big game and while they were there, they hung a large Michigan themed banner outside of Notre Dame stadium. The banner was a large blue canvas with a big yellow M in the middle...
Notre Dame and UConn agreed to a home and home series years ago as part of the Irish's half-assed attempt to look like a member of the Big East, but the UConn game got cut when the Huskies refused to play it at Gillette Stadium or the Meadowlands to appease Notre Dame. The "series" ended up being a solitary trip to South Bend for UConn, and a 33-30 OT win for the...
(photo via michigandaily.com) This isn't quite Harvard-We Suck levels of pranking but a group of Michigan students tried their hand at irking one of their gridiron rivals. Early Wednesday morning a group of eight students traveled from Ann Arbor, MI to South Bend, IN and placed a blue banner reading "Beat the Irish" on one of the Notre Dame Stadium gates.  According to MichiganDaily...
Ty Hildenbrandt from The Solid Verbal chimes in Notre Dame is off to a 3-0 start for the first time since 2002, which is why (Fighting) Irish eyes are smiling heading in to this weekend's big rivalry game with the Michigan Wolverines. With a defense that looks to be the best Notre Dame has had in a long time and coming off the program's first win over a top ten team since 2005...
(Story by Tyler Moorehead) Manti Te'o is every bit of the "Notre Dame Man" that Irish fans always speak of. A world-class individual, Manti has always been known for his gracious and humble attitude, his hard work in the classroom as well as on the field, and his tremendous leadership abilities. Manti was a Preseason First Team All-American, and is a legitimate Heisman candidate...
Fresno (Calif.) Central defensive back Johnny Johnson was expecting to visit Notre Dame this weekend for an official visit but those plans have now been scrapped.
Michigan defensive coordinator Greg Mattison has been a part of the Notre Dame rivalry on both sides of the ledger in his career. Mattison touched on his defense against Massachusetts, talks about the Notre Dame offense and where he believes the defense is at right now. **With video**
As if the rivalry wasn't heated enough already.
Notre Dame is hosting a number of official visitors this weekend to correspond with its showdown against Michigan, and IrishEyes.com takes a look at where the Irish stand with each prospect.
In Part 2 of GBW's Notre Dame preview, Sam Webb and Kyle Bogenschutz break down the offense's development in the passing game, hear from Al Borges, defensive issues, and Greg Mattison's take on the Irish.
Wins over Top 10 teams have been rare for Notre Dame in recent seasons. So too has been success thereafter.
THE HOT 10: Who's Trending
All Sports Forum Discussions
Latest Rumors
The Backyard

Today's Best Stuff

For Bloggers

Join the Yardbarker Network for more promotion, traffic, and money.

Company Info

Help

What is Yardbarker?

Yardbarker is the largest network of sports blogs and pro athlete blogs on the web. This site is the hub of the Yardbarker Network, where our editors and algorithms curate the best sports content from our network and beyond.