Found January 25, 2013 on Awful Announcing:
With Tiger Woods playing at Torrey Pines in this weekend's Farmers Insurance Open, it's the first time the PGA Tour begins to sneak into the general consciousness of sports fans in 2013.  To mark the occasion, the PGA Tour is enacting one of the dumbest, most backwards media policies in recent memory. The PGA Tour sent a threatening e-mail yesterday to members of the media telling them that any digital play by play would not only result in their press credentials being yanked, but also all credentials from other journalists working for that outlet.  Also, you don't even have to be covering the event on-site to have your credentials pulled.  Here's the boorish threat via Golf.com... "As you know, our media regulations prohibit the use of real-time, play-by-play transmission in digital outlets. In order to enforce these regulations, beginning this year, we will revoke the on-site credentials of all journalists affiliated with outlets that post play-by-play coverage, whether those posts are originating from tournament site or otherwise."   This is nothing but shortsighted and clueless.  Does the PGA Tour really think Norm Macdonald tweeting this to his 350k plus followers hurts the game??? Tiger, to save a 68 now. and does — Norm Macdonald (@normmacdonald) January 24, 2013 What are you going to do, PGA Tour, file a restraining order to keep Norm Macdonald from talking about and giving publicity to your sport?  Are you going to bar everyone from Grantland or even ESPN from your grounds because of Norm Macdonald's tweets?  In fact, I dare the PGA Tour to follow through on their threat and yank any and all press credentials from Norm Macdonald (if he even has them) and Grantland.  Make a preemptive strike if you have to, because this is obviously unacceptable behavior.  Then the PGA Tour can reap the benefits of all the "PGA vs Norm Macdonald" headlines that would arise and they can really see how forward thinking they truly are in protecting their brand and their interests. Jason Sobel, formerly of ESPN and now at Golf Channel, is one of the best live bloggers in all of sports.  Why should he have to "fight" to effectively do his job and inform and entertain your sport's fans? Good talk with Ty Votaw today. Used the word "proprietary" a few times. Again, yesterday's decree nothing new. Been fighting this for years. — Jason Sobel (@JasonSobelGC) January 25, 2013 With the outrage spawning over this heavy-handed decree, I can't imagine a world in which the PGA Tour sticks to this ludicrous decision.  If they do, they'd lose a significant number of fans and only push their sport further into the margins.  Golf writer Stephanie Wei compared the PGA Tour to the Soviet Union in a blog post.  Other writers openly mocked the tour's position.  Still others derided the PGA Tour for being out of touch with reality and forwarding the "old white guy" stereotype. The idea that journalists live tweeting play-by-play hurts the PGA Tour or its TV partners in any way is idiotic. — darren rovell (@darrenrovell) January 25, 2013 Latest sports org run by old white guys clueless about today's world: The PGA Tour. Banning live Tweeting by media at tournaments. #dumb — Joe Casale (@sportsJC16) January 25, 2013 PGA Tour will now "revoke" credentials of journos who post play-by-play. Are they completely unaware that social media HELPS their cause? — Ashley Mayo (@AshleyKMayo) January 24, 2013 This move by the PGA Tour is so antithetical to common sense it makes my brain want to leap out of my skull and run into a crowded intersection.  That single e-mail sent by the PGA Tour threatening journalists has done far more harm to themselves in less than 24 hours than all the play by play tweets that could ever be sent. One problem the PGA Tour faces is how on earth do you enforce such an antiquated, archaic policy?  What exactly constitutes "realtime play by play?"  Live blogs?  A certain number of tweets per hour?  Can you provide commentary but not facts?  Where exactly are the lines you can and can't cross here? How do leagues and organizations like the PGA Tour not see that increased coverage and attention for their sport is a good thing in the social media age?  Sports media and covering sports in 2013 is all about sharing.  It's all about more transparency and more information at our fingertips than ever before.  Is preserving a few extra hits to the PGA Tour website worth this kind of negative attention and dictatorial nonsense?  Should we go back to using wooden drivers and featheries while we're at it?   It befuddles me that the PGA Tour doesn't understand how to use social media as an ally and not an adversary.  It angers me that the tour would try to inhibit reporters in doing their jobs.  It frustrates me as a fan of the game because restricting digital access in the digital age does nothing but hurt golf. I love the game of golf and I know the sport faces enough problems as it is in being accessible to the masses.  This decision by the PGA Tour only enforces that reality.   [Golf.com]
Original Story:
http://www.awfulannouncing.com/2013/j...
THE BACKYARD
BEST OF MAXIM
RELATED ARTICLES
Less than a week ago it was being reported that Tiger Woods wanted to remarry Elin and was willing to offer her a huge sum of money in a prenup to try and get her back.  Now it is being reported that Woods has linked up with Lindsay Vonn.  Vonn, a former Gold Medal Olympic Skier, just had her divorce from Thomas Vonn finalized earlier this month.According to The Daily Mail, Tiger...
Golf is, necessarily, about numbers. Tiger Woods' number on an overcast Thursday at the Farmers Insurance Open was 68. On the more exacting Torrey Pines South course -- which played two shots harder than the shorter North -- a round of 4-under par represented a very good start for Woods. He has won seven times here but none since the scandal. Even though Woods could have shot...
Despite the swirling of rumors all around him that he might be dating Lindsey Vonn while reports indicate that he may be attempting to woo back ex-wife Elin Nordgren at the same time (what tangled webs we weave), Tiger Woods trudges along on the golf course, attempting to recapture the long-last magic that made him the most feared golfers in PGA Tour history. And much like it...
Tiger Woods is going to have to wait to pursue a seventh win at Torrey Pines. Thick fog forced a long delay Saturday in the third round of the Farmers Insurance Open. Players began the round after a three-hour delay, only for the fog to return five minutes after they started. No one finished more than one hole. The delay meant the third round could not be completed, and officials...
Tiger Woods is going to have to wait to pursue another win at Torrey Pines. A thick fog shrouded the course along the Pacific bluffs on Saturday and essentially wiped out the entire day at the Farmers Insurance Open. Woods, a six-time winner of this tournament, had a two-shot lead and never even bothered coming to the golf course. Three players completed one hole -- and that was...
Elin Nordegren is making her presence known in South Florida with a new, $12 million ocean-view mansion. About a year ago, Nordegren, with the help of Tiger Woods' money clip, purchased the 17,000-square-foot mansion for $12.2 million. After an infestation of termites in the enormous household, she decided to knock it down to create a 21,000-square-foot masterpiece on the North...
Tiger Woods' love life is getting complicated, but that may actually be a good thing for his golf career. Last week we shared a report from the National Enquirer — the same outlet that first broke open the Tiger sex scandal — that said the golfer was trying to remarry ex-wife Elin. Though the story was shocking, we went with it believing that the Enquirer's sources on all...
A couple of weeks ago we reported that Tiger Woods was possibly dating Olympic skier Lindsey Vonn. It was only a rumor at time, but it has picked up steam even as reports that Tiger was thinking about giving his Ex-wife $350 million to take him back. Vonn decided to speak on on the rumor. "We are just friends," she told the Denver Post after winning her second World Cup downhill...
Infamous extortionist, jezebel and arousing trim Rachel Uchitel will turn 38 on Tuesday, January 29. The 5-foot-6, 110 pound Uchitel, who graduated from the University of New Hampshire and used the degree to become a paid nightclub floozy, initially received attention by holding a photo of her fiancé who was murdered in the 9/11 terrorist attacks. Following the unspeakable tragedy...
All Sports News

Delivered to your inbox

You'll also receive Yardbarker's daily Top 10, featuring the best sports stories from around the web. Customize your newsletter to get articles on your favorite sports and teams. And the best part? It's free!
THE HOT 10: Who's Trending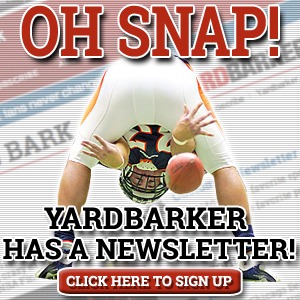 Latest Rumors
The Backyard

Today's Best Stuff

For Bloggers

Join the Yardbarker Network for more promotion, traffic, and money.

Company Info

Help

What is Yardbarker?

Yardbarker is the largest network of sports blogs and pro athlete blogs on the web. This site is the hub of the Yardbarker Network, where our editors and algorithms curate the best sports content from our network and beyond.