Found March 22, 2013 on Busted Coverage:
You've been sitting around the house, eating greasy pizza, watching the NFL Network and avoiding your annoying girlfriend or wife. You haven't moved off the couch in 48 hours and your phone died, rendering your Twitter account worthless. Meanwhile, sports smack-talking maniacs have been using social media and other outlets to vent on fellow combatants. Athletes are fighting writers. Writers are fighting writers. Athletes are fighting fans. This is where Busted Coverage steps in on a weekly basis. The gatekeepers. If someone is in a sports-related war, we're all ears. If you know of a sports-related beef, we want to hear about it. There are no sports beefs too small for The Schoolyard editors. Try us. mail@bustedcoverage.com When Family Feuds Turn To Punches Fight Combatants: Former Dolphins WR Mark Duper vs. his son Fight Details:  Duper was arrested Thursday on a felony child abuse charge, according to the Palm Beach Post. Former Dolphins defensive end Hugh Green told The Associated Press by telephone that he witnessed the brawls. He said Marcus Duper started the fights, thinking he could "beat his father." Green and his 18-year-old son had stopped to visit Duper and his son after attending a charity golf outing in Miami earlier in the week. "I saw Mark defending himself after a young son was defiant," Green said. Fight Scorecard: Is there really a winner here? Ok, Mark did knock out his son. Chael Starting Feud With WWE Fight Combatants: Chael Sonnen vs. CM Punk & Vince McMahon Fight Details:  It's good to see Sonnen back on his Twitter game. He's been pretty quiet lately, but no longer. It seems he has some sort of beef with Vince that has now erupted into a cage match challenge. This might all stem from Dana White saying that Vince once challenged him to a match. Fight Scorecard: First round to Sonnen. CM Punk (@CMPunk) hasn't tweeted since late February so this might not go any further. And Still Undefeated! Fight Combatants: The commissioner vs. some Twitter dbag Fight Details:  Just the usual chirping Dana has to deal with from punks who badmouth his UFC fight cards. Name another commissioner who will go on Twitter with some dude, Chris White, who has 46 followers. You can't. Fight Scorecard: Dana remains undefeated in his Schoolyard history – via guillotine. Welcome To The Show, Rookie Fight Combatants: Rookie Eric Selleck vs. Kevin Westgarth & the NHL Fight Details:  Selleck made his NHL debut this week for the Florida Panthers in a game against Carolina. The logical move is to instigate a fight late in the 3rd period. Actually, that was the wrong move. Two punches later and Selleck was KO'd, carried off the ice and assessed 17 penalty minutes. Then the NHL reviewed the fight and gave Selleck a two-game suspension for leaving the bench with intent to instigate a fight. Fight Scorecard: NHL via KO. Billionaire vs. The Hair Fight Combatants: Rich guy Mark Cuban vs. supposedly rich guy Donald Trump Fight Details:  These two have been beefing all week on Twitter. There was a Harlem Shake challenge and a scrum over which guy had more money. Then there was Cuban's latest response from Wednesday's Mavs game (photo above). "Blown off again.. GO MAVS!" The Mavs lost to Brooklyn, 113-96. Fight Scorecard: Draw. Filed under: Schoolyard
Original Story:
http://bustedcoverage.com/2013/03/22/...
THE BACKYARD
BEST OF MAXIM
RELATED ARTICLES
GOT YOUR BACK
Mark Cuban defended his former player, Jason Terry, who has been ridiculed for being fiercely dunked on by LeBron James.
Shawn Marion has missed the last eight games, but he's ready to return.  The Dallas Mavericks' forward was suffering from a strained left calf, but after sitting out and resting the injury, he feels he's ready to return to the court.  He says he will play tonight against the Boston Celtics.According to Tim MacMahon of ESPN Dallas, the decision to return was up to Marion...
So it has come to this. A Twitter feud between Mark Cuban and Donald Trump has reached its inevitable conclusion. It has come down to the Harlem Shake. Cuban, Tuesday night, wrote the following on Twitter: ". @realDonaldTrump let's settle this like gentleman.I challenge u to a Harlem Shake duel.@sharktank cast vs Apprentice cast.For charity" Cuban owns the Dallas...
DALLAS (AP) -- Dirk Nowitzki scored 22 points, Shawn Marion had a double-double in his return from a calf injury and the Mavericks spoiled Jason Terry's return to Dallas with a 104-94 victory over the Boston Celtics on Friday night. Terry scored eight in his first game in Dallas since leaving for Boston in free agency. He was the latest key piece the Mavericks decided not to...
Returning to his home city of Dallas, Deron Williams had a massive game against the team he almost signed with this offseason with the owner (Mark Cuban) who desperately tried to reel him in watching in the crowd. Good day for Brooklyn   After a first quarter in which the Mavericks outscored the Nets 32-22, Brooklyn surged back in quarters two through four, returning...
Jason Terry will play his first game in Dallas tonight since leaving the Mavericks to join Boston in the offseason. Terry was the second best player on the Mavericks squad that beat Miami for the 2011 championship. While the Dallas native wanted to stay with the Mavericks and even offered the team the chance to match the offer the Celtics made to the Jet, Mark Cuban and his management...
Chris Kaman wasn't shy when expressing his displeasure with Dwyane Wade and his style of play while talking about the Heat's winning streak on BaD Radio 104.1 FM The Ticket on Thursday. According to the Dallas Morning News: "Miami is playing really well now. They snuck out some serious wins the last couple of games. They should have lost, but they were able to figure it out...
The Dallas Mavericks are slowly climbing back into the Western Conference playoff picture. The Utah Jazz are aiding that ascent. Dallas tries to Utah for ninth place in the West on Sunday night when the Jazz try to prevent their first nine-game road skid in 31 seasons. The Mavericks (33-36), who are tied with Portland, have split their last six games since a 4-0 run, but they...
Dallas Mavericks 112, Boston Celtics 88 After squandering big leads against the Miami Heat and New Orleans Hornets, the Celtics headed to Dallas to snap their two-game losing streak against the Mavericks. You would think the Celtics would be tired of losing; however, by their performance out of the gate, it didn't seem so. Boston missed their first four shots, with Kevin Garnett...
Jason Terry was one of Mark Cuban's key players in Dallas.credit: celticshub.com In the world of Youtube and social media that we live in today, ripping on players who get dunked on has become a hobby for many. Brandon Knight was ridiculed following the DeAndre Jordan dunk, and Jason Terry had a similar experience after getting in the way of LeBron James. It's gotten to the point...
All Sports News

Delivered to your inbox

You'll also receive Yardbarker's daily Top 10, featuring the best sports stories from around the web. Customize your newsletter to get articles on your favorite sports and teams. And the best part? It's free!
THE HOT 10: Who's Trending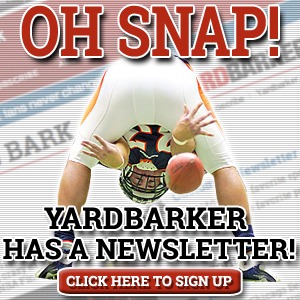 Latest Rumors
The Backyard

Today's Best Stuff

For Bloggers

Join the Yardbarker Network for more promotion, traffic, and money.

Company Info

Help

What is Yardbarker?

Yardbarker is the largest network of sports blogs and pro athlete blogs on the web. This site is the hub of the Yardbarker Network, where our editors and algorithms curate the best sports content from our network and beyond.